The 13 Most Ridiculous Porn Parodies
Since the dawn of time man has wanted nothing more than to see boobies. We have gone to war (see Troy) build advanced technology (see spy cameras) and colonized new worlds (see National Geographic) just so we could see some more breasts. With the invention of photography, and finally of movies, the dream of seeing hundreds of mammary glands seemed within reach. Unfortunately porn producers, misunderstanding what the masses want, decided that they should focus their efforts on creating plot for their movies. Whoever decided this was the way to go should be forced to watch all the thousands of hours of horrible story-lines created by the porn industry. Stories such as:
1
One Flew Over the Cuckoo's Breast
From the director that brought you The Adventures of Buttgirl and Wonder Wench
We'd like to know who the hell was watching One Flew Over the Cuckoo's Nest, a movie staring Jack Nicholson dying in an insane asylum, and decided that it would be a good porn. Who in their right mind looked at the whole depressing tale and said: "Hell, yeah I'd spank the monkey to Nicholson being choked to death with a pillow!"
Actually, now that we put it that way, probably a bunch of people would get off to a story of a dominatrix nurse in an insane asylum. Knowing that would be their audience the people behind this movie decided to go the exact opposite way and turn One Flew over the Cuckoo's Breast into some sort of Saved by the Bell, pink bubble gum porn. We hope at least they feature a Cuckoo's breast in there to satisfy all the bird fetishists.
IMDB score: 9.5/10
2
The Adventures of Buttgirl and Wonder Wench
Bet you thought we were kidding about the Buttgirl adventures.
Nothing makes a porn better than a main actress who looks like she's regretting every decision she ever made in her entire life. Considering the plot of this little gem we would regret being in it as well. The Poker (played by Ron Jeremy) and The Penguin plan to release Spanish Fly into the water system of Possum City and drive everyone insane with lust.  Buttgirl and Wonder Wench along with their friends Catgirl and Miss Possum City attempt to stop the horny take over of their town.
Classic drama material right there.
3
Buffy the Vampire Layer
Kristi Myst goes down for the Count
Well, at least this one makes sense, who among us didn't have erotic dreams about the pasty white skin of the Count? Vampires are sexy as hell, just look at the craze that Twilight caused or the addicting powers of Count Chocula (it took this writer two years to get over the withdrawal).
All things considered we understand why Cinderella has to go down for the Count. The only thing that kinda bothers us is that the other tag-line of the movie is "Her only chance is to use his own stake against him." We hope this isn't some sort of sick snuff film where the Count is raped with his own manhood…we'll let you know when our copy arrives from Amazon.
IMDB score: no score, instead enjoy this Amazon page
4
Shaving Ryan's Privates
Porn at it's finest.
Finally a porn that shows surprise ball shaving action! What more could you want from a DVD? How about some cardboard cut-outs of what looks like 'N SYNC watching as one soldier seems to deliver a baby? And just look at that dude, hanging of to the side, halfheartedly leaning in with a helping hand.
"Do I really have to hold Ryan's flagpole while we shave his balls?" he seems to ask, his beady eyes filled with  unfulfilled dreams and hopes.
This, gentlemen, is Oscar material, right here. We have drama, ball shaving and a pun that could last for hours.
IMDB score: unfortunately a recent documentary by the same name has taken over the page that should have been reserved for this masterpiece. Damn you IMDB for giving more credibility to documentaries on porn instead of porn itself.
5
RamBone
They drew first pussy, Sir!
Ahh, the good old 80's, when calling a movie RamBone: the Destroyer and making the main character wear a pair of long socks on his forehead was perfectly okay. But this movie is not just another poorly planed parody, notice the American flag flying in the background and know that RamBone is fighting against white slavery rings lead by a man with an eye-patch (eye-patches are the embodiment of evil in case you didn't know). Yep, this movie is all about freedom, the American dream and action, hot, sweaty, mustached man action. Also, we are promised some guns that shoot kittens.
6
Who Reamed Rosie Rabbit?
Hop over and get yourself some tail.
Sweet ghost of Count Chochula, is that a cigar smoking rabbit with a huge boner? Is there a market for videos of  rabbits with a boner? And who the hell agreed to draw and animate this crap?
We get the fascination with Jessica Rabbit and we would all like to see her naked, but who ever wanted to see Roger pitching a tent? Well, at lest he's drawn not all creepy looking–
Really? We had to make the rabbit look like he was on acid and give him a foot long tongue? Really?
7
Play-mates of the Apes
Hot, sweaty monkey sex!
We feel like the look of shocked horror on the face of that blue monkey in the corner best represents our feelings for this movie. Look at that (hot?) monkey woman and imagine she was naked and making kissing faces…if you didn't feel a cold shiver maybe you're one of the reasons this movie exists. You sick freak! Go over to Amazon  and blog about how awesome the pink monkey was! (No seriously, there are a bunch of people who reviewed this movie, despite the rather steep prince of $49 without shipping, and most of them gave it four stars because of a pink monkey that shows up at some point)
IMDB score: 3.3/10 (harsh, no love for the monkey over at IMDB)
8
Penetrator
I'll come again
Well, we knew this was coming, nothing lends itself better to porn than a movie named The Terminator. When Arnold said "I'll be back again" he was  basically begging for people to make poorly thought out semen jokes. The only issue we take with this movie is that the main actor looks so incredibly bored with sex. It's like he's riding a motorcycle at 10 miles an hour. Hmm…maybe that's not a woman after all, which would explain the jacket, but what about the gun? Is the gun really necessary?
The answer seems to be yes, we need guns and creepy looking special effects too.
IMDB Score: 6.7/10 (take that RamBone!)
9
Spankenstein
A most outrageous spanking video.
To be honest we're not even sure if this is porn or a bad music clip for some obscure German metal band. As far as we could tell there is no actual boning in the movie, only a ridiculous amount of spanking with over-sized rubber gloves. The story goes along the lines of:  a monster is created and he spanks girls, all the time grinning like Rob Zombie in concert.
This is as much as we could tell from the DVD cover before some old ladies started giving us weird looks. We mumbled something about  looking for Star Wars and ran out of the video store as fast as we could.
IMDB score: apparently Alivn and the Chipmunks meet Frankenstein is a good enough movie to deserve it's own page, but Spankenstein here doesn't.  Philistines!
10
Dawson's Crack
Who will get him in the end?
We don't really have anything to ad here. The connection is obvious and except for the parts covered by a very sad kitten that cover tells us all we need to know. This is a movie about the people who get Dawson in the end…if you know what we mean, yeah… exactly.
11
Alabama Jones
And the Busty Crusade
Okay, just like the Count up there we have all dreamed about the sexy, sexy Dr. Jones so a porn about him is okay by us, but why the gorilla? And do we really need shrunken heads? I mean that's  doesn't really set the mood, does it? It's not like we go on a date and ask the waiter to bring some more shrunken heads so we can get really cozy and close.
But all things considered, a movie with the tag-line the Busty Crusade can't be all bad, right? The title is rather catchy too, Alabama Jones, it rolls off the tip of your tongue, unlike some other copy-cats.
Run, little Ron Jeremy, or that huge woman will catch you and stuff you in one of those crocked houses painted by Dali on acid.
12
A Midsummer Night's Cream
What Horny Fool's These Mortals Be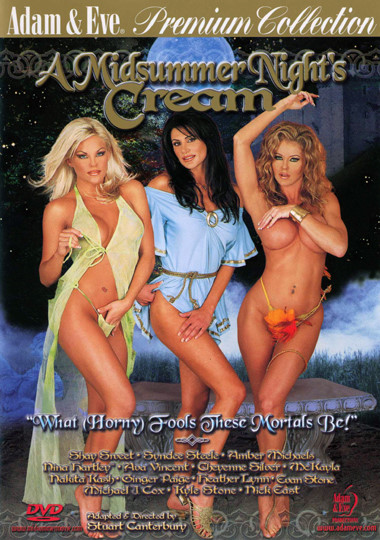 Finally some classy stuff , a premium collection that even Shakespeare could  be proud of. We just wonder who gets turned into an ass by the end of this story.
IMDB score: 5.6/10 (Really, only a 5.6 for a work of classic literature porn? We're disapointed)
13
E.Three
The Extra Testicle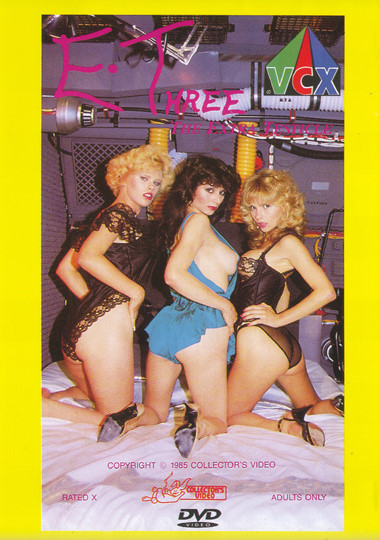 And from the category of porn so weird that we couldn't believe it's real we have the tale of E.T. the extra testicle. You're probably wondering if this movie is shot entirely from the point of view of a testicle, with Morgan Freeman doing a voice over. (Damn that sounds kinda good)
Unfortunately this is not a documentary about freak, mutant balls. It turns out that E.T. is just an alien who likes to party in what looks like a shady basement. Long story short, there are no  testicles flying around , just a poorly named sex flick and a bunch of girls that look confused as to what is going on.