The Adam Project : Movie Review
The Adam Project is one of those movies that makes you smile on every level. From the base plot that pairs 40-year-old Adam Reed (Ryan Reynolds) with his 12-year-old self (played by Walker Scobell) to the many different personal side roads they take on their way to their ultimate fates, this family sci-fi/action film delights and revels in every opportunity to make us feel good. But it isn't a cute pile-on of nonstop fluff; there are stakes and trauma each character must deal with, which also lends to its universal appeal.
Powering said appeal is Canadian national treasure Ryan Reynolds, who continues to find sharp scripts that play exactly to his strengths – the physicality he's been honing since Blade: Trinity, his quick wit and improv-like delivery, and the personable charm which has become his trademark. Fitting, considering this script was originally meant for Tom Cruise, another Hollywood heavyweight who picks his scripts carefully. This honestly wouldn't have been a bad movie for Cruise, but it would have had a different, more straightforward action picture energy; in Reynolds' hands, it becomes the heartfelt film it was meant to be.
Reynolds possesses both the skill and the emotion to carve out his portrayal of the older Adam, marred by personal tragedy and looking to fix it. Well, at least some of it, seeing how he cannot change the trauma both he and his younger self are still grieving – the death of their father – but he can at least change the one thing that has apparently turned the world into an apocalyptic mess: time travel itself, which has apparently undone society and its mores. (At one point, older Adam says the future is worse than the future shown in James Cameron's The Terminator.)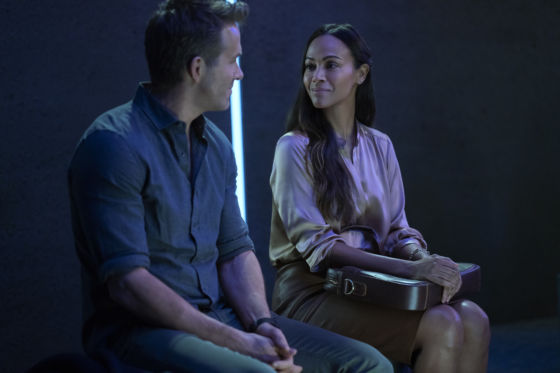 Meanwhile, younger Adam is not only dealing with his father's death a year and a half prior, but he's also just been suspended a third time for fighting. Well, not really "fighting," per se – it's more like "tossing off jokes while the school bully pummels him about the stomach and face." He's 180° away from the version younger Adam beholds as "kinda ripped," an Air Force pilot whose capabilities earned him a slot in a time-travel program. Walker Scobell shares the duty of being half of this film's main character, and he fulfills the role admirably with the kind of amazement and big-eyed wonder found in a Steven Spielberg film. He balances smarts and the simplicity of childhood well, and he makes younger Adam a joy to run alongside.
Much to older Adam's consternation, younger Adam has already started down the path of becoming the cynical, hard-bitten person standing before him, pushing everyone away – even his harried mother Ellie (Jennifer Garner) – to deal with his unspoken grief, not having an ounce of empathy for his mother and her struggles. Ellie's still a wreck in her year-plus grieving for deceased husband Lewis (Mark Ruffalo), killed in a car accident and leaving her alone with Adam, who couldn't be bothered to show her one ounce of empathy, actions for which older Adam scolds younger Adam soundly.
The film's villain, Maya Sorian (Catherine Keener), is established as a ruthless, mercenary-like protector of her time-travel company, going so far as to murder older Adam's wife Laura (Zoe Saldaña) and, it's implied, Lewis himself. Lampooning the worst of corporate fixer behavior, Keener leans into the smarminess of older Maya while portraying younger Maya as a woman teetering between noble purposes and corruption, slowly falling toward the latter. Having known of her since Tom DiCillo's 1995 indie darling Living in Oblivion, it's nice to see Keener in scene-chewing roles like this, a role she plays perfectly.
Any experienced time-travel film fanatic will recognize where the story's going and familiar tropes included, but The Adam Project fuses all of them with heart and genuine emotion, allowing for its themes to strike rich chords with its audience. Where this film mines its worth is in the singular drive to bring a fractured family together across time, demonstrating that love truly is the strongest of forces in the universe. Movies like The Adam Project have made it okay to be utterly joyous and fun, and everyone involved – especially Walker Scobell and Ryan Reynolds – make this film a wondrous and warm experience.
MPA Rating: PG-13 for violence/action, language and suggestive references.
Running time: 106 minutes.
Released by Netflix – streaming Friday, March 11, 2022.
The Adam Project
The Adam Project mines its worth is in the singular drive to bring a fractured family together across time, demonstrating that love truly is the strongest of forces in the universe.