The All-Black Hockey Team
In November of 2008, we attempted to put together a roster of the All-Time Black Hockey Team. At the time, it was a rather challenging exercise, because even though Willie O'Ree broke the color barrier in hockey back in 1958, there haven't been a large number of black athletes since. We explored some of the reasons for that in our previous article, but it seems in recent years, its begun to change.
Over the past couple of seasons, there has been an influx of young talented black players coming into the league. So much so, that last season I began toying with the idea of seeing if I could put together a full roster of just active players. With the return of Ray Emery to the NHL recently, I'm happy to announce that it's finally a reality. Just in time for Black History Month, and in support of the NHL's Hockey is for Everyone initiative, we present the All-Black Hockey Team :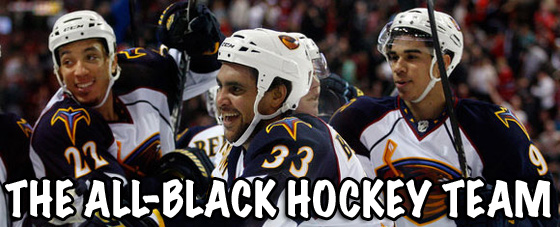 Please Note :
This wasn't really a case of trying to select the best players, as this team is made up of pretty much the only black players who are in the league right now. Some players have only played a few games in the NHL this season. We have a full starting roster for a game, 12 Forwards, 6 Defensemen, and 2 Goaltenders. We did list some players who didn't make the cut as reserves for now. The team is short on Centers, and heavy on Right Wings, so a couple of guys will need to skate out of position.
The term black is used opposed to African-American due to the fact many of the players are not American. In fact only 6 of the 26 listed are from the U.S., with the majority of players coming from Canada.
This article is well-intentioned and not meant to be offensive in any way. The goal is really to highlight the growing number of promising young black players that have entered the league in recent seasons.
Click on each player's photo for a link to their profile and statistics over at Yahoo Sports.
| | |
| --- | --- |
| | |
Jarome Iginla is the elder statesman among black athletes in the NHL. He is easily the most accomplished among current players with 14 years in the league, a Lester Pearson Award, and a trip to the Stanley Cup Finals as Captain. He is the Flames all-time leader in goals, points, and games played, making him the best player in the team's history. His success also puts him in the conversation with Grant Fuhr as the most accomplished black player of all time.
| | |
| --- | --- |
| | |
Chris Stewart is a high scoring winger who was drafted 18th overall by the Colorado Avalanche in 2006. He was actually just traded in recent days to the St. Louis Blues, who were looking to add some scoring punch. At age 23, he has shown an excellent ability to put up points early in his NHL career. He is the younger brother of Anthony Stewart (further down the list).
| | |
| --- | --- |
| | |
Evander Kane may have more talent than any other player on this list, as Atlanta made him the highest drafted black player in NHL history in 2009 at #4 overall. At 6'2″, this 19-year-old has already had an impact in his young NHL career. He has displayed a scoring touch, and even some toughness to backup his namesake, Evander Holyfield. Playing in the Thrashers' last game of the season in 2010, he was challenged to a fight by Pittsburgh Penguins forward Matt Cooke. Kane landed two punches to Cooke's jaw, knocking him unconscious on the ice for several minutes.
| | |
| --- | --- |
| | |
Kyle Okposo is a talented young forward who was drafted 7th overall in 2006 by the New York Islanders. He has enjoyed success in his brief career, but has also been limited by injuries. At 22, Okposo still has plenty of time left in his career to realize his potential. He should mature along with his young Islanders teammates within the next couple of seasons.
| | |
| --- | --- |
| | |
The older brother of Chris Stewart, Anthony is actually the less accomplished of the Stewart brothers. He was drafted 25th overall by the Florida Panthers in 2003, and has found it difficult to secure a full-time job in the NHL. This season he has found a home in Atlanta, and finally established himself as an everyday player. He is securing more ice-time, and has begun to put up points at respectable pace of 1/2 point per game.
| | |
| --- | --- |
| | |
Wayne Simmonds is an exciting young player for the Los Angeles Kings, who has affectionately been nicknamed, "Night-Train Wayne". He was drafted 61st overall in 2007, and this 22-year-old has been an every day player for the Kings for 3 seasons now. Simmonds is a solid two-way player, who has also shown a bit of a mean streak, averaging 1.15 PIMs per game in his career.
| | |
| --- | --- |
| | |
Joel Ward is a late bloomer in the NHL, establishing himself as an everyday player when he was 28. He went un-drafted, but cracked the lineup finally in Nashville, and has never looked back. He is considered a responsible two-way player who puts up respectable offensive numbers, while being relied on heavily by his team to kill penalties.
| | |
| --- | --- |
| | |
Mike Grier was drafted 219th overall by the St. Louis Blues all the way back in 1993, and is still performing at a consistent level in the league. He was the first African-American player born and training in the United States to make the NHL in 1996. Grier is known as a speedy penalty killing specialist who has helped his teams to some of the best penalty killing percentages in the league.
| | |
| --- | --- |
| | |
Jamal Mayers was drafted 89th overall in 1993 by the St. Louis Blues and played the majority of his career there. He has bounced around to a few teams late in his career, but is still a respected hard-working forward. He is another solid two-way role player, but at 36 his career is nearing its conclusion.
| | |
| --- | --- |
| | |
Greg Mauldin was the 199th overall pick by the Columbus Blue Jackets in 2002. After bouncing around some on minor league teams, he has finally found a home in Colorado. He was called up in November due to injuries, and performed respectably before being returned to his AHL team in January.
| | |
| --- | --- |
| | |
Nigel Dawes is another young black player in the Atlanta organization. He was drafted 149th overall in 2003 by the New York Rangers, and after cracking the lineup often in recent seasons for other teams, he has actually spent most of the 2010-11 season in the Minors.
| | |
| --- | --- |
| | |
Kenndal McArdle was drafted 20th overall by the Florida Panthers in 2005, but has yet to establish himself as an every-day player in the NHL. He has only scored 3 pts in his 28 games with Florida, so you would have to say that this 24-year-old has been a disappointment so far in his career. Maybe he can go the Anthony Stewart rout, and find some ice-time by being moved to Atlanta.
| | |
| --- | --- |
| | |
Dustin Byfuglien has had a fabulous year, and is certainly an up and coming star in the league. Due to lack of depth at Forward, Dustin might need to skate up front on this team if any forwards get injured. He has played both Forward and Defense in his career, and has been successful at both. The 25-year-old "Big Buff" is currently Alternate Captain for the Atlanta Thrashers, and is a candidate for the Norris Trophy (Best Defenseman). His heroics at forward during the Stanley Cup Playoffs helped his former team, the Blackhawks, to a Championship in 2010.
| | |
| --- | --- |
| | |
P.K. Subban has been a lightning rod in his young career, but this talented young defenseman can back it up. He was selected 43rd overall in 2007, and burst onto the scene during Montreal's playoff run last season. The offensive-minded, puck-moving defenseman has made an immediate impact in the league, both scoring points, and agitating opponents.
| | |
| --- | --- |
| | |
Johnny Oduya is the only current black player who is not from North America in the NHL. He is of partial Kenyan descent, but was actually drafted out of Sweden in 2001, 221st overall by the Washington Capitals. It took Oduya until 2006 to land an every-day role with the New Jersey Devils, but he hasn't been out of the lineup much since. He was sent to Atlanta last season as part of the Iilya Kovalchuk deal and has seen his point totals dip in recent seasons.
| | |
| --- | --- |
| | |
Trevor Daley was drafted 43rd overall in 2002 by the Dallas Stars, and has spent his entire career in the organization. He has been a regular player in Dallas since 2005, and has been a steady performer in recent seasons. This season he is on pace for the highest offensive output of his career.
| | |
| --- | --- |
| | |
Francis Bouillon is an American born player who is half Haitian. He went undrafted but saw time with the Montreal Canadiens in 9 seasons before moving to Nashville in 2009. Francis is just 5'8″, making him one of the smallest players on this list, however he was given several nicknames during his time in Montreal, such as : Frank the Tank, and The Little Warrior.
| | |
| --- | --- |
| | |
Theo Peckham is a tough-nosed defenseman drafted 75th overall by the Edmonton Oilers in 2006. He has established himself as an everyday player for the Oilers this season, and has averaged nearly 2.4 penalty minutes per game. We don't recommend trying to camp in front of the net when this 6'2″, 234lb. tough-guy is guarding the crease.
| | |
| --- | --- |
| | |
Originally chosen 99th overall by the Ottawa Senators in the 2001 NHL entry draft, Emery took the Sens to the Stanley Cup Finals in 2007. Due to off-ice issues, and lack of performance on the ice, his tenure with Ottawa ended the next season. He played in Russia for one year before returning to the NHL last season to play for the Philadelphia Flyers. After a career threatening series of injuries ended his year early, Emery has fought to return to the league this year. On February 7th, he signed with the Anaheim Ducks and looks to make his season debut soon.
G

Gerald Coleman

St. Louis Blues
This one is a fairly big reach, but he just needs to sit on the bench in case of injury to Emery. Gerald Coleman has played 2 games in the NHL after being drafted by the Lightning 224th overall in 2003. He is currently playing in the ECHL for the Alaska Aces. He was the first graduate of the NHL Diversity Program to be drafted and play in the National Hockey League.
| | |
| --- | --- |
| | |
Bryce Salvador is a veteran defenseman currently with the New Jersey Devils, who has unfortunately been out all season due to a concussion. Originally drafted 138th overall in 1994 by the Tampa Bay Lightning, Salvador has put together a long career as a stay-at-home defenseman.
LW – Robbie Earl – Minnesota Wild
RW – Ryan Reaves – St. Louis Blues
D – Mark Fraser – New Jersey Devils
D – Derek Joslin – Carolina Hurricanes
D – Shawn Belle – Edmonton Oilers
Stepping back and looking at this team as a whole, I find it remarkably balanced. As I said, there weren't many decisions to make here about which players to include, I essentially listed every black NHL caliber player that I could find. Still, this team is constructed much like most NHL teams are, with a combination of leadership, youth, speed, toughness, scoring, and defense. Arguably I think each of those attributes is a strength of this roster. Some glaring weaknesses on the team would obviously be Goaltending, Center, and overall Depth. Barring injuries though, I think if this team were to compete in the NHL it would probably be a middle seeded playoff team. They could do some real damage with a return to form by Ray Emery.
Many others have explored this topic, including the relatively high number of black players on the roster in Atlanta. Rather than try to cover every possible angle, I'll instead link to some other great content :
Donald Brashear Skates with Kids at Fort Dupont