The Call of the Wild : Review
Memories of Jack London's 1903 novel The Call of the Wild course through America's veins like the churning waters of the rivers which cross it. This 117-year-old novel speaks of a time when common sense and earned wisdom were more valuable than what passes for "intellect" these days, where wisdom has been shoved into the backseat by pocket devices which access the world's knowledge (dubious or not) at the touch of a fingertip. We were more attuned, more observant of the land and its people, truly listening to what each was telling us; nowadays, we're lucky if we look up from our phones when we cross a crowded street.
The latest filmed adaptation of The Call of the Wild finds us square in this era, relying on a postal service to keep in touch with our faraway loved ones, and where frontier dreams are still coming to fruition. Chris Sanders knows how to tell a story visually, having helmed How to Train Your Dragon and The Croods; in his live-action feature debut, he wrangles every bit of his talents to bring us the engrossing tale of a St. Bernard/Scotch-Collie named Buck and his journey through the Kingdom of Man, only to be possessed by nature's irresistible voice.
Said talent also involves the near-movie-killing overuse of CGI (computer-generated imagery). For a film about nature, well over 80% of it features vistas and creatures alike rendered in the digital domain. Of course, being a film largely set in the harsh, unwelcoming Yukon territory of the 1890s, and especially considering the novel's violence, any attempt to recreate it physically would be dangerous. But great pains are made to try to keep us enmeshed in our surroundings and with Buck through his rather exciting life, so this liberty must be forgiven to a certain extent. (Although some of the CGI backgrounds and obvious green-screen uses are decidedly unforgivable.)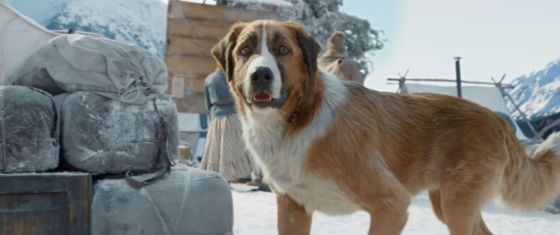 What we're left with is a (thankfully) distilled version of London's fantasy where Buck quickly learns "The Law of Club and Fang" after being stolen from his cozy life, broken, and repurposed as a sled dog. Although the solemn John Thornton (Harrison Ford) serves as our narrator and Buck's friend, we have to remember: this is Buck's story. Everything and everyone else are facilitators on his way to realizing his destiny; in this, The Call of the Wild makes its mark as one of the first films where we are absolutely rooted to the dog, not the humans surrounding him.
Of course, that's not to say the humans aren't without their drama or excitement, but the film's terms dictate a fleeting attachment to those whom we – as humans – gravitate toward and identify with naturally. It's something we're not used to as a culture, and this aspect of the film is a startling one. Our moviegoing brains are so used to our screen animals having some kind of humanoid characteristic, making us almost cry out for Buck to have some kind of celebrity voiceover to help us relate to him more. (Sanders achieved something similar through Toothless in How to Train Your Dragon, but the film's focus was more on its human characters and their story.) Thanks to a brilliant motion capture performance, we can more than understand Buck through his endearing intimation and actions.
Sanders puts Buck front and center, alternating between having to perform for his human masters and stepping into a world alien to him, where not every interaction is met with a kind pat on the head and fellow dogs fight to the death over the pack's Alpha position. The violence of London's novel is toned down considerably, from humans hitting dogs with clubs to battles among various species. An early scene of animal abuse portrayed through shadows on a wall is still plenty shocking, as is Buck's confrontation with the Alpha dog leading his sled team (which ends substantially less gorily than the novel). Writer Michael Green keeps a large portion of London's originally-intended darkness which Sanders translates with few punches pulled.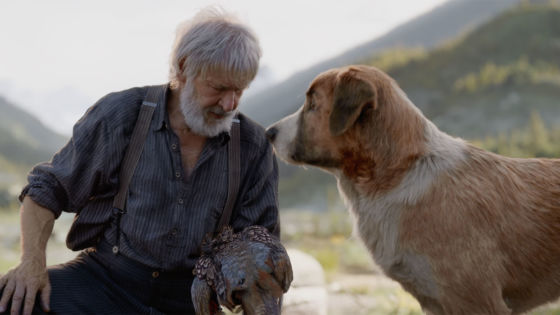 Green also injects a bit of new bleakness into John Thornton, no longer a freewheeling Gold Rusher; he's now an estranged husband retreating to the Yukon (and the bottle) after a damaging personal tragedy. Thornton may have been written as an outdoorsman, but Ford brings him to life with the depth of a wounded soul and a heart longing for some kind of reconciliation. There's a believable pathos and fractured grace which Ford wields as easily as one might close an eyelid, and his work here is palpable magic. Fans of the novel will be affected even more so, knowing full well how Thornton comes out at the end, although it requires rejiggering another source character in favor of excising the racial overtones of London's epilogue.
However, our eyes are drawn to Buck and his near-anthropomorphized expressions and body language. Although played impeccably by esteemed motion-capture actor Terry Notary, it's a bit of a hard time getting acclimated to Buck's mannerisms and movement. The immediate post-logo (which heralds 20th Century Studios' new post-Disney-takeover branding) introductory scenes in his comfortable surroundings attempt to familiarize us with him, but his CGI form, structure, and operation never quite gets to the point where we can believe we're watching a real dog. It's sometimes problematic, while other sequences allow us to be at home with the soul Sanders and Notary imbue in him.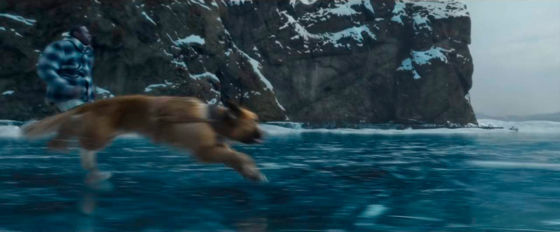 The same affliction extends to the constant alternation between real sets and landscapes versus those forged in the land of ones and zeroes. As much as it pains to write, the times we're plucked out of the movie by way-too-ostentatious computer fabrications of rapid sled rides and impossible locations are often more memorable than the film itself. But when notable cinematographer Janusz Kamiński's camera stops moving and treats us to panoramas and more intimate shots featuring Buck and his screen companions, the film finds its footing and settles us, as if readying us to listen to a fireside winter's tale.
That said, the same kind of brio Sanders infused into How to Train Your Dragon saves The Call of the Wild from drowning in its computer-generated trappings. The emotion of London's novel shines through; no matter what deviations from the original text have occurred, the story remains a kind-spirited examination of nature vs. nurture and what happens when the two violently or peacefully cross paths. We're seated fully alongside a non-humanized creature, and the movie is to be lauded for pushing us out of our Disneyfied comfort zones. It doesn't let us off the hook with cute voiceovers or modernized language; instead, we're kept on course with Buck as he finds his place in his new home.
MPAA Rating: PG for some violence, peril, thematic elements and mild language.
Running time: 100 minutes.
Released by 20th Century Studios.
The Call of the Wild (2020)
The Call of the Wild excels at its ability to make a non-humanized dog its main character, which is almost enough to make us overlook how computer-driven it is.