The Career Evolution Of Ludacris
I've always been impressed with how rappers like Ice Cube, Snoop Dogg and Ice T were able to transition from thuggish gangsters to mainstream celebs. Cube went from founding member of N.W.A. to big and small screen family man. T wrote the controversial song "Cop Killer," then made a second living playing cops in movies and television shows. Snoop became a brand name, appearing in everything from Training Day, The L Word, Entourage, One Life to Live, WWE Raw and scores of commercials for Boost Mobile, Chrysler, Orbit Gum and Pepsi Max. Not too shabby for a guy once arrested for murder.
Ludacris, aka Chris Bridges, is currently on the fast track to achieving the same degree of success. He began the 2000s slingin' rhymes on tracks like "Phat Rabbit" and "Move Bitch." A decade later, he's starring alongside Ashton Kutcher in the romantic comedy No Strings Attached, which opens Friday.
How the hell did this happen? Let's take a look.
2001 – Word of Mouf
Out of control afro. Hair pick. White tee. Neck bling. The picture of southern rap.
2003 – The Vibe Awards
Trades in the fro for corn rows, but the shades and sports attire are befitting a man who just released an album titled Chicken-n-Beer.
2004 – Crash
As a castmember of the Academy Award-winning film, Luda wins a Screen Actors Guild statue for ensemble acting. However, he does so portraying a carjacker, so his street cred is still intact.
2006 – Independent Spirit Awards

Whoa, what's up with the suit? I don't remember that in the video for "Get Back," when he was bitching the media wouldn't leave him alone. Now he dresses up for the media and flashes a smile on the red carpet. At least he kept the corn rows.
2007 – Fred Claus
A DJ elf named Donnie in a Vince Vaughn family Christmas comedy? Uh, okay. It's a little bit unorthodox, but Luda is a funny cat. Nothing wrong with spreading one's wings now and again. Right?
2008 – Max Payne
Takes a page from the Ice T playbook and picks up a badge. Bye, bye corn rows, hello sensible haircut. Also starts going with Chris Bridges, not Ludacris, when conducting interviews. Is this the same guy who went toe-to-toe with political windbag Bill O'Reilly?
2010 – The Businessman
Among his many projects, Luda begins working with the U.S. Census Bureau to ensure folks fill out their forms. Hey, an accurate count of the country's population is important. I guess.
2011 – No Strings Attached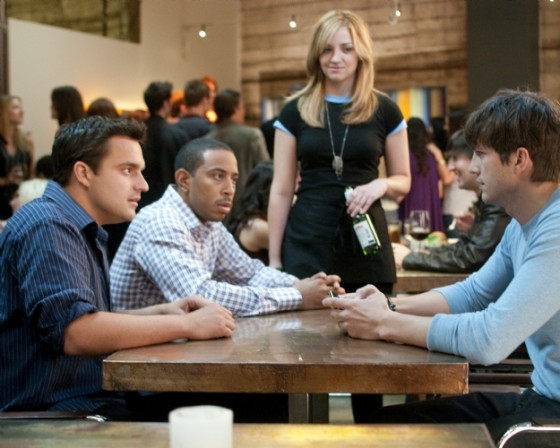 Plays Wallace, straight-laced pal to Ashton Kutcher's Adam in the rom-com No Strings Attached. And the transformation of Chris "Ludacris" Bridges is complete. Is that a checkered shirt he's wearing?