The Epic Downfall Of America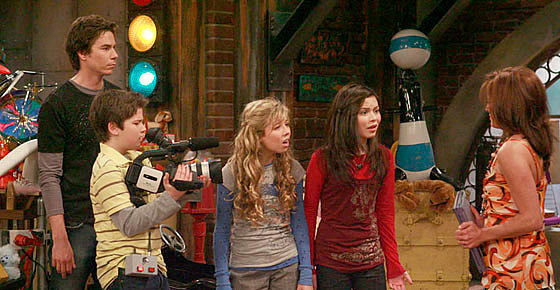 There is a plague inundating the nation as we speak. This harbinger of doom has nothing to do with disease, war, famine, economic downward-spiraling, or technological virus multiplication… no unfortunately this particular 'Doom Clock' chimes directly from your television sets. If you have, know folks that have, or hang out with children who are any where within the ages of five to fifteen, you have doubtlessly seen the many 'Tweener' shows that festoon Nickelodeon and Disney Channel. Each and every one is cookie-cut from the same mold and more or less follows the same basic plot structure. Oh sure, some of them feature main characters that sing, have wizardly powers, or host a web show; but the simple fact still remains that every last one consists of attractive female leads, a supporting cast of attractive kids, and a smattering of annoying and idiotic adults. The women that fill these shows have specific idiosyncrasies and quirks that make each one just a little different from the previous, but not by much. In fact, all are so closely aged and within such close knit 'BFF' circles that it wouldn't surprise me in the least if they all came forth, fused into a single entity, and admitted that they were, actually, the exact same damn person.
Now I must warn you, these shows mask themselves as high entertainment and will, at any given time, suck your youth to the T.V. screen like a tractor beam. Above and beyond that, there's the commercialism of these shows that has taken over stores like a bad batch of Cabbage Patch. You name it: lunch boxes, underwear, beach towels, dinette sets, condoms, and crack pipes… they're everywhere, even, as I can safely assume, somewhere on your child's person as we speak. Do you have to worry? Hell yeah, you have to worry! Believe me, coming to you as a child of the late seventies and early eighties, I can honestly attest to the power of the kid-friendly sit-com: I had ALF pajamas. That's right, along with my Mork and Mindy lunch box, well, I was absorbed so completely into the shows that I absolutely forgot what reality was and turned immediately to Brady Bunch acid tabs. Yes, it was a sad, difficult time for me, but I persevered and I stand before you today a clean man! Where was I… Oh right, here are the shows you need to watch out for:
Sonny With A Chance (Demi Lovato)
This little lady has been around since her days on Barney. How, you might ask, the hell do I know that? I have kids, jerk. Also she falls far too completely into the 'uncomfortably attractive' category. I'm going to Hell.
---
Wizards Of Waverly Place (Selena Gomez)
In fact the best friend of Demi Lavato (I did my homework and feel really filthy), she also began her career on Barney and has become one of Disney's most popular cash cows… wait, did I just call her a cow? I feel a little better about myself.
---
The Suite Life On Deck (Brenda Song and Debby Ryan)
It makes little difference that the main characters of this show are the twins Zach and Cody… shit, it could be a bag of potatoes and a flaming moose and you'd still find yourself staring at the girls. Not me, that would be gross.
---
Hannah Montana (Miley Cyrus and Emily Osment)
Did you know that Emily Osment is the little sister -and far less drug-addled waste- of Haley Joel Osment of Sixth Sense Fame? You did? Yeah, also she's prettier and a part of me just died for admitting that.
iCarly (Miranda Cosgrove and Jeannette McCurdy)
This one's my *ahem* kid's favorites, so that's why it's last. Yes that's the truth, perverts! Anyway, Miranda Cosgrove starred a few years ago in the Jack Black flick, School of Rock and went on to become the little sister in Nick's other mega-hit, Drake and Josh. Now, well, she's nearly all grown up and just a short distance from legal… Christ, shoot me.
---
So now you know. Yes, unfortunately all of these women are shamefully attractive and will, for no other reason than just thinking about them, condemn you the Hades as well as a maximum security prison. So, as I said, I watch these with my children, so, you know, it's all research. I have to go take a shower with a razor blade.