The Fifteen Coolest Captains
When it comes to kick-ass titles, there are many with which one can be awesomely endowed. You could be a world-renowned Mister, and that's pretty sweet. Or, why not try to earn your honorary doctorate? Any or both of those are perfect ideas! But why not go a step further and become a Captain! Becoming a captain (not necessarily the military kind, mind you) is not a privilege handed out lightly. Sure, the comics have a ton of them, but most are cheesy characters and only a few warrant mentioning in general, and only one appears here. Yes, you, too can become a captain, but you might want to peruse this list of fifteen before submitting your application. Because these guys are already really cool Captains.
The name Ahab was surely around prior to Herman Mellville's telling of the epic sea saga, Moby Dick, but it definitely wasn't synonymous with being a single-minded, goal-oriented, twisted prick whose soul purpose in life is to kill a giant, white whale. But it is now. And though he was only the captain of the Pequod, he will always be the captain of pretentious literature.
Speaking of pretentious, single-minded pricks, here we have the most dastardly pirate in all of Disney animation: Captain Hook. After losing his hand to a crocodile thanks wholly to the impish fruit named Peter Pan, Hook does the one thing that puts Pan in his place: Tells him to grow up.
Captain Underpants by Dav Pilkey is a series of American children's books about two fourth graders, George Beard and Harold Hutchins, and the aptly-named superhero they accidentally create by hypnotizing their principal, Mr. Benny Krupp.
Daryl Dragon and Catherine Tennille, better known as Captain and Tennille were formed out of necessity when Catherine needed a back-up, and Daryl's stint with the Beach Boys gave him a bit of pull and freedom. Eventually they were married, acquired incredibly stupid nicknames, and put out a slew of soft-rock crap.
Kurt Russel is the lackadaisical, happy-go-lucky liar whom Martin Short and his family inadvertently hire to pilot their broken boat to Miami. Not surprisingly, when you have an eye-patched goof named Captain Ron at the helm, adventure ensues and trouble is right behind. Man, I should so write tag lines.
10
Captain Kirk/Captain Picard
The ongoing battle between who was the greatest ever Captain of the USS Enterprise is not one that's going to be peacefully concluded any time soon. So rather than sound too one sided on the affair, I just gave both men the same slot here on the Captains list. But in my mind, Picard sits in front.
Don Van Vliet. God rest his soul. For more info (assuming you need it- and there's a lot) head here.
I have actually had the… um, pleasure (?) of seeing Captain EO while on a trip to Disney World's EPCOT in 1991. Basically, it's Michael Jackson, in space being… Michael Jackson. Seriously. But, if you ever get the chance, check it out, it is pretty cool 3D. Also I stole the glasses. Hey, I was 17. Also stupid.
Gather together Earth-loving Planeteers named Gi, Kwame, Linka, Ma-Ti, Wheeler, give them the powers of Earth, fire, wind, water, and… heart (?) and have them combine their strengths when the going gets tough and horrific creatures threaten the Eco-System, and you've got yourself Captain Planet. He was blue long before those Na'Vi pussies. And green.
Though I really shouldn't have to explain what Captain Morgan is (it's rum), I will mention that the visage is based on the Jamaican Pirate, Henry Morgan. Who did you think it was? We'd also like to note that the Captain has given us one of his Morganettes, which is more than any of the other losers on this list has done for us.
From 1955 through 1984, Bob Keshan was the one and only true children's show host. Dump a 40 for a fallen brother.
The Cap'n is, actually, a captain and of his own ship, too: The Good Ship Guppy. How he fared through the ranks of his Naval career prior to earning the Cap'n moniker is unknown. I bet he slept his way to the top.
Everyone knows the 'Pirates of the Caribbean' trilogy (soon to be… I don't know, quadrilogy?), and everyone knows who Sparrow is, but for this reading, let's let Entertainment Weekly get the last word, "Part Keith Richards rift, part sozzled lounge lizard, Johnny Depp's swizzleshtick pirate was definitely one of the most dazzling characters of the decade."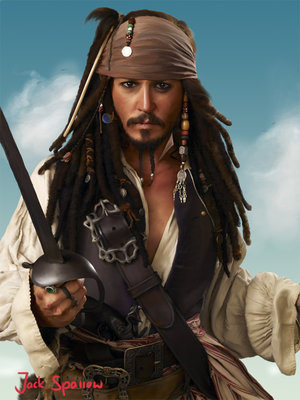 Marvel Comics face of American heroics and valor, Steve Rogers became the man who stood and fought for truth, justice, and the American way. Until he was killed. Now he's Bucky. Comics are ridiculous.
Unga Bunga! Our titular hero here has the uncanny ability to find whatever he needs hidden within his hair, fly via unreliable club, and eat just about anything. Also he's by far the coolest captain around. CAPTAIN CAAAAAAVEMAAAAAN!