The Fifteen Finest Summer Songs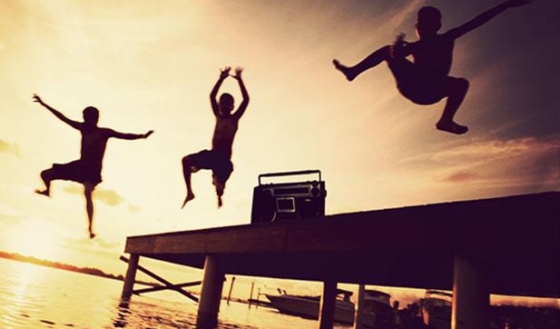 Sunday is officially the first day of Summer here in the United States, and in some areas of the country, it's really starting to heat up. This time of year always reminds us of great music. In fact, Summer itself has really garnered itself quite a soundtrack over the years. Certain songs that play on the radio, or that you hear in movies, or are even in your own personal collections, really have that significant ring to them that brings you back to long days of freedom, and long nights of fun and exploration. Yeah, 'exploration'… know what we mean? *wink-wink-nudge-nudge*? Anyway, close your eyes, relax, and listen to the wonderful sounds of Summer. Sickos!
15. Summer Song – Joe Satriani
Why this amazing example of a guitar God's ode to a season isn't featured more heavily in films focused on Summer, we'll never know. What we do know: We know what we like, and this is Summer in six strings.
14. Summer – WAR
A different flavor from a band more well-known for such hits as 'Low Rider' and 'The Cisco Kid', Summer came as a reprise from an exhaustive touring schedule and really set War on to a longer trail of fame.
13. Cruel Summer – Bananarama
Bananarama's Cruel Summer was a Top Ten hit back in 1984 and received heavy radio play throughout the decade thanks to its inclusion on The Karate Kid soundtrack. The song is a look at the darker side of summer, focusing on the oppressive heat and misery of being alone.
12. Summer Nights-Travolta & NewtonJohn
If you haven't heard this one, ask your wife or girlfriend, we guarantee it's among her favorites. Olivia Newton John and John Travolta sing about each other in the movie Grease. Cheesy, but too important not to include.
11. Sunny Afternoon – The Kinks
An absolute classic, who doesn't have fond memories of lazing on a sunny afternoon? This tune isn't as bright and cheery as other summer songs, but they can't all be cheerful songs.
10. Hot Fun in the Summertime – Sly…
Sly and the Family Stone released this tune in 1969 and it peaked at Number 2 on the Billboard charts. The song is a dedication to the fun and games to be had during the summer.
9. Summer Breeze – Seals & Croft
This #1 Hit from 1972 is a staple of soft rock stations during the summer, and there is just something about the tune that has stood the test of time. It's light and easy, just like a summer breeze.
8. Sublime – Doin' Time (Summertime)
Who knew that a song, borrowing heavily from the Gershwin classic 'Porgy and Bess', would go on to become one of Sublime's finest recordings. And boy oh boy does it scream Summer.
7. Under the Boardwalk – The Drifters
For those of you who have been to an honest-to-goodness boardwalk on the coast of an ocean can recall almost instantly the smells (taffy, kettle corn), the sounds (calliopes, barkers), and the sights (endless vendors and treats) this song brings to mind.
6. Summer of '69 – Bryan Adams
A song about the hits, bunts, and strike-outs of life during early adulthood that, regardless of whether or not you were even around in 1969, steals home for every one of us. Now that's some nice baseball puns, son!
5. Margaritaville – Jimmy Buffett
There are several Buffett songs that could make this list, but this one will have to represent the Parrot Head Nation. Regardless of how you feel about the song, it's nearly impossible not to admit that it stirs up lots of great feelings of Summer. You know darn well you, too, got drunk to a Buffett song a time or two.
4. Summertime – Jazzy Jeff & Fresh Prince
This is another of those 'either you like it or you don't' jams that this uber-popular duo released at the tail end of their illustrious career. What we remember is listening to the hell out of it our senior year and following Summer from High School. Still good stuff.
3. Summer in the City – Lovin' Spoonful
The general consensus is that this is, indeed, an indelible part of Summer's musical bounty and we are more than inclined to agree wholeheartedly. Just the vocals alone make you smile and long for those warm nights.
2. In The Summertime – Mungo Jerry
With lyrics like this: "If her daddy's rich, take her out for a meal; If her daddy's poor, just do as you feel" it's hard not to dig this song regardless of the season. But with it's banjo and jug, for some reason -despite the title- it just perspires with hot Summer soul.
1. The Beach Boys – Surfin' USA
Absolutely, without a shadow of a doubt, the quintessential Summer band, hands down. We're huge Beach Boys fan and we believe 'The Warmth of the Sun", more than any other song, spells out Summer and its long, sweltering nights. However, since the Beach Boys have such a massive catalog of hits, we figured we might as well go with something a bit more recognizable to people to represent them on the list. Here's 'Surfin' USA'.