The Hottest Princess Leia Stuff
Since Star Wars came out, there have been many Princess Leia items on the market, and kids and geeks have bought them all. But some of those items, particularly the ones from the Jabba the Hutt scenes in Return of the Jedi, most likely sold better than the others, for completely obvious reasons. So let's thank Jabba the Hutt for finally dressing this Princess the way we want to see her (also check out the coolest and dumbest Jabba stuff).
While we'd pay not to see Carrie Fisher dressed like that today (she's in her 50s… ewwe), her figure from the 1983 film has been immortalized in all kinds of materials for our viewing pleasure. And one day, when we die, we will pass these figures on to our children, who will look at them and say "What the hell am I gonna do with this?"
Now, let's look at the best figures available of Princess Leia.
Slave Leia – Sideshow Exclusive Edition
Anything by Sideshow Collectibles is of the highest quality and rarely disappoints, this figure included.
Princess Leia vs Jabba the Hutt – Sideshow Collectibles

There may be debate on whether this is 'hot' or not, but a statue of Princess Leia strangling Jabba the Hutt will surely satisfy someone's dark fetish.
'Lovely Leia' Framed Giclee on Paper

Another Sideshow Collectible item, this is what slaves must look like in heaven.
Princess Leia BD17 – 3-3/4 Inch Scale Action Figure

This this is kinda creepy because it has an interchangeable pair of legs, one with Leia sitting and another with her standing. And for some reason there's a droid with it.
Star Wars: Princess Leia Vinyl Model Kit
A model… for sure.
Return of The Jedi Princess Leia 'Slave' Statue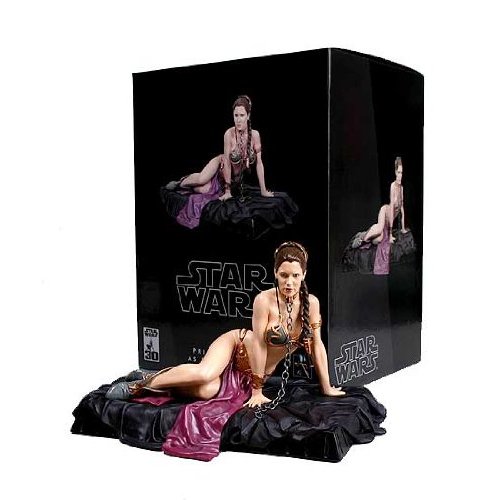 Now THIS is nice. Goes well with Jabba sets.
Princess Leia As Jabba's Slave Statue Accessory
This one is nice, too, but also goes best with a Jabba set.
Princess Leia with Barge Cannon
That thing is called a Barge Cannon. Good to know.
Power of the Force Freeze Frame – Princess Leia Organa

'Freeze frame?' Not sure why it's called that but at least she's wearing the right clothing.
Star Wars Princess Leia Kotobukiya Figure

This one looks best from behind.
LEGO Chewbacca and Princess Leia Figures
Yes, of course there's a Lego version of Leia. And look! There's more:
Princess Leia (Slave, YF) – LEGO Star Wars Minifigure
Lego Princess Leia with yellow skin. You can also buy her as a Lego Star Wars Key Chain, and a magnet.
Gentle Giant Studios Star Wars: Slave Leia Mini Bust
Bust. Hehe. This one isn't that good cause there's no legs.
Princess Leia – Return Of The Jedi (Figure And Cup)
This figure comes with a glass with her image on it, so Princess Leia can now be in your kitchen, as well!
Princess Leia Organa & R2-D2 as Jabba's Prisoners

This is a doll for little girls, not for adult collectors. Please, please don't by this if you're a single man. Leave this one for the little girls who admire Princess Leia.
The Power of the Force 12 Inch Princess Leia with Chain

Another product for little girls, NOT perverted male collectors.
This one is very rare and doesn't look like the best item, but worth looking into for collectors.
Star Wars – 1997 – Kenner – Princess Leia Organa Figure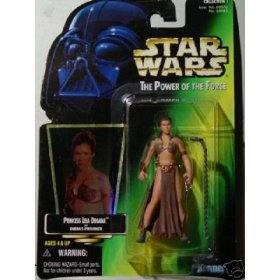 For original action figure geeks, here's the 1997 release of her.
Deluxe Han Solo XL & Princess Leia Medium Couples Costume Set
The one and only item on this list of Leia wearing something other than Jabba's slave costume. That's because the skirt it clearly meant to look a lot hotter than anything she actually wore in the first two films.
---