The McLobster Sandwich and other McMenu Madness
As you might have read on our website (or otherwise heard), there's this new phenomena spreading called the McGangBang. In doing research (or whatever you call searching the Internet for info) for the McGangBang, I came across something else called the McLobster. Originally, I thought it was a joke. McDonald's isn't exactly high brow enough to serve Lobster, now is it? I'd consider lobster to be a seafood delicacy. But I soon came to realize that it indeed was real and began shaking in my boots at the prospect of such a McFood.
To be fair, the McLobster is hardly new. It's been around for several years, but unless you live in Eastern Canada or New England, you might not be aware of the crustaceous cousin of the Filet-o-Fish. It comes and goes, much like the McRib, and the maritime treat basically represents McDonald's take on the venerable lobster roll. The disturbing mix of lobster and bread is smothered in white "McLobster sauce", which is some combination of mayonnaise, tartar sauce, and possibly some salad dressing. Shredded lettuce and bits of celery are also included. Photo below by "are you gonna eat that?"
And in case you're wondering, it is real lobster meat in the sandwich. It's actually not priced all that differently from typical lobster rolls, so don't be too worried. Reports indicate that it's a decent representation of the sandwich, so maybe you should go out and try a McLobster next time you're in New England or the Maritime Provinces of Canada. And if you're French-Canadian, be sure to ask for the McHomard instead. What's the worst that can happen? Actually, scratch that last part, you probably don't want to think about it too much…
Here are a couple additional McLobster photos:
And if you need further proof of it's existence, here's a commercial…
Of course, this opens the door to a whole host of regional foods. I began to wonder, what else I was missing out on living in the D.C. area. Was there a McGrits? A McTofu? And really, that's just the tip of the iceberg. What about worldwide? Beyond the Pulp Fiction famed Royale with Cheese, what other creations cater to the various cultures around the world. Here are some examples:
Spam
Location: Hawaii
In the Aloha State, the McDonald's Deluxe Breakfast includes Spam along with eggs, rice, and Portuguese Sausage.
Le Croque McDo
Locations: Belgium, France
This is McDonald's version of a Croque Monsieur, a breakfast sandwich consisting of two melted slices of Emmental cheese and a slice of ham toasted between two buns.
Poutine
Location: Quebec, Canada
Poutine is fries with gravy and cheese
Chicken Maharaja Mac/McCurry
Location: India
As you might have guessed, beef and pork products are not served to cater to Indian religious sensitivities. The Big Mac morphs into the Chicken Maharaja Mac (originally a mutton burger), containing two grilled chicken patties with a smoke-flavored mayonnaise, fresh onions, tomatoes, and cheddar cheese surrounded by a toasted sesame seeded bun. Also available in a lamb version. The McCurry is a rectangular shaped crust that is topped with a creamy sauce (made without eggs), and vegetables and/or meat. You might also find the Pizza McPuff, which replaces the cream sauce with a tomato-based sauce and is topped like a pizza. As noted on the menu, the vegetarian dishes (marked in green) and meat dishes (marked in red) are prepared in separate areas of the restaurant in respect for vegetarians. (Photo by counterclockwise)
McOz
Location: Australia
How's beetroot sound to you? This burger contains it, plus ketchup, mustard, onions, McChicken sauce, lettuce, tomato, cheese, and a quarter pound of beef.
Pasta Zoo Goo Happy Meal
Locations: Australia and New Zealand
The meal includes ten pasta pieces (filled with cheese and vegetables) along with Zoo Goo (Italian pasta sauce), a pair of small plastic tongs, a toy, and a milk drink with a 'Sipaah' flavored straw (in chocolate or strawberry).
Deli Choices
Location: Australia
There are various sandwich types to choose from. For breakfast you can have a Bacon and Egg combination, and for lunch these are some of the options: Chicken Tandoori, Turkey and Cranberry, Chicken Caesar, and Thai Chicken.
Greek Mac
Locations: Greece, and several other European nations such as Belgium, Croatia, the Czech Republic, Spain, Cyprus, and Portugal
You take two burger patties, wrap them in a pita, and add yogurt sauce, tomato slices, iceberg lettuce, and onions. This "McGyro" also comes in Chicken.
Gazpacho
Location: Spain
Chilled gazpacho (which is a cold Spanish tomato-based raw vegetable soup) is served in sealed plastic cups.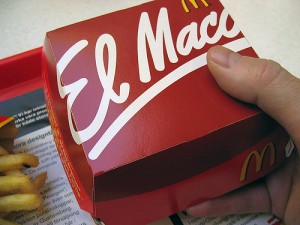 El Maco
Locations: Finland, Sweden, and growing
McDonald's wants to feed your inner Mexican….from Scandinavia? In Finland this comes with BBQ sauce, but in other parts of the world it comes with sour cream and/or spicy taco/salsa sauce. Sweden will even toss in a side of nachos. In fact, while the name remains the same, the sandwich really varies from place to place. In some locations, you can get it with chicken instead of beef. (Photo by dolanh)
McAloo Tikki Burger
Location : India
The vegetable burger contains a fried and breaded potato and peas patty, which is topped with a special spice mix, tomato, onion, and a vegetable-tomato mayonnaise secret sauce.
Haupia, Taro, and Pineapple Pies
Location: China and Hawaii
Similar to the familiar Apple Pie, this item uses the same crust and turnover shape, except with a different filling. The Haupia pie is meant to replicate the traditional creamy coconut dessert offered at a Hawaiian Luau. Similarly, Taro and Pineapple pies are meant to taste like their regular dessert counterparts.
Shogun Burger, Chicken Wings, Pineapple, etc…
Location: Hong Kong
McDonald's in Hong Kong is a whole nother adventure. The Shogun Burger consists of a pork patty served with Japanese Teriyaki sauce and cabbage on a sesame seed bun (egg optional). Other options include ordering pineapple slices instead of french fries or fried chicken wings as a side. Many locations also offer a separate counter selling ice cream and desserts or a McCafé. Oh, and they serve breakfast all day!
McLaks
Location: Norway
The McLaks (laks is pronounced like lox) is simply a salmon burger. (Photo by larskflem)
McKebab
Location: Israel and Argentina
It's a kebab served on flatbread.
McSpaghetti
Location: Philippines
The McSpaghetti is exactly what it sounds like, a bunch of spaghetti noodles served in a sweet tomato-based sauce with grated pasteurized cheese. Also notice the Crispy Chicken Fillet with rice you can get. It's popular to eat a McSpaghetti with some form of chicken.
Prosperity Burger
Location: Malaysia
The Prosperity Burger consists of a beef patty with black pepper sauce. It is usually only available during Chinese New Year (that's bad), although you can get it with curly fries (that's good). Also available in chicken. (Photo by owaief89)
Ebi Filet-o
Location: Japan
Yuri "Ebi-chan" Ebihara, a popular Japanese celebrity(pictured above), endorses this shrimp burger (similar to a Filet-O-Fish) topped with special sauce and lettuce. You can order one with french fries in barbecue, seaweed, or Italian basil flavors.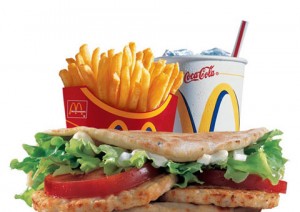 McArabia
Locations: The Middle East and other Arab nations such as Egypt, Morocco, and Pakistan
The sandwich  consists of two grilled chicken patties of de-boned breast meat, Arabic bread, lettuce, tomatoes, onions, and garlic sauce. In Morocco, McDonald's also sells "deluxe potatoes" which can be substituted for French fries and are thick-cut spicy potatoes.
McRice Burger
Location: Philippines, Thailand, Singapore, and Indonesia
The McRice Burger is a ground beef burger (or chicken fillet) served with special sauce in toasted rice cakes shaped like buns.
Bulgogi Burger
Location: South Korea
This treat is a pork patty in a bulgogi marinade.
Cheddar McMelt
Location: Brazil
This sandwich is a hamburger patty, melted cheddar cheese, and grilled onions flavored with soy sauce on a whole wheat bun.
McShawarma
Location: Israel
This pita bread with turkey meat was made famous in an advertisement based on the memorable scene from Pulp Fiction. Check it out: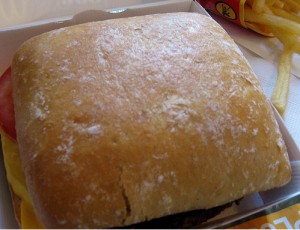 Recette a la Moutarde
Locations: France and Morocco
Loosely translated to mustard burger, it consists of meat, two kinds of cheese, tomato, onions, and dijon mustard on ciabatta bread.
Kiwiburger
Location: New Zealand
The monstrous burger featured a beef patty, tomato, beetroot, and a fried egg. It was later replaced with something known as "The Boss" sans beetroot and egg. Due to popular demand, the Kiwiburger returned as you can see from the billboard. (Photo by TreMichLan)
Samurai Pork Burger
Location: Thailand
Where as McDonald's is a cheap food alternative in the United States, it's a higher end option in Thailand. So much so that its almost prestigious to be seen in one. The "burger" is a pork patty marinated with teriyaki sauce and topped with mayonnaise, lettuce, and a pickle. I don't know what's so Samurai about this concoction, but if it's not your thing, you can check out the McPork Burger or the Pepper Chicken Burger instead.
McHuevo
Location: Uruguay
Its a burger with a poached egg (huevo) and mayonnaise on top. And if I believe the billboard, it's also tasty.
McCountry and Shrimp Scampi
Location: Czech Republic and other locales
A regular menu item in the Czech Republic is the McCountry, which consists of a pork sausage patty on a plain bun with lettuce, tomato, onion and mayonnaise. You can also get Shrimp Scampi to go with it.
McCroissant
Locations: Europe
This one is pretty self explanatory.
McKroket
Location: The Netherlands
It's a deep-fried roll containing beef ragout, similar to the Dutch Croquette sold in snack bars. FYI, beef ragout is made with stew beef, onions, carrots, and potatoes. The McDonald's sandwich is topped with a bun and a creamy mayo-based sauce.
Tamago Double Mac
Location: Japan
A hamburger with two beef patties, pepper sauce, bacon, and a poached egg. Served with or without cheese. (Photo by Rex Roof)
McKielbasa
Location: Poland
In Poland, there was a sandwich offered called the "McKielbasa," which was a Kielbasa patty topped with ketchup, mustard, and onion on a sesame seed bun.
CBO
Location: Europe
Like the BLT, this one combines chicken, bacon, and onions in a winning combo.
McRice and McFill
Location: Sri Lanka
The McRice is a combination of rice, salad, chicken and a spicy curry sauce, while the McFill is like a pita. McRice is also available in other nations as straight white steamed rice.
McPizza
Location: various
It's pizza!
McNífica
Location: Latin America
Its a salted beef patty served with cheese, lettuce, and tomato.
McFloat
Location: various
It comes in various flavors, for example in the Philippines they offer a bubblegum-flavored Sprite McFloat.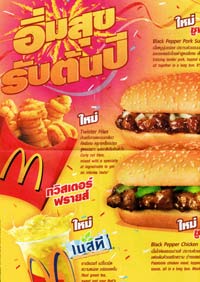 McKofta
Location: Pakistan
In Pakistan, you can get plenty of stuff with chutney in it, such as the McChutney Burger. Or instead you can get the McKofta, a meatball sandwich. Finish it off with a pineapple-flavored sundae or a mango-flavored milkshake.
Kiwi Apple Sundae
Location: Korea
A normal sundae with a new topping. (Photo by ~Mers)
McBingsoo
Location: Korea
A McBingsoo is similar to a Patbingsu Korean shaved ice. Also interesting in Korea is that there is a deposit levy on cups, which is refunded upon return to any McDonald's location for recycling or reuse.
McColosso
Location: South America
Not all that different from a normal sundae, but they look quite good.
McHotDog
Location: Japan
It's a hot dog!
Cinnamon Melts
Location: Japan
Cinnamon roll goodness as done by McDonald's.
McBeer
Locations: various
Okay, so they don't actually call it McBeer, but you can get Beer all across the globe at various locations of McDonald's.
Volcán de Chocolate
Location: Argentina
They tried these desserts down in Argentina. Basically its a chocolate pastry with chocolate filling inside. It was served with "helado de crema (ice cream), dulce de leche (caramel like sauce), and salsa de chocolate caliente (hot chocolate sauce)."