The Next Jordan is Jeffrey Michael Jordan?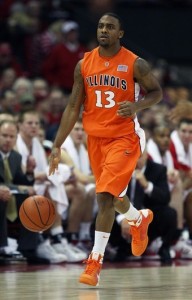 People always seem concerned with finding the "next Michael Jordan." From names like Harold Miner to Jerry Stackhouse to Vince Carter, comparisons have been made throughout the years. And it's inevitable that the pseudo-Jordans come up short. One can't exactly be expected to live up to the greatest player that ever lived. If there is a next Jordan, he's already here and his name is LeBron James. That's probably the closest you'll come to seeing another MJ for the foreseeable future. But if you're still looking for another next Jordan, why not look towards the Illinois bench and a kid by the name of Jeffrey Michael Jordan.
Yes, Michael's kid is in college and ready to play in his first NCAA Tournament. Now don't go expecting any big highlights from the real baby Jordan. The sophomore guard has averaged a mere 8.3 minutes per game this season, averaging only 1 point and 0.3 rebounds a contest. Normally he'd be riding a fair amount of pine, but thanks to an injury to floor leader leader Chester Frazier, Jordan is poised to see more minutes in his stead. Frazier led the team in minutes played, and someone will have to fill the void when the Fighting Illini take on Western Kentucky this Thursday. Some of that void will go to the next Jordan, and we'll have to see if he can make an impact.
If you want more Jordan, here's a YouTube interview of his season so far: