The NHL's Guardian Project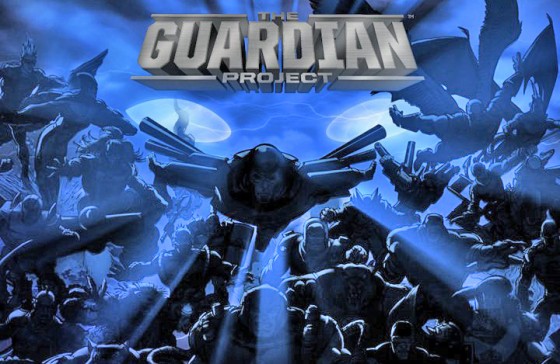 If you haven't heard the news already, the NHL is going into the comic book business, sort of. Here is the official word from the press-release :
Spawned from the mind of comic book legend Stan Lee, the Guardian Project tells the unique story of a boy who has the ability to transform his imaginary best friends into superheroes.  Mike Mason is the leader of the 30 Guardians, the greatest team of superheroes ever assembled (represented by each NHL team).
USA Today has a bit more information about the project :
The superheroes are designed to appeal to the NHL's fan base, but also to the younger set, perhaps cultivating new fans. Plans call for comic books, a novel, mobile applications, TV and film.

"We were looking at how do we cultivate a relationship with the next generation of fans," NHL marketing chief Brian Jennings says. "And watching the explosion of superheroes that was going on in the entertainment world, we immediately saw an amazing opportunity."
In order to unveil these new creations, they are conducting fan voting on the Facebook page, and so far, they've had over 800,000 votes. We'll let Stan Lee explain :
We've put off writing this article for awhile, because we wanted to have a few of the Guardians to show you, and to comment on. Now that they've released several images, I've come to a couple of conclusions.
If this were fan-art, it would be among the most awesome things I've ever seen in my life. The fact that it's NHL sponsored for some reason kills the coolness factor a bit for me. However I'm 32 and a life-long hockey fan (who doesn't particularly care about comic books), so I'm not really the target audience.
Producing a novel, a movie, etc. from this concept might be a bit overkill, but I guess we'll find out. 30 "super" heroes is a lot. Fitting them all into one story, and having it make any sense seems like a big challenge to me. The recent comic movies that have had success have done so with a few main characters. You didn't really follow the story of all of the X-Men at once. So will they pick just a few Guardians and make them the main characters? (much like the NHL Network and Versus do for their broadcasts) Or will they try to keep it even? Will it ever even make it to the theater? As a hockey fan, I hope so.
They've done a nice job of providing a great Facebook page containing the images on these Guardians, and allowing you to vote. I think one thing is for certain, as each Guardian is released, it becomes a story on fan blogs in that city. So that creates a natural buzz for the project. I mean honestly, what makes a more bad-ass story for your local hockey team, than the unveiling of their Stan Lee created superhero?

Some of the descriptions on these characters are a bit hokey (not hockey) though, so for the bulk of the images, we'll just show you what they look like. Each one is accompanied by a video as well :
To help promote the Guardian Project, we have a couple of great prizes to give away to lucky Gunaxin Readers :
Grand Prize: NHL Jersey from your favorite team (1 winner)
Runner Up: Guardian Project Graphic Novel (1 winner)
Entering is Easy!
Follow @Gunaxin on Twitter
Retweet the following message by end of day on 1/17 :
RT for a chance to win an @NHL Jersey and Guardian Project Graphic Novel from @Gunaxin. Vote now! http://on.fb.me/fAD7nT
Two winners will be chosen and alerted on 1/18. Entrants must be 18+ and reside within the US or Canada (excl. Quebec).