The Office Bobbleheads That Shouldn't Be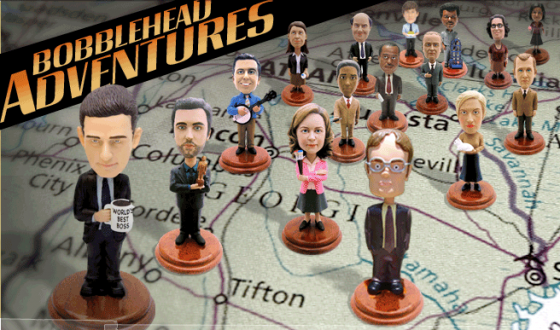 The Office is one of the funniest shows on television now, so NBC immortalized each character as a bobblehead. The only problem is, bobbleheads suck. There's nothing cool about them. They're caricature statues and their heads wobble around. Only Warren from There's Something About Mary would be amused by that.
There is one major character missing from this group of figures: Jim Halpert. NBC says it's 'coming soon,' but what could possibly be the holdup? Did an office mishap delay the Jim bobblehead like a Dunder Mifflin paper delivery incident? Was there a clause in the contract with the Chinese factory workers who don't like him? Regardless, I doubt there are many people anxiously awaiting the unveiling of the Jim bobblehead. (UPDATE: NBC released it.)
Though I've made my feelings clear about bobbleheads, let's take a look at each and decide whether the character is even deserving of one.
Michael Scott

This is the hero of The Office and certainly a must-have. It will be interesting to see if the show can survive without him. My guess is he'll get fired for something completely absurd, like getting caught stealing a pen.

Dwight Schrute

Dwight is the sidekick to Michael, and since a Dwight bobblehead actually existed on the show, this is necessary for the collection.

Pam Beesly

Pam is hot, so we need to get this one, too. Fortunately, there is no Jim Halpert bobblehead to keep her company, so she's all ours.

Ryan Howard

Ryan is one of the most boring and forgettable characters on the show, and under no circumstance should anyone own his bobblehead.

Andy Bernard

Andy was one of the greatest additions to the cast and definitely deserves a bobblehead.

Angela Martin

Though she is the office bitch, Angela is hot, but she's also one of those chicks who looks like she will lose her looks when she gets older, which is why we should avoid this bobblehead. (bobbleheads grow old, right?)

Creed Bratton

Creed is moderately funny on the show in small doses, but this kind of bit player doesn't deserve his own bobblehead. I really think that they should do a show with him dying, and Michael ruins the funeral somehow.

Darryl Philbin

The warehouse guy, Darryl, is moderately funny on the show, sometimes, but he definitely does not deserve his own bobblehead.

Kelly Kapoor

Kelly's character is definitely funny, but she's not all that hot. I suppose she deserves a bobblehead, but who would buy it?

Toby Flenderson

For the love of God, they seriously made a bobblehead of a creepy HR guy? I'm with Michael… Toby does NOT deserve his own bobblehead.

Meredith Palmer

The ugly chick on the show does NOT deserve her own bobblehead and anyone who owns this needs therapy.

Oscar Martinez

The accountant, who happens to be gay, usually isn't funny but occasionally has a good line. He's generally there for a reaction to one of Michael's gay jokes. Does not deserve a bobblehead.

Phyllis Lapin

Are you kidding me? Like any desk could hold a Phyllis bobblehead. Okay, that was mean, but why would anyone want this?

Stanley Hudson

Not exactly the funniest character, but certainly necessary, I'll venture to say that Stanley does not deserve his own bobblehead.

Kevin Malone

This one is not listed NBC's site and not available on Amazon, and it appears to have only been released in limited edition, which is a shame because Kevin definitely deserves his own bobblehead!