The Poser's Guide to Beer – Masters of None

In this edition of the Poser's Guide to…Jay and Mike were at the BLUE POINT Rhythm & Brews Fest discussing the do's and dont's of Beer. We had some people on the show who love beer as well and discuss everything beer. A special thanks to our guests Gary from Blue Point and Tara from the video podcast STILL CRAZY AFTER ALL THESE BEERS. So crack open a cold Blue Point beer and sit back and enjoy the Poser's Guide to Beer served Master of None style.
[podcast]http://www.podtrac.com/pts/redirect.mp3/traffic.libsyn.com/mastersofnone/MON_5_3.mp3[/podcast]
Masters of None – 5.3 – The Poser's Guide to Beer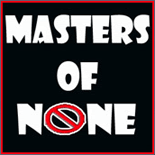 Gunaxin is proud to be partnering with Masters of None, and featuring their content here on our site. Masters of None are former radio guys Mike, Art & Jay, who debate and answer mankind's most important questions each week. Along the way you'll encounter unsustainable amounts of movie quotes, horribly tasteless jokes, TV references, offensive comments, old radio bits, biting insults, tall tales, unsportsmanlike conduct, raping and pillaging of all things pop culture. It's a comedy podcast that doesn't suck.
---