The Poser's Guide to Being a Sports Fan
So you're not a sports guy. Big deal. As long as you know how to act like one around other sports guys you should be fine. Now we don't condone such nonsense, but for those who have never been into sports or perhaps have a girl that wants to be interested in your hobbies, we give you The Poser's Guide to Being a Sports Fan. Be sure to check out the full podcast at the bottom of the article.
Picking a Team:
No Place Like Home – This may seem as a shock, but the home team isn't necessarily the best team for you to pick if you're just starting out as a sports fan. The novice living in a section of the country with passionate* fans will most likely run into the gamut of questions ranging from team history and player stats to cup size and divorce settlements.  The best thing to do is pick a fairly new team far away from you and then make up some bullshit story about how you lived in that town for the first 8 years of your life and you've always wanted to move back. (*crazy)
Get the Gear:
Gotta Go to Mo's: Take it easy there wallet-clencher. You don't have to break the bank here. Keep it simple. Don't go overboard with your teams collectible mudflaps for your Dodge Ram. Just go out, buy a decent hat that already looks like it's been broken in a little with the team logo on it, maybe a t-shirt and you're done.
Go To A Game:
Take Yourself Out to the Ballgame: Think of it as field research. Know the etiquette at the game. Study how other fans act. But not only that, know a little bit about the place your team calls home. The little characteristics that make each stadium unique… and make sure you get all the names straight too as stadiums nowadays change their name more than Sean Combs. And that's a good idea too. Know the original name before corporate America decided to take a dump on your favorite park.
These are just a few tips we could give you. For more, including some good "do's and don'ts," check out the full podcast (nsfw) below, and feel free to give your tips in the comments section.
Good luck, Poser.

[podcast]http://www.podtrac.com/pts/redirect.mp3/media.libsyn.com/media/mastersofnone/MON_4_3.mp3[/podcast]
MoN – 4.3 – The Poser's Guide to Being a Sports Fan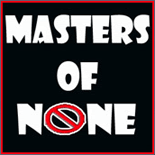 Gunaxin is proud to be partnering with Masters of None, and featuring their content here on our site. Masters of None are former radio guys Mike, Art & Jay, who debate and answer mankind's most important questions each week. Along the way you'll encounter unsustainable amounts of movie quotes, horribly tasteless jokes, TV references, offensive comments, old radio bits, biting insults, tall tales, unsportsmanlike conduct, raping and pillaging of all things pop culture. It's a comedy podcast that doesn't suck.
---