The Royal Park Fine Wines Beer Tasting
A Tasting of the Following Beers On Tap :
Royal Park Fine Wines – 17608 Pearl Road – Strongsville, Ohio:
You can follow each link above for more information.
Those of you who read my little rundown of the trip a few buddies and I took to Ohio to Cinema Wasteland are about to get an additional treat: I also got to try a five-som of beers from an amazing Party Store! Oh that's right fellow beer drinkers, no matter where I go, I manage to find some really excellent places to enjoy a few beers. This particular store,  the Royal Park Fine Wines in Strongsville, offers up something a little bit different from any other party store I've been to: beer on tap! What better way to promote your beer choices than to sell a few right there for the drinking! This particular establishment actually has six taps, but they only had five choices as apparently one of the brews hadn't shown up. Anyway, let's take a look at what I imbibed.
Yeah, I obviously began drinking before I went, "duh, take a picture, schmuck!" Also I obviously started with the Thirsty Dog Twisted Kilt. So that's the order in which we'll cover this. Oh, and yes, you do see a bag of pretzels back there apparently for cleansing the palate between beers. This is for pansies.
I love when the info on the beer is absolutely right on the money. Though you'd think this kind of thing would happen all the time, you'd be wrong. Just because the brewers offer up how they perceive how the beer ought to taste doesn't necessarily mean that they're going to. Ya know? In this case, however, the description absolutely says what I would have said. This beer was very tasty and were we able to get it here (I'll have to ask my store: Portage City Wine Cellar) I'd buy it quite often. It is, as you can see above, a very nicely dark, nutty brown and is quite similar to Bell's Nut Brown.
I know, I know: Watermelon? Yeah, it caught me off guard, too. In fact, I was worried. This is absolutely the reason I began with the second beer. I decided at the get go to save this for last. I don't get along very well with fruit beers and, sadly, I'm not a huge fan of watermelon, either. Sorry. So, as I began with the second, my buds began with this and were both just blown away with it. So I caved. I have to say, this is an incredible beer! It's not all tacky and cloying watermelon slapping you in the mouth like candy, it's an exceptionally subtle flavor that meanders across your cheeks at the very end of the sip. And even as it does, it's just a hint of that fresh watermelon that tastes everything like the fruit. This is definitely a nice light brew absolutely perfect for a hot summer day.
Now this is one I've had. In fact, Brooklyn Brewery is pretty popular around here and they make very good beers. This is the first of the two IPA's we had, and in my opinion it definitely offered up the most in the way of flavor. The one thing about many of the stronger IPA's is that the subtle flavors tend to fall along the wayside and become almost impossible to find. In this case, it was quite the bitter IPA but it was very clearly filled with nuanced tastes melodic notes. Definitely heavy with pine which comes directly from the hops, as do the citrus and grassiness. Very tasty.
Now, in a complete contrast to the previous IPA, this one purely and simply kicked you right in the mouth. Now, I have a pretty learned palate and I could, kind of, discern a few background flavors, but for the most part, this was all about the bitter hops. ALL ABOUT IT. Another gentleman who showed up during our drinking was chatting with me about the beers and we both happened to drink our Smuttynose together. He couldn't finish it. My friends had a tough time, too. I loved it. In fact, I would call this my second favorite out of the group.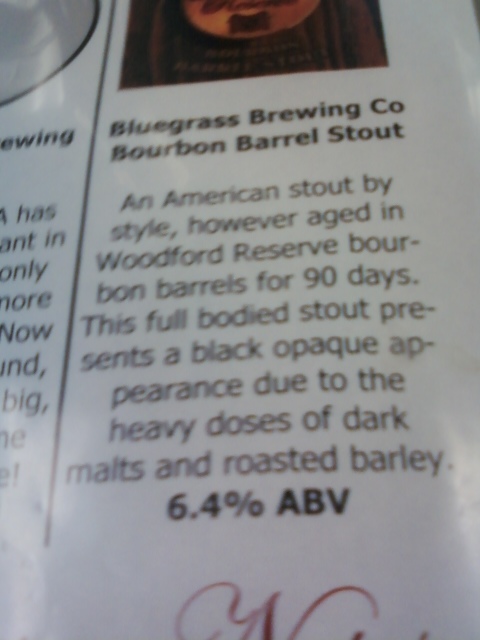 What? A stout? *grin* I guess you aught to assume that this was my favorite… and you'd be right. I just can't tell you how much I love dark beers. And, consequently, assuming you've seen my visage on the Cinema Wasteland, it obviously shows *ahem* just how much I like dark beers. Not exactly lite, those. Anyway, this was just so flavorful with an obvious slathering of honey for sure. Definitely a nose-full of that bourbon aging they tout, very much akin to Dragon's Milk. So, so tasty.
And there you have it! A store specializing in not only vast quantities of amazing beers, but also giving you the ability to taste some! Why all stores don't do this I'll never understand. This was lots of fun.
Rating:
Thirsty Dog Twisted Kilt – ****
21st Amendment Watermelon – *** 1/2
Brooklyn East IPA – ****
Smuttynose Big A IPA – **** 1/2
Bluegrass Bourbon Barrel Stout – *****
Anytime you get a chance to sample five beers for five bucks, do not hesitate.