Stories Behind Eight Popular Cereals
People are really quite adamant about their favorite cereals. It always seems that an individual will have an absolute favorite breakfast cereal that they'd buy above and beyond all others, unless, that is, they can't get it anymore. Well, then they have back-ups, like any other food. Cereals are a lot like material possessions, whereby if a box is purchased by someone for the expressed intent of being consumed by that person, it can and will turn violent if another tries to horn in on the box. I would have to admit, if I were trapped in the jungles of Borneo with only one box of my favorite cereal to sustain me, I'm going all the way with good old Frosted Flakes. Oh sure, I love me some Wheaties and some Fruity Pebbles, but for me, it's gotta be Tony on the box. Anyway, all that aside, I thought National Cereal Day would be a great time to get the low down on some of the most recognized cereals and check out where they all began.
Believe it or not, the same folks who manufacture some of the most well known dog foods are responsible for those little cross-hatched squares of yumminess. That's right, the Ralston-Purina brand, a company that made Puppy, Dog, Horse, Cat, and Bunny Chow has a division specifically there to make sure you don't get a hunk of pet food in your Wheat Chex. Beyond that, in 1997, the company was sold to General Mills and then in 2001, the Nestle corporation bought Ralston-Purina. So here we have yet another food giant (Nesquik, Golden Grahams, NesCafe) now in charge of handling your favorite Chex Cereal. Oh, and as it turns out, Nestle also makes Friskies, so your chances of getting a fish bit in your Chex Mix just vastly improved. And in case you're wondering, Chex gets its moniker from the original checker-board design used on the boxes even today.
Though the patent of creation of corn flakes was issued in 1894, the mass production of the cereal didn't occur until 1906 by Will Keith Kellogg, brother of John, who ran a sanitarium using holistic methods, with a particular focus on nutrition, enemas (no, not with cereal) and exercise. He thought a cereal milled from whole corn would do well in cleansing your inner workings and thus the brand was born. In 1922 the Kellogg's company was birthed and has been stationed primarily in Battle Creek, Michigan (a mere 20 minutes from yours truly) ever since. To little surprise, Frosted Flakes, a brand later used by rival C.W. Post in a cereal of his own, is nothing more than sugar-coated, extra-crispy corn flakes. Even so, they outsell the 'naked' version almost 2-to-1.
For a cereal born of a company failure (Kellogg's OK's – um, not so good) and made stronger by a ridiculous lawsuit (Renee Paxton vs. Kellogg's in which it was claimed that 'Fruit' Loops was misleading as it contained no actual fruit), it certainly has become a favorite of many aficionados. The lawsuit was obviously settled, as it is now (and has been since 1959) called 'Froot' Loops. Oh sure, it's just fruit flavoring, Vitamin C, and various food dies, but it sure is tasty. In 1963 the actual product rolled (bad pun) off the line featuring red, orange, and yellow loops, but green, then purple, and finally blue were added by the 1990s. Oh, and if you prefer your cereal in a convenient 'bar' or even 'straw' form, well, Froot Loops has diversity going for it, too.
Mr. Quigley, an employee and cereal designer for the Post company was a father to seven children. What does this have to do with cereal? Well, as it goes, Quigley wanted to have a cereal for his kids that, much akin to Alphabet Soup, would go a little way in offering up a learning opportunity at the breakfast table. Thus, Alpha-Bits (a bit of a play on Alphabets): cereal shaped like letters! It's fun! It's also really popular (see: ridiculously sugary) considering the cereal itself was taken off the market in 2006. It did reappear two years later touting its new sugarless formula. Yeah, that didn't go over so well. The original was back on shelves later that same year. In 1990 the marshmallow-festooned version hit stores, too. Because everything goes better with marshmallows.
When a family recipe that Mrs. Lowe's mother used in her childhood that was served over rice became the basis for a corn and oat cereal, one really begins to see the purpose of Food Scientists. That's right, the brown sugar and butter flavor of the cereal itself was borrowed from Lowe and, eventually, through the use of Di Arie's 'flavor extrusion' process, became the taste that we associate with Cap'n Crunch. Another at the plant, more involved in the actual cereal manufacture itself was Robert Rountree Reinhart Sr. and his team. All thanks to them and their efforts, the Cap'n now comes in a dozen different varieties and flavors including the super popular Crunch Berry style and Peanut Butter. Be careful, this stuff has lasting crunch power and has been known to rend your mouth to ribbons.
The cereal with a name that has virtually nothing to do with what's going on in the box has a pretty interesting history. Oddly enough, C.W. Post was actually a patient of J.H. Kellogg, and eventually a competitor. He decided to create and market a cereal that was not only nutritious, but able to enhance your vitality. Post thought that the sucrose (something he referred to as "grape sugar) was formed during the baking process of his wheat and barely creation and their combined 'nutty' flavor. Thus: Grape Nuts. Though this is just a theory, and not really written as gospel, it is the most convincing story behind the name. The other has to do with Post being a former patient of a wellness Sanitorium and boogers maybe. Yuck. As it turns out, the cereal was so good for you that it was included in military rations just before World War II. And the cereal itself is often considered the first to include a coupon to use for future purchases. It's good hot, too!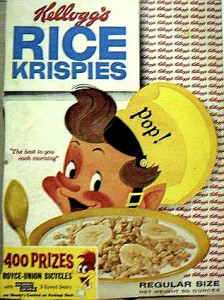 No other cereal quite creates the cacophonous barrage of sound that Rice Krispies does. It's familiar faces of Snap, Crackle and Pop mock the sounds perfectly and have been it's advertising trio since 1933. The cereal is exactly what it implies in the label: cooked, dried, and toasted rice grains with very thin outer walls. When exposed to milk (or any liquid, for that matter) the walls contract and break creating the famous noise. Taking the enjoyment of the brand a step further, in 1941, Kellogg's employee Mildred Day mixed melted marshmallows and margarine with the cereal and created the Rice Krispie Treat for a Camp Fire Girls bake sale. It has been a favorite ever since and most bags of marshmallows now come with the printed recipe.
If it's the Sports Appeal you're looking for, you can't do much better than a box of Wheaties. The cereal has been showcasing legends of the sporting world since 1927 when it featured a picture of the southern wall of minor league baseball's Nicollet Park in Minneapolis, Minnesota. The cereal itself was the direct result of turning a potentially bad situation into something great when a spill of wheat bran mixture fell onto a hot stove. An employee for the Washburn Crosby company (later General Mills), with help from Cormack, gave the new creation 36 attempts to withstand packaging before finally coming up with Washburn's Gold Medal Whole Wheat Flakes. One of the company's export manager's wives (Jane Bausman) won a naming contest and the cereal became Wheaties.
For much more Cereal Related Goodness, check out :