The Ten Biggest LEGO Sets Ever
When it comes to sheer volume of playability in terms of massive numbers of pieces, you basically have two choices: puzzles (demon dull) or the undisputed king of toys, LEGO. Few things can keep a child's rapt attention like a big box of plastic parts and an instruction booklet. Heck, even the manual encourages free thought and helps you with a couple optional things you could build from the given pieces. LEGO is, without a doubt, one of the coolest toys of all time. And hey, it teaches, too! Colors, shapes, reading and instruction comprehension, imagination, and of course, eye-hand coordination. Yep, LEGO is king.
But LEGO has something else going for it, too. Whereas some sets are anywhere from fifty to a couple-hundred pieces, the company also makes those specific sets that not only need potentially days set aside, but also hundreds of ducats. Expensive? Sure. Worth every penny when it comes to total, epic awesomeness and amazement at their completion? Absolutely. So I gathered up the Ten Biggest LEGO Sets Ever from one specific archive just to show that, a) LEGO can be frustrating and cool at the same time, and b) Star Wars has its tentacles in everything. Enjoy!
10
Skyline – LEGO Factory System
2747 Pieces
Available on eBay from anywhere between $300 and $600, the New York Skyline is one epic slice of LEGO Americana. Released in 2005 you get to build three skyscrapers (including the Empire State Building), a cargo loading dock, a helicopter… oh, and of course the Statue of Liberty.
9
The Statue of Liberty – LEGO Sculptures
2882 Pieces
What could be more iconic and American (or, possibly French) than the Statue of Liberty? Probably nothing. And LEGO didn't think so either. Released in 2000, the statue in brick form typically runs around $200 if you can find one and boasts a likeness not too different from… well, a statue made of LEGO.
8
Imperial Star Destroyer – LEGO Star Wars
3096 Pieces
The very first thing you see just after the credit crawl in the opening of 'A New Hope' is the Tantive IV being pursued by an enormous Imperial Star Destroyer. And so grew every child's fantasy desire to own one. Well, one of the closest and most playable versions is the LEGO monster that hit shelves in 2002. Typically now you can find it for around $300.
7
Grand Carousel – LEGO Town System
3263 Pieces
Seems a little… I don't know, blasphemous that a silly merry-go-round should have more pieces than a gigantic Star Wars ship… but I guess no one's ever accused LEGO of being perfectly to scale. Anyway, this calliope-sounding behemoth was introduced in 2009 and still retails for around $250.
6
The Eiffel Tower – LEGO Models
3428 Pieces
Speaking of French, the same dude that built the the Eiffel Tower also aided with the Statue of Liberty! Cool right? Yeah, he had nothing to do with LEGO, though. Anyway, it actually is 1:300 scale and made from the real tower's original blueprints! Hurray! And if you've got $300 to $700, it can be yours!
5
The Death Star II – LEGO Star Wars
3441 Pieces
"That's no moon… it's a Space Station." The immortal words of Obi Wan couldn't ring any more true than they do here. Why? Because a LEGO moon would be incredibly boring. This, on the other hand, is anything but. At nearly 3550 pieces with an impressive 25 x 19 inches with an orbiting to-scale Star Destroyer! So want…
4
The Death Star – LEGO Star Wars
3803 Pieces
At roughly 500 pieces more than its list predecessor, the original Death Star is a little different. Whereas the DS II is just a scale model, basically, the DS I is a toy with moving parts, 26 mini figures, a working trash compactor, and a TIE Fighter! So, so cool. It arrived in '08 and sells for around $800. So… good luck with that.
3
The Tower Bridge – LEGO Models
4287 Pieces
Since 1894, the Thames River has been graced with this world-renowned bridge. It's likeness has been featured in everything from Sherlock Holmes to Jack the Ripper… and now you can reimagine grisly murders in brick-form! Yes! It's 40 x 17 inches and features cars! Oh, and it's around $300.
2
Millennium Falcon – LEGO Star Wars
5195 Pieces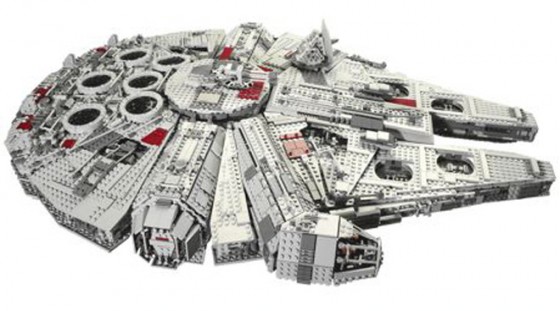 Much the same way the Death Star I has an removable shell to get to the mini figure goodness inside, the Falcon offers the same principle. Measuring in at a whopping 3 feet long, Han Solo's ship comes with five figures (Luke, Han, Chewie, Leia, and Obi Wan), and all the bells and whistles you'd come to expect from something this huge inspired by Star Wars. It is the largest LEGO vehicle ever made.
1
The Taj Mahal – LEGO Models
5922 Pieces
The Jewel of India… beauty, splendor, elegant… a crap load of bricks. It's The Taj Mahal! Why make a boring old Pyramid or a stupid Geodesic Dome (talking to you, EPCOT) when you can make something with spires! Ah, the Taj Mahal… Anyway, this thing measures about 20 x 15 inches and will set you back about $650. Enjoy!