The Top Ten Baseball Video Games
Editor's Note : For Opening Day in Baseball, we wanted to revisit this Gunaxin Classic from 2010. Does this list still hold up, or are there some new entries to the list? Let us know in the comments. 
Spring Training is upon us, which means there's a fresh injection of baseball video games about to line shelves. Will Sony's MLB 10 The Show carry on its dominance of 2K Sports' offerings despite a complete overhaul for MLB 2K10? Regardless of your preference for next generation baseball gaming, if you're the type of gamer or sports fan that can't make it through the dog days of summer without a proper baseball video game then you're in the right place. It's baseball video games, a retrospective. Here are your Top 10 Baseball Video Games:
10
Pete Rose Baseball
Absolute – Atari 2600
This 1988 release didn't come with a built in gambling function or the ability to make embarrassing WrestleMania appearances, which took a little bit away from its authenticity. What it did come with was a completely rethunk approach to the format of baseball video games. Not only did Pete Rose Baseball feature a behind-the-pitcher view, but it also used a combination of five different camera angles while the ball was in play. Send this semi-obscure classic to the Hall of Fame with Pete where they both belong.
9
MLB 2001
989 Studios – Sony Playstation
Sony's 989 Studios sure did drop some stinkers in the baseball game genre before reinventing their franchise as MLB: The Show. One of the few occasions where they actually landed on the right side of the sim vs. arcade divide was with this game. A comprehensive "general manager" mode had a ton of options for baseball games of this generation, and the gameplay could be manipulated enough to suit just about any gamer's preference. Despite a few bugs and glitches (including random 500 ft. home runs being called out), MLB 2001's playability was high considering it was released at the tail end of the original Playstation's lifespan.
8
MVP 06: NCAA Baseball
EA Sports
It was a sad day when EA Sports lost the their handle on the MLB baseball game front. They were at the top of their game when 2K and Sony grabbed exclusive deals, but they kept at it for a couple of years with their line of NCAA baseball games. The gameplay was ahead of its time with dual analog functionality, and graphically this game was ahead of the pack. What it lacked was complete licensing, instead of using real college players sports' gamers were left using Right Fielder #7 or some phony name. Choosing your school and creating your own stadium and taking your school through rivalries on the path to NCAA glory were great features, but it's hard to step back once you've tasted the pros.
7
Ken Griffey Jr. Presents Major League Baseball
Super Nintendo Entertainment System
1994 was a great year for baseball vids. Sega was setting the tone for the future of baseball games with their World Series Baseball on the Genesis system, while SNES countered with their more casual gamer friendly Ken Griffey Jr. offering. Although players had fake names (which were changeable), they were modeled after their lifelike inspiration. The meticulous would have their copy of Ken Griffey Jr. Baseball outfitted with the entire MLBPA roster, while others would belt homers with a Frank Thomas lookalike named Muscles MaGee or something like that. The graphics were incredibly smooth for its day, and the attention to detail on most stadiums was impressively accurate. Bonus points for having a home run derby mode that takes place at Camden Yards.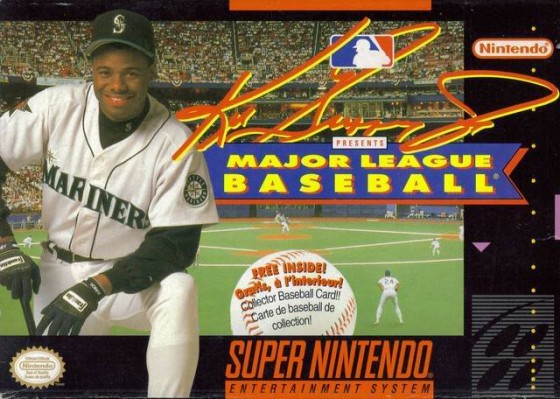 6
Triple Play 2000
EA Sports
Despite featuring Sammy Sosa on the cover and coming off a season in which Mark McGwire set a new home run record with 70, Triple Play 2000 was much more of a pitchers' game than hitters. Things went downhill with the Triple Play franchise with their following two releases, and then the series was repackaged and released as MVP Baseball. This game is the last man standing of the franchise as far as being a solid baseball game. The animations and camera angles along with the challenging hitting system made for a good game despite the occasional 900 ft. blast from Slammin' Sammy.
Perhaps the most underrated sports' video game franchise of all-time, High Heat was setting the tone through the late 90s with their intuitive hitting and pitching mechanics and near flawless gameplay. High Heat MLB 2003 in particular, made several strides in camera angle innovation both at-bat and in the field. Like competitor Electronic Arts, 3DO made their baseball game available on just about every format not named Nintendo. If you were a web-savvy PC gamer with a copy of this game then you may have found several online communities that offered graphical and gameplay modifications that increased the overall playability of the game.
4
World Series Baseball
BlueSky Softward – Sega Genesis
It's impossible to talk about baseball games retrospectively and not have Sega's 1994 game changer World Series Baseball enter the conversation. The first game to feature actual stadium replicas (at least in the hitting view), and offer fully interactive playable season. Hell, you even literally sent your pitchers to the showers. Giving baseball gamers a behind the plate camera angle was one of the many innovations that you still see today that was first used in World Series Baseball. Fully licensed players and teams with gameplay nearly a decade ahead of its time, truly a classic of the genre.
3
Baseball Stars
SNK – Nintendo Entertainment System
Baseball Stars, released in 1989, was one of the first sports games to feature data chip memory. Alas, the ability to create, save, and continue all while accumulating statistics for your fictional team and its players. The season mode even offered the ability to "fire" and sign players and free agents. Throughout the season your team was awarded money for wins, which in turn could be used to "buy" better abilities for your players. There was nothing like it at the time, and nothing even compared for a good five years. Go Ninja Black Sox!
2
RBI Baseball
Tengen – Nintendo Entertainment System
The graphics were lousy even by 1988 standards, and yeah the fielders moved like penguins, but there's something to be said for authenticity. RBI Baseball was the first game ever to be licensed by the Major League Baseball Players Association, and although it only featured eight teams by city name only, this baseball game was a hit then as it is now. You can find legions of people on the web from all over the world that compete against each other in various forms of emulated RBI Baseball. Reggie Jackson could swat home runs like Thai hookers, and Nolan Ryan was damn near untouchable. Several successful sequels followed, improving on the gameplay as well as adding more teams but the original still stands as the landmark for which the future of sports gaming would be built upon. Real players performing like their real-life counterparts. Before Tecmo Bowl, there was RBI Baseball.
1
MVP Baseball 2005
EA Sports
Here's where we can have some debate. Yes, MLB '09 The Show is a fantastic game and perhaps the most realistic baseball simulation ever built. That game owes so much to the legacy of MVP Baseball 2005 that it would be a disservice to the genre not to hold this game in the highest regard: the greatest baseball video game ever made. Out of the box, EA's 2005 offering made for endless playability on both the Playstation 2 and Xbox consoles. The PC version of the game offered a little bit more, it was modifiable. Unlike baseball games released on PC in the past, most of the files on MVP Baseball 2005 were left open and re-writable. Cue the nerds…
Even though EA lost its license, and PC gamers were denied a new baseball title until 2009, those in possession of a copy of this gem played to their hearts' delight well into 2009. A group of seemingly anonymous baseball video game fans, with a bevy of technical and design expertise kept this game up-to-date not only statistically, but graphically for years. What was offered was a baseball simulation that was completely customizable right down to the placement of stadium adds, uniform patches, equipment, the integration of rookies, and just about anything that you could think of. The possibilities were limitless, it was MVP Mods, and it was incredible.