Top Ten Classic Cartoon Icons
Ranking the biggest cartoon icons is tougher than it sounds. How does one judge the cultural inclinations and impact of a cartoon throughout the years? Is it totally based on how popular the cartoon was or is? Or, is it based on what familiarity the visage of a famous cartoon has when it's shown to folks who didn't grow up with its face all over TV or the newspaper? Well, in this case it's a combination of a lot of things, including those two criteria. These ten toons have been around for many years, some above and past fifty or more. They are famous, they are world-known, and they'll be around for years to come.
10. Tom and Jerry
(First Appeared on TV in 1940 – Hanna Barberra and MGM)
When one thinks of the typical cat and mouse game in animation, one is almost always drawn (ha ha) to Tom and Jerry. From the get go, Tom the cat chased Jerry mouse through every conceivable situation inside the house and out including farms, lake sides, picnics, barbecues, and every thing in between. Despite the size difference, it was always obvious that Jerry was the smarter of the two and always survived Tom's rampage with hardly a scrape. Oh, and often the violence was stunning as the two went at each other. Classic stuff.
9. Garfield
(First Appeared in Papers in 1978, Animated in 1988 – Jim Davis)
Creatively drawn, classically funny gags, and a cast of characters including Odie (Garfield's target), John (the cat's clueless and brainless owner), and the maligned appearances by Garfield's 'cousin', the guileless kitten, Nermal. A food loving cat with a smarmy attitude and a less-than-sunny outlook on life and his owner who seems like he might just be understanding what his rotund feline might be thinking. Great strip and and even better TV cartoon.
8. Scooby Doo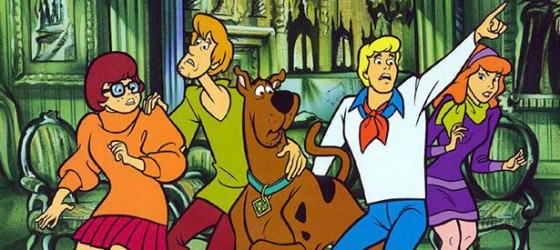 (First Appeared in 1969 Through the Present – Hanna Barberra)
Regardless of the fact that every single episode revolved around a mystery of some sort, the gang (Fred, Velma, Daphne, Shaggy, and Scooby Doo) still managed to keep every toon fresh and funny. Though the three wiser members of the quintet would always take the more technical and obvious approach to solving the crime, Shaggy and Scooby (likely under the influence of 'Scooby Snacks') would somehow manage to figure it all out. Along the way they met everyone from the Globetrotters to Dracula and always managed to unmask the bad guy
7. The Flintstones
(First Televised in 1960 As a Prime-Time Toon- Hanna Barberra)
Purposely animated as a cartoon version of The Honeymooneers, Fred, Barney, Wilma, and Betty were the very first prime time cartoon paving the way for The Simpsons and Family Guy. Though some of the original toons featured the guys hocking cigarettes, all in all it was a wholesome show that was intended for the whole family and often featured plots just focusing on the guys getting into some kind of hot water or the wives worrying about their husbands endeavors. Classic humor indeed.
6. Betty Boop
(First TV Apperance in 1930 As A Dog! – Max Fleischer)
Like many cartoons of her time, Betty Boop was originally aimed to play before movies at theaters. She was also designed to be overtly sexy to appeal to the male crowd who often attended B-movies on their own. Beyond that, even, she was originally an anthropomorphic Poodle, but later re-drawn as strictly human though still maintaining her oddly-shaped head. Her popularity continues to this day and she even made an appearance in Who Framed Roger Rabbit. Classically sexy.
5. Popeye
(First Appeared in Funnies in 1929 And on TV in 1933 – Elzie Segar)
From the get go, Popeye has always been a sailor man with a squinty eye, balloonish forearms, a corncob pipe, and an odd manner of speaking. It wasn't till later, in the TV series, that he adapted his love for Spinach in order to get the American children to shy away from sweets. It worked: as Popeye's popularity soared, so did the sale of spinach up to the point that his own line of the canned green hit store shelves. To this day, his cartoons have become some of the most often banned due to their extreme levels of violence and the fact that American children remain ever imitating.
4. Snoopy
(First Appeared in Newspapers in 1950, on TV 1965 – Charles Shultz)
Though Snoopy is just the dog and but a part in the entire cast of Peanuts characters, he is, by far, the most popular. His actions do speak louder than words as he never talks, though he will, on occasion, use thought balloons. He is a beagle, though he looks slightly less than his real-world counterpart, up to and including the fact that he sleeps in the roof of his dog house. At the same time, his dog house doubles as the Sopwith Camel as he continues his life-long pursuit of the World War II fighter pilot, The Red Baron. Snoopy has become a cultural icon the world over.
3. Felix the Cat
(First Drawn in 1922 – Pat Sullivan And Otto Messmer)
Felix the cat with his black body, bright white eyes, and Cheshire grin, coupled with his adventures in some of the most surrealistic environments of the time, combine to make him one of the most popular cartoon icons of all time. In 1953, Joe Oriolo slightly redesigned the feline and put him on television with his new magic bag of tricks that has now become synonymous with Felix. He is easily one of cartoon-dom's most famous cats.
2. Mickey Mouse
(First Appeared in Film in 1928 – Walt Disney and Ub Iwerks)
From the very moment Steamboat Willie hit the screens, somehow, somewhere, Walt Disney knew that his mouse would soon become perhaps the most recognizable cartoon icon the world over. First named Mortimer, it took the persuasion of Walt's wife to change the name to something more appealing, and Mickey was born. Even though Steamboat was Mickey's first appearance, he wasn't actually Mickey. He was, along with Minnie, later in 1928 with Plane Crazy, the animated short. Soon after, as they say, it was all History.
1) Bugs Bunny
(First Appeared in Shorts in 1944 – Leon Schlesinger & Warner Brothers)
Okay, I could easily have flip-flopped 1 and 2, and some may argue that I should have, but this was based on personal preference as each is equally as famous in their own rights. Bugs Bunny appears in the Looney Tunes and Merrie Melodies series of animated films produced by Leon Schlesinger Productions, which became Warner Bros. Cartoons in 1944. He remains one of the most popular and recognizable cartoon characters in the world. In 2002, he was named by TV Guide as the greatest cartoon character of all time.
Currently, he is the corporate mascot for Warner Brothers, especially its animated productions. According to Bugs Bunny: 50 Years and Only One Grey Hare, he was "born" in 1940 in Brooklyn, New York, the product of the imaginations of Tex Avery (who directed A Wild Hare, Bugs Bunny's debut) and Robert McKimson (who created the definitive Bugs Bunny character design), among many others. According to Mel Blanc, the character's original voice actor, Bugs Bunny has a Flatbush accent, an equal blend of the Bronx and Brooklyn dialects. His catchphrase is a casual "What's up, Doc?", usually said while chewing a carrot. Number one for sure.