The Top Ten NHL Draft Busts
Even with the advancements in scouting, the NHL Entry Draft can be a total crapshoot. Some guys just never find that touch they had in Junior or College when they reach the professional level. All of a sudden you're no longer dominating teams made up of teenagers, but you're being leveled with high expectations and playing against grown men. There's not enough time to get that big slapshot off, and if you lower your head for even a second you'll be finding yourself in pieces on the ice.
McDavid, Tavares, Stamkos, Kane, Crosby, Ovechkin, Sakic, Yzerman, Lemieux, Niedermayer, and LaFontaine. They're all high draft picks that rose to the challenge and expectations laid upon them, and there are plenty more examples. Below is a list of dubious draft-day blunders that in some cases cost their makers years of competition. Since this article isn't written by my grandfather, our list is constructed from NHL Drafts since 1980. We have decided to exclude Nail Yakupov for now, but his time is almost up :
10) Pat Falloon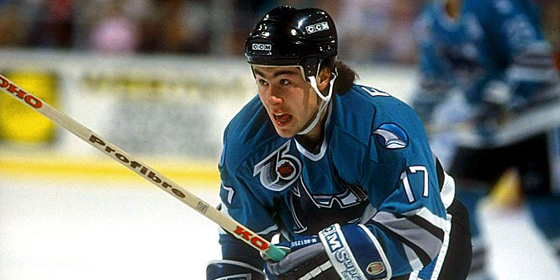 1991 San Jose Sharks – 2nd overall
Pat Falloon eventually fell victim to his own love of being awesome. Drafted second overall in 1991 behind Eric Lindros didn't come without a lot of expectations from the San Jose Sharks. Fat Pat looked like he met them when he was the first ever draft choice by the team in teal, Falloon would score 25 goals as a rookie on his way to leading the team in points. That would be the best performance of his NHL career. After bouncing around the league for a decade, Falloon retired to his hometown of Foxwarren, Manitoba where he would later lead the Foxwarren Falcons to six consecutive Western Manitoba beer-league titles. No joke.
9) Alexander Svitov
2001 Tampa Bay Lightning – 3rd overall
The 2001 NHL Entry Draft wasn't one of the deepest, but it has produced proven NHLers like Mikko Koivu, Mike Komisarek, and Ales Hemsky to name a few. The Tampa Bay Lightning could have chosen any number of slightly above average players after Ilya Kovalchuk and Jason Spezza went off the board at one and two. Instead, they drafted this gigantic Russian slug that failed to do anything of significance in the NHL. Svitov was traded during the Lightning's Stanley Cup winning 2003-04 season to Columbus for Darryl Sydor. He would eventually bolt on the Blue Jackets for the KHL just weeks after signing a two-year agreement.
8) Bryan Fogarty
1987 Quebec Nordiques – 9th overall
Although drafted in '87, Bryan Fogarty would spend two more seasons in the OHL before getting a chance to play in the NHL. It was as a 19-year old Junior with Niagra Falls Thunder when Fogarty took it upon himself to tear the OHL a new asshole. Armed with little more than two 16-year olds named Brad May and Keith Primeau, Fogarty shattered Bobby Orr's record for goals by a defenseman with 47 and tallied 155 total points for a record that still stands today. Fogarty was perhaps one of the greatest raw talents of his generation, he loved the game and he loved his teammates. Unfortunately, he loved copious amounts of booze combined with mountains of blow and strippers' titties even more. Fogarty played only 156 games in the NHL and passed away due to an enlarged heart in 2002 at the age of 32.
7) Doug Wickenheiser
1980 Montreal Canadiens – 1st overall
Sad is the tale of Doug Wickenheiser. The Montreal Canadiens have rarely been bad enough to snag a first overall selection, so it's surprising that when they had a shot at Denis Savard (Chicago, 3rd overall) or Paul Coffey (Edmonton, 6th overall) they had chosen Regina Pats standout Doug Wickenheiser. Wickenheiser didn't have an awful NHL career, but didn't exactly have what you would call a good one either. Maybe Doug's cousin was born with all of the Wickenheiser testosterone; Hayley Wickenheiser is the greatest women's hockey player in the world… ever. Doug Wickenheiser died of brain cancer in 1999.
6) Brett Lindros
1994 New York Islanders – 9th overall
In theory, drafting the brother of an established NHL superstar makes a lot of sense. Wayne Gretzky's brother Brent saw NHL ice after the Tampa Bay Lightning gambled on him in 1992, but he was a third round choice. Eric Lindros' younger brother Brett had all the size of his big brother (and the pumpkin-head), but that's where the comparisons stopped. Brett Lindros played just 51 games in the NHL, notching seven points before concussions and suckage forced him to retire.
5) Scott Scissons
1990 New York Islanders – 6th overall
The New York Islanders might have got it right with John Tavares, but that's after a butt-load of Milbury years and a bevy of draft blunders. Had the Isles elected to go with Martin Brodeur in 1990 rather than Scott Scissons, they could have offered up a nice 15-year contract like the one ol' one-knee Rick Dipietro received. Well that's impossible because Charles Wang wasn't around back then, but you could imagine. It's hard to really know if Scott Scissons couldn't cut it in the NHL, his two games played are such a small sample size.
4) Jason Bonsignore
1994 Edmonton Oilers – 4th overall
It's hard to believe with all of the talent that has come out of Edmonton that Jason Bonsignore was the organizations highest pick ever at the time. The Oilers would save themselves some face by taking Ryan Smyth with their second choice of the first round just two slots later, but Bonsignore remains one of the biggest draft disappointments of all-time. At 6'4" and 220 lbs, the Oilers were hoping that they could grow him some skills. Bonsignore's waistline developed, but that's it.
3) Patrik Stefan
1999 Atlanta Thrashers – 1st overall
You sorta have to feel like the Thrashers got painted into a corner with this one as those redheaded bastards the Sedin twins love each other and had to go second and third overall to Vancouver. If Radek Bonk has learned us anything it's that you don't gamble on 18-year olds playing in the IHL. The 1999 NHL Entry Draft was thin on talent, but it's worth noting that Henrik Zetterberg was selected in the seventh round. Stefan played in over 450 NHL games, but managed just 188 career points. He's been out of the NHL since 2007.
2) Brian Lawton
1983 Minnesota North Stars – 1st overall
Noted shit-bag Norman Green may never have been in the position to move this team to Dallas in the first place had the club not rested their hopes for the future on Brian Lawton. The first ever US-born player selected first overall, Lawton was supposed to not only be the face of the North Stars but of American hockey as well. It's too bad that Pat LaFontaine went to the Islanders with the third pick because he would have been a great fit in Minnesota. Steve Yzerman was also selected after Lawton when Detroit chose him fourth overall. Lawton played with five different teams before being cast-off to San Jose where he teamed with disappointment to-be Pat Falloon.
1) Alexandre Daigle
1993 Ottawa Senators – 1st overall
The poster boy for NHL busts, Alexandre Daigle might rank among the greatest draft disappointments in professional sports thanks to the trail of hype that followed him out of Junior. Daigle's lackluster 51 points in his rookie season would be a career high, he'd equal that total twice more but never surpass it. The players chosen after Daigle include NHL greats like Chris Pronger, Paul Kariya, Saku Koivu, and Jason Arnott. He was the consensus number one pick and it's hard to say if any team would have drafted differently at the time. Daigle was supposed to be Alexandre "The Great", but his greatest conquest would come off the ice when he would bed fellow Canadian Pamela Anderson. Not bad Alex, but that hockey career sure leaves a lot to be desired.