Thirteen Killer Halloween Tunes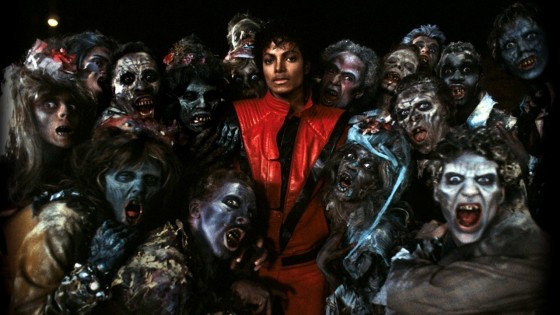 More so than any other holiday that's not either Christmas or any one having to do with America, Halloween has lately become quite well-known for its tunes. Seriously, think about it: how many Thanksgiving songs do you know off the top of your head? One? If you're lucky. What about Easter? One. And no, I'm not speaking of religious tunes in this particular instance. So, along comes Halloween with a half-dozen things one can count on for the evening: candy, costumes, spookiness, jack o' lanterns, candy, and MUSIC… and candy! Yep, get yourself to any handy Halloween party and you're sure to hear at least three of these songs. Seriously! I defy you to prove me wrong. Defy I say! Candy!
13) Science Fiction, Double Feature
The Rocky Horror Picture Show has become a Halloween television/theater staple. This particular song, for those of you who, inexplicably, haven't seen it, is the opening tune to one of the greatest musicals ever put to the silver screen featuring Barry Bostwick, Susan Sarandon and Meatloaf. I kid… but even if those three didn't star, well, it'd be different but likely just as good. SEE IT!
12) Boris the Spider – The Who
Spiders are a classic Halloween visage right along with bats and black cats. I always imagined Boris taking on the Itsy Bitsy spider and whooping his ass all over the water-spout. No holds barred, just a nasty, hairy, fangy arachnid chewing hell out of the little kid-friendly happy-go-lucky spider… yeah, I have problems.
11) Psycho Killer – Talking Heads
David Byrne is everything the word cool needs to describe. Listen to the lyrics to this bass-heavy rock masterpiece and really absorb what they're trying to convey here… something about a PSYCHO KILLER! No, seriously, it's creepy.
10) Thriller – Michael Jackson
John Landis (An American Werewolf in London) directed Jackson's horror hit and made a mini thirteen-minute movie/video that became in instant classic and staple on M-TV. I remember when this hit the air because I'd just gotten the Thriller album and the one part of the song that always made me piss a little was Vincent Price's maniacal laughter at the end. Yeesh! Also the very idea of Jackson cutting a rug with a bunch of the undead is somehow super appropriate suddenly, ya know?
9) Ghostbusters Theme – Ray Parker, Jr.
Okay, let's not argue the point here, but had it not been for the menagerie of celebrity cameos in this video, it seriously would have sucked. Not exactly spooky or funny, ya know, considering that's the whole basic nutshell of the film and all. Oh, and if Ray Parker Jr. ever slid out from under my bed I'm pretty sure I shit my jammys.
8) See You in Hell – Grim Reaper
Oh come on, you know I totally had to stick this mess in here somewhere! I remember first seeing this video, honestly, on Beavis and Butthead when they ripped this guy apart for generally being a tub of guts. I guess the song's pretty slick, but it's hard to deny the appeal of that early 80's 'metal' look going on there.
7) Werewolves of London – Warren Zevon
"He was gonna get a big dish of BEEF CHOW MEIN!" This song is outstanding, just as the performer, one Warren Zevon. If the hook sounds more familiar than the song itself it's because Kid Rock has borrowed it for a tune of his and before you get all up in arms about it (though I can't stand that filthy douchebag either), Kid is a huge lover of classic rock and has been quite instrumental in bringing many of the songs he samples into the modern mainstream. Case in point: Zevon. If you like this, look up: Keep Me In Your Heart For A While. Awesome.
6) Dead Man's Party – Oingo Boingo
Yes sir, that's everyone's favorite Tim Burton/Simpsons composer Danny Elfman rockin' the synth back there. He's too cool. Anyway, leaving a song off the list that features a chorus about attending a dead man's party where you have to leave your body and soul at the door would be a (wait for it) grave mistake. Ba dum bum.
5) Don't Fear the Reaper – Blue Oyster Cult
This particular version of this song is seriously lacking a certain bovine monotonous calling instrument. Yeah, I was tempted to use the SNL/Christopher Walken skit, but I figured unless you've been living under a rock, you've no doubt seen it a billion times. So, here's a live version instead and it is a cool song. Even if the cowbell is lacking. And it is.
4) This is Halloween – Jack Pumpkin King
Tim Burton, once again, bearing repeating, is an absolute GENIUS! Do yourself a favor and sit down with no distractions and watch this movie (The Nightmare Before Christmas, just in case you're an unabashed idiot) with a huge bowl of corn and stare, awestruck, at its utter beauty. So damn good.
3) Nature Trail to Hell – Weird Al Yankovic
I couldn't find the actual video for this song, and I'm honestly not even sure one exists. It's from Al's In 3-D album from the early 80's, his first major label release, actually, and so far the only song he's ever done about a horror movie (aside from one about Santa…). This video is really cool as it features some guy drawing Al in the video itself and it's very well done. Enjoy!
2) The Monster Mash – Boris Picket
The penultimate classic Halloween song. Well, for this list anyway. Not an All Hallow's goes by where I don't hear this fifties classic at least a dozen times, and for good reason: it's funny and invokes every perfect image of what Halloween is. Good stuff.
1) The Time Warp – Rocky Horror
And that, friends, is how you bring it all back around. I said back at 13 and I'll say it again, The Rocky Horror Picture Show is just something you have to see to believe. Oh, and if you haven't seen it live, like I have (dressed as Eddie, no less) you are truly missing out on something your life is less without. Find a local performance and check this thing out, you will NEVER forget it.