Three Obscure (and Fun) Casino Games
Poker is one of the manliest casino games there is, and there is no doubt that there is a certain coolness surrounding great players who can bluff their opponents out of the big prizes. Many guys stick to playing the classic card game, but there is also an argument for the all-round casino shark who knows how to play everything, who exerts luck and skill from his every pore. These are the kind of blokes who get the attention of the ladies on the casino floor. But before you take your skills out in the real world, it's best to hone them online.
Before you work out which of the less commonly known casino games you're going to master to impress the opposite sex, you need a good online site to play at. This great guide suggests that William Hill has a comprehensive list of games, along with welcome bonuses for new players. The most attractive offer is the $300 promotion for first-time depositors.
Even if you haven't dabbled in online casinos before, you'll probably be familiar with slots, roulette, and blackjack, which are the three most popular casino games ever according to Market Realist. Let's be honest, you're not really going to shock or amaze anyone by knowing how to play these casino classics.
There are plenty of other cool and unique games to try your hand at, though. Read this overview for information about all the popular games, and you'll also find handy knowledge about the more obscure casino offerings. Pai-Gow Poker, Sic-Bo, and War could be excellent starting points for your education on little-known games.
Pai-Gow Poker
This is an enjoyable twist on traditional poker and would be ideal for fans of regular forms of the card game. Players stand around a half-moon table and are dealt 7 cards. The dealer is also dealt 7 and everyone plays against the dealer. Everyone then has to make two poker hands using the 7 cards.
If both of the player's hands beat both of the dealer's hands then the player collects on their stake. If both of the player's hands lose to both of the dealer's hands then the player loses their stake. In this game, players can really demonstrate their poker knowledge and try to outfox the dealer by arranging the cards in the best possible way.
Sic-Bo
For players who like the complex and varied betting rules of roulette, Sic-Bo gives you a fresh and different way to play. There is an extensive betting surface much like the roulette board, where players can choose to bet on outcomes with short or long odds. The dealer shakes three dice in a cage and the player bets on the results of the spin. This could be an exciting way to try out a few playing systems or even invent one of your own. James Bond had his own roulette system; you could emulate the spy with your own Sic-Bo method.
Casino War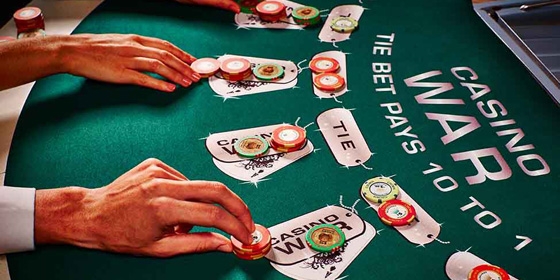 Based on the classic playing card game of War, not only is Casino War one of the easiest casino games you'll ever play, but it's also one of the few that offers players the potential to beat the dealer more than 50 percent of the time. As you'd expect, therefore, it remains in relative obscurity. Each player and the dealer are dealt one card each: if your card is higher than the dealer's, you win; if it's lower, you lose.
The 'war' in the game's name comes into play in the case of a tie. If a player's card matches the value of that of the dealer's, you must choose whether to 'surrender' or go to war with the dealer. If you surrender, you'll forfeit the game and have half of your initial wager returned for you. On the other hand, if you elect to go to war, you must place a bet equal to your initial stake in order to continue – but only for the chance of winning on your original wager.
Once you have mastered these fun and original games, you could test out your skills on the ladies. Or just impress your mates, whatever tickles your fancy!