Tiki Barber: Selling Himself for Cash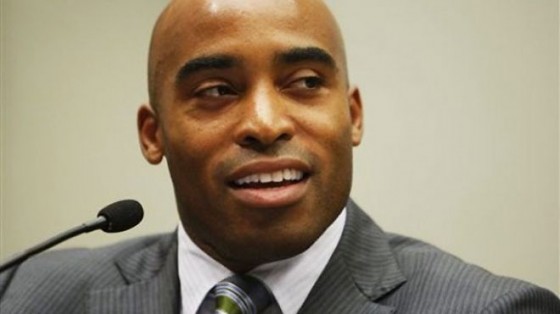 If you ever wanted to play flag football with a former NFL star and national pariah, UrbanDaddy has the deal for you. Currently up for bid in their Perks section of the site is the opportunity to rent former NFL running back Tiki Barber for an afternoon of flag football. The bidding, currently at $1950 with 13 hours left, allows you to add Barber to your neighborhood or office team for a day, assuming you provide the equipment and agree that "any trash-talking done to Mr. Barber must be done with full and willing consent to receive a thorough verbal thrashing from Mr. Barber himself." This sad spectacle completes a stunning fall from grace for the former player.
We've all heard the sad tales of former players who wound up out of money when they retired, but Tiki Barber wasn't supposed to be one of them. The former Giants' tailback walked away from the game at his prime, having made three consecutive Pro Bowls and in good health. With a promising broadcasting career in his future Barber seemed to have it made. We should have known better.
The first sense that something was wrong with Tiki was the anger directed at him by his teammates for announcing his retirement midseason. Maybe we should have seen it when he took shots at his former coach, Tom Coughlin, and former QB Eli Manning after walking away. All we know is that things went bad for Tiki quickly after he walked away for a career on "The Today Show". Within a few years of his retirement Tiki found himself the center of a scandal with a young NBC employee, who he dumped his pregnant wife for.
That affair, along with the ensuing backlash, resulting in Tiki being let go by NBC.  One failed NFL comeback later, and Tiki found himself broke, unemployable, and needing to support a new wife, an ex wife and a pair of young kids.
[via TerezOwens]