Tony Gonzalez: More Awesome Than You Think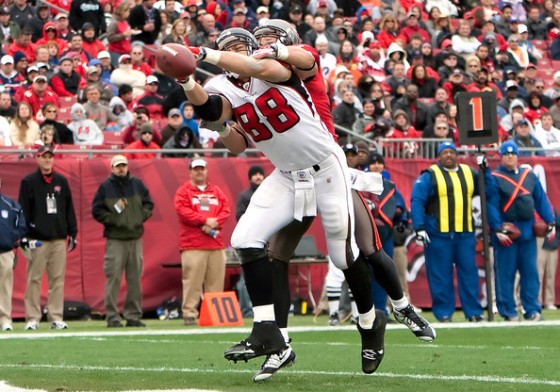 The Atlanta Falcons seem to be set at the tight end position with Tony Gonzalez for at least a couple more seasons. He hasn't lost a step from his days with the Kansas City Chiefs and has been one of the most consistent offensive weapons for over 10 years now. I feel that he doesn't get the recognition he deserves, so I've put together a quick list of why Tony Gonzalez is amazing.
Tony Gonzalez is the best tight end ever
Look at his stats. He is incredibly consistent. Gonzalez has only one fumble since 1999. That's over 10 seasons of nearly error-free catching. Gonzalez has also shattered records for tight ends, and receivers too. He caught the most passes for a tight end in a single season with 102 in 2004. Gonzalez has the third-most receiving yards of active players with 12,692. He leads all active players for most receptions with 1090. Gonzalez is not human. He is the definition of consistency.
Tony Gonzalez has saved two lives
In 2008, Gonzalez gave a man the Heimlich maneuver in a restaurant after he began to choke on a piece of meat. Gonzalez was still on the Chiefs and the man, named Ken Hunter, is a longtime San Diego Chargers fan. Hunter decided to start cheering for his rival team's Gonzalez though, once he, you know, saved Hunter's life.
One life is amazing, but did you know that due to chance and momentum, Gonzalez saved another man's life? In 2000, Gonzalez literally ran into a photographer named Mickey Pfleger. The tight end had been run out of bounds after a play and knocked Pfleger unconscious. While in the hospital, doctors took a CT scan of Pfleger's head and found a brain tumor that no one had known about. Doctors were able to operate and remove most of the tumor. Without that collision, Pfleger might have not known about this. You can read the full account by Pfleger here.
Tony Gonzalez has an attractive wife
Her name is October, and she is very good-looking. I rest my case.