Tony Stewart & J.D. Byrider : A Winning Team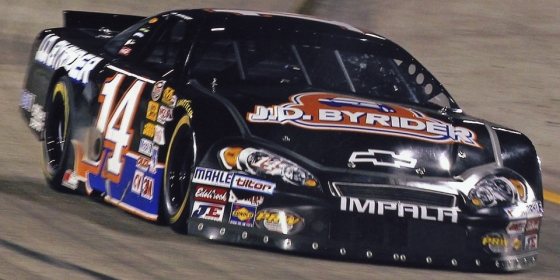 This is a sponsored post written by me on behalf of J.D. Byrider.
All opinions are 100% mine.
Like many racing fans, the first time we heard of J.D. Byrider was when we saw the brand's logo advertised on Tony Stewart's race car and fire suit. The national used car dealership franchise got its start way back in 1979, the same year that Stewart began racing as a child in Indiana. While Tony Stewart was climbing behind the wheel of his first Go-Kart in Westport, IN, fellow Hoosier native Jim DeVoe, Sr. founded his used car dealership as "Auto Credit" in Marion, IN.
All Photos via J.D. Byrider
Both have grown substantially since then and in many ways, they did it together. J.D. Byrider began its partnership with Tony Stewart back in 1997, when Byrider began sponsoring a late-model dirt-track car that Tony still races twice a year. For almost 20 years, J.D. Byrider supported the career of one of racing's all-time greats. Stewart is best known for his time in the NASCAR Sprint Cup Series, which included 618 races over 18 years. During that time he has 49 wins, 308 Top Tens, and 3 championships (2002, 2005, 2011). You can read much more about the extensive history of J.D. Byrider's relationship with Tony Stewart and his historic career on their blog.
From humble beginnings, J.D. Byrider has grown into a national used car dealership franchise where a person can purchase a car even if they have bad credit, no credit or poor credit. Byrider is a "Buy here, Pay here" dealership, meaning they provide their own in-house financing. This explains how they can offer easier credit approval for people who may not qualify for a traditional bank or finance company loan based on their lack of credit history, low credit score, income, or job stability.
While we review plenty of new cars here at Gunaxin, we know that many of our readers are more likely to buy a used car. Personally I've owned six vehicles in my lifetime, and four of them were purchased used. We understand that not everyone has the income and credit rating that makes purchasing a new car a realistic goal. Truth be told, you get much better value when you buy used, and J.D. Byrider is a reputable place to start that process. The winning J.D. Byrider strategy includes :
Simple on-site financing
92 points inspected on every vehicle
Serviced, computer-tested and reconditioned cars with clean titles
Low-cost on-site service and repairs
J.D. Byrider's website is full of great information for car buyers, including finance tips to help improve credit or save for a down payment. We've selected a few of our favorite articles from their site to share with you below :
Tony Stewart has now retired from NASCAR, but he continues to be involved in racing in numerous ways. The only driver in history to win a championship in both IndyCar and NASCAR is one of our all-time favorite drivers and we enjoyed watching him compete. Join J.D. Byrider in celebrating his historic career by checking out their cool tribute video focusing on Tony's determination and accomplishments below :