Top 100 Footballers' Wives And Girlfriends
Editors Note : This article was originally published in April 2009. We have re-featured it now for the World Cup, however it has not been updated to keep up with the latest in hot WAGdom.
Back in 2002, ITV launched a television drama titled Footballers' Wives, whose main subject matter concerned a fictional English Premier League club, its players, and of course their wives. Influenced by the lifestyles of some prominent real-life wives, such as Victoria Beckham, the characters were scandalous, often cold-hearted, and the show featured more gold diggers than California circa 1849. Although the label WAG had yet to come into the lexicon, the kind of stereotypes these women portrayed was nothing new. Footballers' Wives was simply a medium to showcase these concepts to a larger audience.
The show lasted five seasons, and even managed a few spin-offs including a failed American pilot. All in all it helped make athlete's significant others a more mainstream topic. Fast forward to 2006, when the term WAG took off. For those not familiar, it's an acronym for Wives And Girlfriends. The phrase wasn't a new one, having been kicked around for at least a few years, but the British Tabloid Press helped take it mainstream. Technically, the term is pretty self-explanatory, but practically it is a loaded phrase. If conjures visions of a woman who is a particular sort of predator and whose sole purpose in life is to bag a rich footballer and live to excess off the back of his income. Stereotypical characteristics of a WAG include notably fake tans, extraordinarily large sunglasses, expensive boutique fashion, and a compulsion to live life in the public eye.
Soon the Internet joined in, and websites were dedicated to these women, appreciating the beauty they bring and mocking the crazy that comes along with it. We here at Gunaxin claim to be no different. While we realize that many of these women are vapid and shallow, many still manage to look incredible. What follows is our ranking of the Top 100 Footballer Wives and other girlfriends from the world of soccer. To annoy both sides of the Atlantic, I will continually alternate between calling the sport football and soccer.
The criteria to qualify is simple, just date a professional soccer player. While I'd love to restrict the rankings to current WAGs, its too hard to keep up with all the comings and goings with the various relationships across many countries. That, and the fact I really don't care about such information. Celebrity gossip is best left to others actually interested in such stuff. What I'm here for are the beautiful ladies. And while I made a good faith effort to keep the relationships listed below up to date, I offer no guarantee on their accuracy. To account for this, the Top 100 below includes current and former girlfriends. All you need is to have dated a footballer, past or present. As the saying goes, "Once a WAG, always a WAG." But that's where I draw the line. Fictional relationships, like how Chelsea's Joe Cole tried to seduce Keeley Hazell doesn't pass the standard. So as much as it pains me, Keeley is not a WAG. Although the Joe Cole story does have a nice ending (allegedly), as apparently another potential suitor wasn't too thrilled with Cole's advances and decided to pummel him until he escaped out a window.
Anyhow, here's our Top 100 Footballer Wives and Girlfriends:
---
100. Victoria Beckham
Significant Other: married to David Beckham (A.C. Milan on loan from Los Angeles Galaxy)
I was tempted to not include Posh Spice at all. On one hand, she's gone all Jenna Jameson on us, and that's not good. When you look like you hail from another planet, something's gone wrong. But she still has her moments, and she's an important historical figure from the World of WAGs, often dubbed the Queen of WAGs. So she gets some credit for that. Plus by cracking the list, I can forego all the comments about "where's Posh?" The less talked about she is, the better (except I just talked about her ruining that whole point).
---
99. Andreea Raicu
Significant Other: dated Cristian Chivu (Inter Milan)
This Romanian model and television hostess got her start by winning the prestigious International Elite Model Look Contest. Since that time she's been twice voted the sexiest woman in Romania, so she's doing something right. In order to maintain her slim figure she supposedly does without fat, pork, and many breads. Instead she favors fish and natural juices. Doesn't she know that you don't win friends with salad? Like any good WAG, she's done television hosting as well, presiding over the first two seasons of Big Brother in Romania. You can find out more about her and possibly do some cyber-stalking on her Facebook page.
---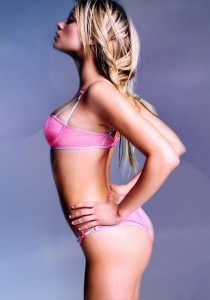 98. Martina Stella
Significant Other: dated Adrian Mutu (Fiorentina)
Although married, the Romanian striker has been seen on the town with the Italian television and film actress. Her mistress role makes her a dubious WAG, but we're willing to bend the roles a bit. As an actress, Stella's roles have mainly been in Italian, but she at least seems to be an actual, legit actress (as opposed to a showgirl who takes her boobs to a movie). She even landed a small role in the Hollywood hit Ocean's Twelve (even if it's considered the worst of the trilogy) and can be seen in award-winning director Rob Marshall's upcoming film Nine. One reviewer even compared her to "a young Reese Witherspoon," which I assume was meant as a compliment and not an insult about her chin.
---
97. Carly Zucker
Significant Other: fiancée of Joe Cole (Chelsea)
Zucker literally means sugar in German, and Carly certainly looks sweet. She makes her living as a fitness trainer, and doesn't carry around the typical WAG baggage. But I'll admit that she just doesn't do it for me looks wise. At least not as much as these other girls. However, she has a number of supporters, and I simply couldn't leave her off this ranking. The picture above is from her Lynx campaign (with the questionable ad slogan "Unleash the Man Leather"), where she did her best Raquel Welch cavewoman impression.
---
96. Daniela Fontani
Significant Other: girlfriend of Alessandro Gamberini (Fiorentina)
Fontani competed in the Miss Italia pageant last year, which you'll quickly notice is a common theme among Italian WAGs. She didn't win the crown, but she did land Alessandro Gamberini. At 20, she's at the young end of the women on this list, which probably means she's just getting started dating footballers. Could Pippo Inzaghi be in her future? I can't wait until she starts showing up on bizarre Italian programming or shedding her clothes like any good Italian WAG.
---
95. Isabel Figueira
Significant Other: ex-wife of César Peixoto (Sporting Clube de Braga)
Full name Ana Isabel Teixeira Laranjo Figueira, the Portuguese model and TV presenter managed to tame playboy César Peixoto, at least for a little while. Married in 2005, they were divorced by 2007 after the birth of their first child. At least Peixoto's colleagues noticed the engagement had a significant effect on his focusing abilities. how he gets by these days is anyone's guess.
---
94. Diana Chaves
Significant Other: dating César Peixoto (Sporting Clube de Braga)
And this is why Peixoto left Figueira. Diana Morais Rosado Quintela Chaves is an ex-professional swimmer, who's apparently developed a taste for footballers. She's been linked to Cristiano Ronaldo (who hasn't?) and seemed to have some sort of relationship with Sporting's Miguel Veloso. When not chasing down athletes, she can be seen on Portuguese television, where her roles have included a turn on the soap Morangos com Açúcar ("Strawberries with Sugar") and the drama A Outra ("To Another One"). I can't say I've seen either of these programs, but a soap opera and a WAG is a good combo. Just wait until the Hollyoaks girls come around.
---
93. Kate Lawler
Significant Other: dated Jonathan Woodgate (Tottenham Hotspur)
Here's something anyone can appreciate: Lawler ran the 2008 London Marathon. Not impressive enough? She did it in lingerie. Although not because she wanted to, it was part of an effort to raise money for a Cystic Fibrosis charity. A former IT Support worker, Lawler rose to fame after winning the third British season of Big Brother. Since then she's worked as a television presenter and personality, a model, and mostly as a disc jockey. Her MySpace page claims she's "unquestionably one of the most in demand and popular female DJ'sinthe UK today." I'd rather hire her than some sweaty overweight dude.
---
92. Alessia Fabiani
Significant Other: dated Alessio Tacchinardi (Brescia most recently)
Being Italian is often pretty good. There's great food, solid weather, and apparently and endless supply of hot women. Alessia Fabiani is what's I'll call Exhibit B. The presenter of Italy's Champions League coverage, she became famous as Letterina on the Italian comedy Passaparola. And like many of the Italian WAGs, she seems to have little problem losing her clothing. Viva l'Italia!
---
91. Maggie Q
Significant Other: dated Hidetoshi Nakata (retired)
Full name Maggie Denise Quigley, moviegoers might recognize her from her various films, which include blockbusters like Live Free or Die Hard and Mission: Impossible III. Despite her recent success, it did take her a while to make it in Hollywood. The American born actress got her start modeling in Japan, and eventually branched out into Taiwan and Hong Kong. Her transition into acting was almost coincidental, starting with Hong Kong cinema and later adding other locales in East Asia. She had become a big name in Hong Kong, along with garnering a certain amount of fame across Asia, before making a name for herself in the States. It was during this time that she dated Japanese superstar footballer Hidetoshi Nakata, one of the most famous Asian footballers of his generation.
---
90. Caroline Celico
Significant Other: married to Kaká (A.C. Milan)
Celico met Kaká back in 2001, and married the golden boy of soccer in 2005. The two meet as teenagers, so kudos on the lasting relationship. Not so much kudos for Kaká robbing the cradle and marrying an 18 year old (you do the math on her age when they met). Or for the fact she looks a bit like a female version of him. Celico's not the typical WAG, and she doesn't have the drop dead curves of some others on this list, but she's damn cute and from all reports surprisingly normal compared to her contemporary soccer wives.
---
89. Susana Werner
Significant Other: married to Júlio César Soares Espíndola (Inter Milan)
In addition to her current husband, Werner was famous for dating the toothy Ronaldo (now at Corinthians) for a few years bracketing the 1998 World Cup. When she meet him, she had already started to make a name for herself as an actress and a model, so she wasn't just leeching off his fame. They split in 1999, but apparently Werner was destined to be an Inter Milan WAG. Ronaldo was playing for the club at the time she was dating him, and now her husband plays for the same squad.
---
88. Abi Titmuss
Significant Other: dated Lee Sharpe (retired)
Titmuss parlayed her good looks and willingness to benaked into fame after her then quasi-famous boyfriend John Leslie was embroiled in a rape scandal. Nice! Although mainly seen as a glamour model, Titmuss has done some serious acting work in recent years. And to think she was a nurse before fate stepped in. You can find more pictures of Abi over here.
---
87. Louise Redknapp
Significant Other: wife of Jamie Redknapp (retired)
Redknapp was a WAG before being a WAG was cool. First known as a member of the girl group Eternal, she went solo in the mid-1990s and managed to sneak in some television work to boot. She married footballer-turned-pundit Jamie Redknapp way back in 1998, and they're still together to date. Besides her singing successes, another title she can put on the mantle is that of 'Sexiest Woman of the Decade', which FHM bestowed on her in 2004.
---
86. Michela Quattrociocche
Significant Other: dating Alberto Aquilani (A.S. Roma)
Aquilani may, or may not have, stolen the 20 year old Quattrociocche (sound it out: Kwah-tro-chee-oh-kay) from her fiancée, singer Matteo Branciamore. Although even if he did, seeing your fiancée become a WAG is probably not an indicator of a long-term relationship. Quattrociocche is an up and coming actress, so I wish her well in her endeavors. If the acting doesn't work out, I wouldn't count on sticking with Alberto for long, as he usually has a different girl every week.
---
85. Tatjana Batinić
Significant Other: dated Ivan Rakitić (Schalke 04)
Also known as Miss Austria 2006, Batinić may or may not stil be dating Ivan Rakitić . If not, it's his loss as Tatjana is so beautiful that they put her face on a plane. For more of this sexy model, check out her Facebook page.
---
84. Amaia Salamanca
Significant Other: dating Sergio Ramos (Real Madrid)
When he's not out shopping for man bags, the long haired Spanish defender Sergio Ramos is on the prowl for the ladies. This time he's landed Salamanca, a Spanish actress best known for her roles in "SMS, sin Miedo a Soñar" and "Sin Tetas no hay Paraíso". Not that I'm all the familiar with such programming. But I'm sure it's top notch.
---
83. Elisabeth Reyes
Significant Other: dated Sergio Ramos (Real Madrid)
Speaking of Ramos, here's what he passed up. The Spanish model and 2006 Miss España used to be on his arm, which is a pretty impressive feat for the defender. Now that she's sans crown (and Ramos), what does Reyes do? Basically she poses almost nude in men's magazines. But no matter what she does, she looks spectacular. And that's with and without her crown (but mostly without). Check her out and find out more about her on Facebook.
---
82. Jaciara
Significant Other: Assorted
Famous for being the ex-wife of Deco, she was last seen dating the recently retired Fernando Couto. Many might view that as a step down in the WAG hierarchy, as Deco is the first player to win the UEFA Best Midfielder Award with two different clubs. And Fernando Couto is, well…Fernando Couto. Of course, when you consider Deco was caught with a prostitute, maybe it's not such a bad thing. And considering Deco already had an ex-wife and two sons when they met, maybe she should have seen this coming.
---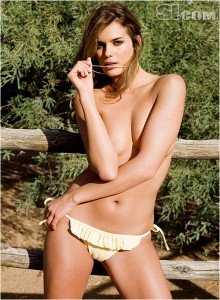 81. Yésica Toscanini
Significant Other: dating Juan Román Riquelme (Boca Juniors)
When news broke that Yésica Toscanini was Juan Roman Riquelme's new girlfriend, you wouldn't think that would matter too much. That is, unless you were the Boca Juniors midfielder's wife. You see, Riquelme was married (with three kids!), so it might come as sort of a revelation that he also had a mistress. When Mrs. Riquelme discovered the affair, she allegedly threatened to destroy their home. Common sense or a lawyer likely got to her, maybe in anticipation of all the assets one might seize upon a divorce. When not wrecking homes, Toscanini can be seen modeling, such as her appearances in the 2006 and 2007 Sports Illustrated Swimsuit Issues. She also played Enrique Iglesias's sweetheart in his video "Do You Know?"
---
80. Oksana Andersson
Significant Other: dated Christian Wilhelmsson (Al-Hilal)
In her finest Jennifer Lopez impression, the Russian-born Swedish model (and reality television contestant) originally worked as a dancer for the musical group Sunblock. That is until she discovered her passion was to be in front of the camera. She dated the perpetually-on-loan midfielder Christian Wilhelmsson for almost two years, during which she appeared as a contestant on the Swedish version of Paradise Hotel. That short-lived appearance was noted for her heated argument with a fellow contestant and a week one departure. Good to see her show her top WAG form despite a minimal appearance.
---
79. Clio Pajczer
Significant Other: married to Boudewijn Zenden (Olympique Marseille)
Voulez-vous coucher avec moi ce soir? The French lingerie model can often be seen posing with her husband, but thankfully she does a fair amount without him as well. You can check out her website for more photos.
---
78. Claudine Palmer
Significant Other: married to Robbie Keane (Tottenham Hotspur)
Mrs. Robbie Keane is a former Miss Ireland contestant, and arguably the most famous one this side of Miss World 2003 Rosanna Davison. Although newer to the WAG scene and a rare Irish gal in a sea of English women, she's had no problem fitting it. She's already being noted for her hair extensions, regular spray tans, fake nails, and high fashion. Guess she got her hands of the WAG manual.
---
77. Julieta Spina
Significant Other: dating Diego Simeone (retired)
Simeone is a former Argentine player and recent manager who decided to trade in his model wife for a younger model. Pun intended. Spina is a green-eyed Argentine model who's often seen modeling some underwear. Here's some more photos to oogle.
---
76. Tanya Robinson
Significant Other: dating Steven Taylor (Newcastle United)
Robinson was the winner of FHM's inaugural "High Street Honeys" competition in 2002, and she's been a regular on their "100 Sexiest Women in the World" list ever since. Although she's currently dating Newcastle's Steven Taylor, it wasn't her first brush with the English club. In 2005 she was romantically linked with former Newcastle star Paul Gascoigne. Except the entire relationship was fabricated by Australian paparazzo Darryn Lyons, who used the story as an excuse to promote Tanya's girl band, Mrs. Robinson (the group was originally named Twisted Sisterz, until Dee Snider and company told them to quit it). The band wasn't successful, but here's a salacious YouTube clip of Robinson covering the Pussycat Dolls.
---
75. Alessia Merz
Significant Other: married to Fabio Bazzani (Pescara Calcio)
Stop me if you've heard this one before. Merz is a model and TV personality, and like many Italian women on this ranking, she's none too fond of clothing. There's barely a picture of her on the entire Internet where she has them on. Or at least as much as one might expect to wear in public.
---
74. Evangelina Anderson
Significant Other: fiancée of Martín Demichelis (Bayern Munich)
Anderson didn't exactly make a great impression on former boyfriend, one time Barcelona flop Maxi López (currently on loan to Grêmio from F.C. Moscow), who called in an Argentinian chat show to bad mouth her. Turns out her was none too happy she left him, in this case for Demichelis. I'll let you decide if that constitutes an upgrade. In addition to her promiscuous ways, she's made an appeance on her country's version of Dancing with the Stars, doing a strip dance against Victoria Vanucci.
---
73. Elena Bonzanni
Significant Other: dating Valon Behrami (West Ham United)
This Italian TV presenter and model claims to enjoys gymnastics, dance, and cinema. At least when she's not out modeling or cheering on West Ham and her boyfriend (who's been nicknamed the Swiss David Beckham. Not sure if that's an insult or a complement). Here are some more photos of Elena.
---
72. Klára Medková
Significant Other: engaged to Radoslav Kováč (West Ham United on loan from Spartak Moscow)
As if West Ham wasn't doing well enough with Bonzanni, they also get Klára Medková. She's a Czech model who's engaged to the multi-talented Radoslav Kováč. Among her various modeling gigs, Medková has appeared in the Czech version of Playboy. If you want to see more of her, check out these photos.
---
71. Alice Bregoli
Significant Other: fiancée of Alberto Gilardino (Fiorentina)
These two may already be married or maybe not, I don't know. They had planned to tie the knot after EURO 2008, although the two were reportedly having problems regarding the distance between Milan (where Gilardino played) and Piacenza, where she studies and her family is from. That issue didn't exacly resolve itself when Gilardino transfered to Fiorentina and signed a five-year deal. Florence is a bit farther away than Milan.
---
70. Dani Behr
Significant Other: Assorted
She may look like your typical WAG, but Dani Behr also has a brain. She graduated from the Sylvia Young Theatre School in London, and embarked on a doomed musical career. During such time, she also enjoyed the companionship of Welshman Ryan Giggs and alleged Blue Peter garden vandal Les Ferdinand. Dissed by the music industry, Dani instead has made a career out of being a presenter. In 2002, she was named Maxim's female presenter of the year. To Americans she's best known for her work on Extra, although she did narrate a show about the Vivid Girls (who also put out the Kim Kardashian sext tape) called Porno Valley. Dani has also done some acting, including a role in The Vagina Monologues for New York and London. I sense a theme here between Porno Valley and The Vagina Monologues.
---
69. Valentina Zambrotta
Significant Other: married to Gianluca Zambrotta (AC Milan)
I'm not familiar with professional downhill rollerblading, but apparently Valentia is one of some amount of them. There may be ten, there may be ten thousand. I have no idea. Although, her more than ample chest probably doesn't help her wind resistance in such a sport. Such a genetic disadvantage. When not seen rollerblading, she's often seen at the beach, often with Milan and Azzurri defender Gianluca Zambrotta. The Italians do have a difficult life.
---
68. Pamela Camassa
Significant Other: dated Alberto Aquilani (A.S. Roma)
A Miss Italy finalist, Pamela was chosen to represent her country in the 2002 Miss World Pageant held in Nigeria. Except she boycotted the event for human rights reasons (she was protesting societies who still carry out stoning executions). She also stepped out with manwhore Alberto Aquilani in his pre-Quattrociocche days. Chillemi won Miss Italy, where as Camassa was merely a finalist. You can see the need for an upgrade. Like many WAGs, she's also made an appearance on the local Dancing with Stars show, in this case Italy's Ballando con le Stele.
---
67. Joanna Taylor
Significant Other: married to Danny Murphy (Fulham)
Hollyoaks is a British soap centered aroundthe fictional Hollyoaks Community College and its late teens or early twenties characters. It's also a breeding ground for future WAGs. Enter Joanna Taylor, who won the role of Geri Hudson on the show in 1999. She's continued acting on and off, plus goes a little more sophisticated by contributing a weekly column to The Times newspaper about her life as wife of vagabond footballer Danny Murphy.
---
66. Kristina Liliana
Significant Other: married to Lothar Matthäus (retired)
When you have three failed marriages and are still short of fifty, it's not a good sign. Undettered, ex-German star Lothar Matthäus has moved on from wife number three to Ukranian model Kristina Liliana. It's an odd and disturbing pairing of a late 40s man and a young 20s model. What's weirder is that Liliana was living with her mother when she met Matthäus. Although I shouldn't feel too sorry for Kristina, she looks like she can hold her own from the photo above and I kind of dig that.
---
65. Nives Celzijus
Significant Other: married to Dino Drpić (Karlsruher SC on a loan from Dinamo Zagreb)
The definition of a classy WAG, she has admitted to having sex with her hubby right on the midfield pitch of Maksimir Stadium. Oddly, her husband was loaned to another team shortly afterwards. The Croatian singer/model/socialite/writer/some other tacked on title recently wrote an autobiography, Gola Istina (translated to the Naked Truth), where she describes her life before her marriage to the Croatian footballer. I suspect it's pretty much the same as it is now, you know, R-Rated but sans Drpić. You can check out one of her music videos over here.
---
64. Magdalena Graaf
Significant Other: ex-wife of Magnus Hedman (retired)
Hedman's been kicked aside by a few soccer clubs, and apparently he's been kicked aside by his wife too. Or maybe it was the other way around? For Hedman's sake I hope it was her that did the dumping, otherwise I'd question his decision making. Graaf is a Swedish model, singer, and author who became popular with her sister Hannah in the aptly named group, The Graaf Sisters. Their hit song "You Got What I Want Baby" gave them a brief modicum of fame like other Euro one-hit wonders like Aqua. In addition to her vocal skills, Graaf released a biography, Det ska bli ett sant nöje att döda de (or in English, It's Going to be a Pleasure to Kill You). Supposedly the title is not in reference to Magnus, but upon further review maybe he was smart to get out of the relationship.
---
63. Letizia Filippi
Significant Other: dated Cristiano Ronaldo
Cristiano reportedly met Letizia while being on a holiday with then girlfriend Nereida Gallardo (more on her later). One Italian newspaper claimed Letizia stole his attention with, "a gaze that melted him like an icicle in the sun." Not the visual I was going for. Filippi came in third in the 1994 Miss Italy competition, and rose to fame on the show Buona Domenica ("The Good Sunday"). In addition to Ronaldo, Filippi is a Winter Olympics WAG, having dated Italian playboy/skiing champion Alberto Tomba for two years.
---
62. Manuela Arcuri
Significant Other: Assorted
Owing to her relationships with countless high profile celebrities, Arcuri simply can't keep out of the tabloids in her native Italy. Think of her as an Italian Danielle Lloyd. With more talent. And less evil. She apparently used to date Francesco Totti, as well as retired Italian and possible gay player Francesco Coco. Like the vast majority of the Italian soccer WAGs, Arcuri's background of showgirl and model has prepared her perfectly for the life of a WAG. At least after she decided that her degree in sociology wasn't worth pursuing.
---
61. Anara Atanes
Significant Other: Assorted
She's managed to date both Fredrik Ljungberg and Kieran Richardson, the latter after the Sutherland bad boy stole her away from the sweet Swede. You can check out her finest broken English and some more photos over at her blog.
---
60. Anna Falchi
Significant Other: dated Matteo Ferrari (Genoa)
Born Anna Kristiina Palomäki in Finland, but raised in Italy, she chose the surname Falchi to better fit in with her Italian surroundings. She's a model and a film actress, and eventually landed serial WAG-rutter Matteo Ferrari. To date she remains relatively well-known for her modeling, and rather less so for her acting. Although she has worked with famous director Federico Fellini, albeit in a commercial for an Italian bank. If you've ever seen the film Cemetary Man (a.k.a. Dellamorte Dellamore), you might recognize Falchi from her role in it. But I'm guessing you haven't seen it and probably no one has.
---
59. Belén Rodríguez
Significant Other: dating Marco Borriello (A.C. Milan)
This is a story to tell the grandkids. Rodríguez shot to "fame" when boyfriend Marco Borriello tested positive for steroids. Except Borriello didn't take steroids, instead he came into contact with the banned substance when he rubbed an ointment onto his private parts. Ointment that he needed thanks to Rodríguez giving him an STD. "I advised him to use the ointment, but forgot it contained cortisone. Our sex session proved fatal," stated Belén. She got fame, he got crabs, everyone knows she's a shank. Winners all around! But the pair is reportedly still together, so it can't be all bad.
---
58. Romanela Amato
Significant Other: dating Javier Saviola (Real Madrid)
Amato just turned eighteen last month, but in her finest Lolita impression managed to snag Saviola at age sixteen. Hey, it worked for Celico who snagged Kaká at an even earlier age. That's how they roll in South America. At one point there were reported to be engaged, but now I'm not even sure they're dating.
---
57. Debora Salvalaggio
Significant Other: engaged to Vitor Hugo Gomes Paços (Portsmouth on loan from F.C. Porto)
She may be engaged to Paços a.k.a. Pelé (no, not that one), but she's also dated Filippo Inzaghi, Christian Vieri, Matteo Ferrari, and Simone Inzaghi. It's inevitable that the conquests of two of Italian football's greatest man-whores (Inzaghi and Vieri, not to mention Ferrari) would overlap, and model/showgirl Debora Salvalaggio is the meeting point. I should construct a WAG Frak map similar to this Battlestar Galactica one, I could make Salvalaggio a hub and trace her conquests. Considering the laundry list of her footballer boyfriends, you shouldn't be surprised she's crossed paths with any footballer, and she's probably only a couple of degrees from most people in the world. Forget Kevin Bacon, anyone might only be a couple degrees from Salvalaggio. And it probably says a lot about her. Not that we judge around here.
---
56. Lauren Pope
Significant Other: dating Shaun Wright Phillips (Manchester City)
The British Page Three model and actress was once seen in a nightclub dancing with Prince Henry of Wales and was alleged to be his "girlfriend". I guess that's enough for fame in England. Since then she has been linked to other celebrities, most notably robot dancing extraordinaire Peter Crouch. She eventually landed on a The Weakest Link WAGs special, where she got into it with Linsey Dawn Mckenzie. And in true WAG fashion, she started her own buisness, Hair Rehab London, which sells hair extensions. It's always good to know one's product.
---
55. Sophie Anderton
Significant Other: Assorted
An admitted prostitute, which seems perfect for the World of WAGs, which is often filled with gold diggers and the sort. She's bounced from boyfriend to boyfriend, and among her conquests include a tumultuous relationship with footballer Mark Bosnich and an alleged relationship with Crystal Palace F.C. chairman Simon Jordan. Matt Graham, a previous boyfriend, told of Anderton, "I was trapped in a nightmare relationship with the girl. It was simply two years of hell. The sex was amazing, really steamy, some of the best I've ever had. But it wasn't worth having to put up with all her emotional baggage." Sounds about right.
---
54. Adelina Elisei
Significant Other: married to Cristian Chivu (Inter Milan)
The Romanian model and TV personality managed to succeed where Maria Marinescu and Andreea Raicu failed, by bagging Cristian Chivu. She apparently has a sorted past that includes a striptease club owner, but we don't want to dwell on those details.
---
53. Saba Wesser
Significant Other: dating Francesco Coco (retired)
Half-Italian and Half-Ethiopian, Wesser is a descendent of Ethiopian royalty. Although with the abolition of the monarchy in 1975, I'm not sure that means a whole lot. Just ask the Italian royal family how that's working out with a defunct Italian throne. You can learn for about Saba over at her website.
---
52. Jamelia
Significant Other: engaged to Darren Byfield (Doncaster Rovers)
Jamelia Niela Davis is a Jamaican-English R&B singer/songwriter, rapper, and occasional model who despises the WAG label. She said recently, "I have no desire to be a WAG and I hate being called one." Guess I shouldn't tell her about this website. She later add that WAGs have "pathetic, empty lives." We'll leave it that she's hot and move on.
---
51. Danielle Bux
Significant Other: engaged to Gary Lineker (retired)
This Welsh lingerie model and former Virgin Atlantic air stewardess got her start as a rugby WAG, before crossing over to the world of soccer. In addition to her Ringo Starr look-a-like current fiancée, she also has a six-year-old daughter with ex-Coventry City player Adam Willis.
---
50. Alessia Ventura
Significant Other: Engaged to Filippo Inzaghi
Filippo Inzaghi has enjoyed more than his fair share of beautiful Italian women, so has Ventura finally tamed his wayward promiscuous ways? Probably not in the long term, though Inzaghi states she "ticks all the boxes in what I'd like my partner to be as a person." I think those boxes are limited to: breathing, female, big boobs, and model. And make no doubt, Alessia is an Italian model. She caught her big break when she was hired as the Italian equivalent of a Barker's Beauty on their version of The Price is Right. She later went on to act in the soap opera Cento Vetrine, and appeared on Italy's version of The Mole.
---
49. Nereida Gallardo
Significant Other: ex-girlfriend of Cristiano Ronaldo
European gigolo Cristiano Ronaldo is the Premiership's top goal scorer and he also helped this Spanish model become a minor Internet sensation. Very multi-talented. Opinions vary widely on this model, and I'll admit that the quality of photos you find on Gallardo can vary from awesome to somewhat scary. The same person shouldn't have that much variance from shot to shot. It's kind of like looking good, then turning on the fluorescent light and seeing all your faults. I need to just pick a side, hot or not. Instead, we'll take the middle ground and place her smack in the middle of this Top 100. You can find more Nereida over here.
---
48. Melanie Slade
Significant Other: girlfriend of Theo Walcott (Arsenal)
Walcott plucked Slade from obscurity at the WestQuay shopping mall, and now she's among WAG royalty hanging out with the big names from the English national team. All this before she hits twenty. She has her fans, probably because she doesn't come across as a typical WAG. For one, she's studying at one of London's prestigious colleges to become a physiotherapist. She's also been the face of a recent cancer research campaign and climbed Mount Kilimanjaro for charity. Still, while proclaiming she's not a typical WAG, she's often seen with expensive goods, wearing designer clothes, and getting fancy haircuts all in between photo shoots. You make the call.
---
47. Milene Domingues
Significant Other: ex-wife of Ronaldo
She is the first of what could be many ex-wives of Brazilian star Ronaldo. But she's not just a pretty face, this ex-model is a footballer too. Sexy and athletic, I like the combination. Read into this as much as you like, but she apparently holds the record for ball juggling (seriously, she kept a soccer ball off the ground with 55,198 consecutive touches). Insert ball juggling joke here.
---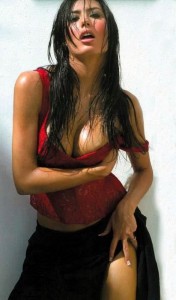 46. Elisabetta Gregoraci
Significant Other: married to Flavio Briatore (owner Queens Park Rangers F.C.)
I'll admit we're cheating a bit here including the wife of an owner of a footbll club. But look at her, it's a worthwhile inclusion. Gregoraci is an Italian fashion model and television personality, but became most famous when she offered sexual favours in return for a job as a showgirl for the Italian national public television company RAI. Not exactly the kind of thing you want as your legacy, but I'm sure she's crying herself to sleep on her enormous piles of money.
---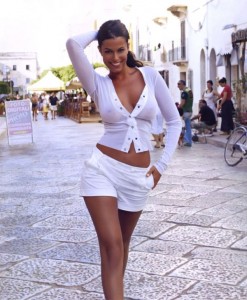 45. Sara Tommasi
Significant Other: Assorted
Another graduate of the much-lauded Miss Italy pageant, she was runner up in 1998. And while she didn't win, she's hot enough to have dated West Ham's Valon Behrami and an obligatory turn as Filippo Inzaghi's shag partner. After discovering she was ridiculously good looking, Tommasi dumped her college economics courses for a calendar photo shoot and to make television appearances in high quality fare such as L'isola dei Famosi (the Italian I'm a Celebrity Get Me Out of Here).
---
44. Melina Pitra
Significant Other: dating Fabián Assmann (Independiente)
Seriously, she's dating a guy named Assmann. Seinfeld would be proud. And at least Melina can fit his type. She's a Argentinian model and television hostess, and she's dated a few footballers in her brief time, but you probably don't hear much about her because she's doing it in Argentina. Here's a little behind the scenes with her.
---
43. Aída Yéspica
Significant Other: girlfriend and baby mama of Matteo Ferrari (Genoa)
Soccer fans may recognize Ferrari as that ugly guy that usually sat on the bench, and some times in the stands, for A.S. Roma. Not only that, but every time they sent him out on a loan, he was a complete disaster. How can he get Yéspica, I have no farkin clue. Although after seeing her, no wonder Ferarri isn't ever fit enough to play. The Venezuela model didn't capture the Miss Venezuela crown when she entered, but she's still got plenty going on. She now does most of her work in Italy, including reality appearances on L'isola dei Famosi (the aforementioned Italian Celebrity Island) and Supervivientes (Spain's Survivor). She's also noted for getting former Italian Prime Minister Silvio Berlusconi in hot water with his wife. Apparently offended by his open flirtation with Yéspica and another woman, his wife published a scathing front page letter to the editor in La Repubblica, the largest circulation Italian daily general-interest newspaper.
---
42. Anine Bing
Significant Other: dated Anders Svensson (IF Elfsborg)
Despite her good looks and modeling career, Bing has always had a passion for music. Recently she's been writing and recording songs. If that doesn't pan out, she's always got her looks to fall back on. For example, the City of Birmingham banned a billboard of Bing for being too distracting, as numerous drivers got flustered by her ample bossom. The billboards were part of a "For Play" campaign by Italian sportswear company, Ellesse. She's also adorned the pages of the most sophisticated of all pornographic publications, Playboy magazine. Her relationship with Svensson didn't last, mainly because of her rumored infidelities with hockey star Peter Forsberg and/or actor Jim Carrey. Not sure if that's a step up or step down for Svensson, who separated from his last girlfirend after she enjoyed a steamy lesbian kiss with a fellow housemate on Big Brother. Anine is currently blogging at Swedish news site Nyheter24.
---
41. Adriana Karembeu (née Sklenaříková)
Significant Other: married Christian Karembeu (retired)
This vegetarian is a Slovak fashion model, becoming very popular in Europe for her Wonderbra billboards. She and her 49-inch legs also landed a spot in the Guinness Book of World Records for the longest legs in supermodel history. That's a pretty nice catch for Karembeu, who met his future wife on an airplane of all places.
---
40. Amii Grove
Significant Other: was engaged to Jermaine Pennant (Portsmouth on loan from Liverpool)
Was engaged is a bit of an understatement. The English glamour model and Page Three Girl had been dating Pennant off and on for years in a quite tumultuous relationship. Things turned sour, however, when she caught the footballer cheating on her via the CCTV cameras in his mansion. Grove promptly caused £200,000 worth of damage, including throwing his belongings out of a window, and profited by selling her story to any newspaper that would listen. Pennant is quite the prize apparently. In addition to infidelity, he has the distinction of becoming the first Premiership player to wear an electronic tag during a match after serving a jail stint for drunk-driving.
You'd think things might have been over, but the couple somehow kissed and made up. And then broke up again. The "Kop Love rat" would find a way back into the heart of Miss Bikini World 2004, following the tragic death of Amii's bother. Tennant discovered that the best way to get a lady to forgive a man for cheating is to catch her at her weakest possible moment. He proposed in the graveyard following her brother's funeral, and The Bum from Brum said yes. Alas, it didn't last. She's now auctioning her £32,000 engagement ring on eBay after splitting again. Although that seems like a cash grab, Grove reportedly offered the ring back to Pennant, but he refused to accept it after using her Mercedes as part of an exchange for a new Ferrari. The model states that part of the eBay earnings will be donated to a charity set up in memory of her brother.
---
39. Jennifer Metcalfe
Significant Other: dated the very same Jermaine Pennant
Here's the third part of the Jermaine Pennant love triangle. When not dating Grove, Pennant was often seen on the arm of this English actress and model. Metcalfe has a degree in Health and Fitness, and even worked as a fitness instructor, before realizing acting and modeling was her forté. She can be seen on the British soap Hollyoaks, making her the second star of the show to crack this Top 100.
---
38. Rachel Cole
Significant Other: dated Jonathan West (Ilford F.C.)
Presumably no relation to Ashley Cole, Joe Cole, or even Nat King Cole. In addition to her modeling work, Cole represented Great Britain as a gymnast.
---
37. Sarah Brandner
Significant Other: girlfriend of Bastian Schweinsteiger (Bayern Munich)
Schweinsteiger trends on the fugly side of the scale, making his landing of Brandner a bit curious. Although not that curious once you remember how much soccer players make. The "Queen of the German WAGs" apparently derailed his transfer to Juventus, prompting club President Giovanni Cobolli Gigli to blast Schweinsteiger and all but call him a pussy. You can check out more photos of Sarah over here, including one where she appropriately is wearing a crown. We know who rules this relationship.
---
36. Nicola McLean
Significant Other: engaged to Tom Williams (Peterborough United)
The English glamour model and media personality was once an Army Cadet. Given the choice of being a career Army girl or being sans clothing, she chose the latter. It seems to be a smart decision, as she's been one of the most successful Page 3 girls ever. She also lists one of her role models as Jessica Rabbit, and seems to have an obsessive compulsive disorder with looking good. She's proud of the fact that when giving birth to the couple's child, she "had my full face on, hair straightened, and perfect nails." So you could say she's high maintenance. Still, her fiancée is not a high profile player, and doesn't even play in England's Premier League. Known for a bubbling personality, she's often covered topics such as the best porn shows in Amsterdam and what outfit would be best to conduct a public execution in. Fans of her cleavage might also want to know that she has been chosen by Ultimo to model their range of D-G cup bras.
---
35. Lindsey Strutt
Significant Other: dating Alex Bruce (Ipswich Town)
Affectionately known as "The Strutter", this Page Three regular has received the title of "Britain's Best Brunette". Often seen photographed with other big-bust models like Lucy Pinder, she seems to have a serious clothing phobia. That fact was probably noticed by current beau Alex Bruce. You can find more Lindsey over here.
---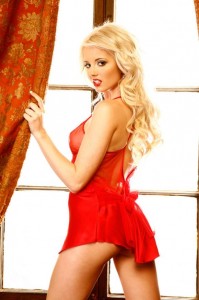 34. Gemma Hiles
Significant Other: ex-girlfriend of Daniel Alston
Hiles is another Playboy bunny and Page 3 girl hailing from England. She has joined up with Fiona G and Jamie Leigh to form The Diamondettes, a threesome of glamour girls working to be the new "it" girls. Here's their Facebook page. For more Hiles just by herself, you can check out her MySpace page.
---
33. Elena Santarelli
Significant Other: girlfriend of Bernardo Corradi (Reggina)
Italian? Check. Model? Check. Dated Christian Vieri? Check. When you see all the half-naked pictures of Santarelli online, you might understand why Corradi had been pushing for a move back to his home nation. In addition to her extensive modeling work, she has appeared on the Italian reality show, L'isola dei Famosi (yep, another WAG on the same reality show) and done some work for Italy's Total Request Live. I would assume you'd be getting bored with such similar bios after awhile, but that would mean you were actually reading them. Which I'm pretty sure you are not.
---
32. Jennifer Ellison
Significant Other: former girlfriend of Steven Gerrard (Liverpool)
Let's see if I can hit all the bases here. Ellison is an actress, glamour model, television personality, dancer, and singer. I think that covers it. Although she's got that great body and is not afraid to model it, she is perhaps best known for playing Emily Shadwick in the television soap opera Brookside (Sorry, no Hollyoaks). She has done numerous television shows, such as Jennifer Ellison does Thailand. As Nelson Munz would say, "I can think of at least two things wrong with that title." American audiences might also recognize her from the film adaptation of The Phantom of the Opera. She has real talent, and can also be seen acting on London's West End. You can find more Jennifer over here.
---
31. Melissa Satta
Significant Other: ex-girlfirend of Christian Vieri
If you're tired of seeing Italian women, please note that Satta was actually born in Boston, although she shuttled between the U.S. and Sardina throughout her life. In between trans-Atlantic flights she picked up karate and was good enough to finish third in the Italian Karate Championships. By age 17 she managed to win the Miss Muretto pageant and a modeling career was born. She also got noticed for her desk dancing on the show Striascia la Notzia (Strip the News). Our friend Moondog has plenty of additional photos.
---
30. Helen Svedin
Significant Other: married to Luís Figo (Inter Milan)
The Swedish model has been maried to Portuguese legend Figo for many years, even having three kids. But that hasn't stopped her from appearing on the cover of magazines like GQ or Elle, or her apparent distaste for wearing any kind of clothing. You'll find many picture of Svedin in her birthday suit lurking around the tubes of the Internet.
---
29. Imogen Thomas
Significant Other: Assorted
Thomas was crowned Miss Wales 2003, and it's not hard to see why. She became famous for appearing on Britain's version of Big Brother and currently works as a Nightclub hostess in London. This despite a degree in psychology and health studies. In her spare time, she's been romantically linked to a bevy of Premiership and sub-Premiership footballers, including Reading's Ibrahim Sonko, Manchester City's Mexican winger Nery Castillo, Bristol City's Lee Trundle, and Sunderland's Dwight Yorke. Lately she's been spotted with Swansea City's Matthew Collins. She's also allegedly taken a tussle with the infamous Cristiano Ronaldo. If that doesn't scream class, maybe her 7 minute home sex video that appeared on the Internet does. Despite it all, she was voted the Sexiest Woman in Wales not that long ago, defeating the likes of Catherine Zeta Jones.
---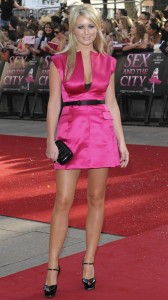 28. Alex Curran
Significant Other: wife of Steven Gerrard (Liverpool)
Once described as an "über-WAG", the former nail technician turned model and fashion columnist has branched out on her own with a fragrance line. To feed the ego it was named "Alex", although it has been one of Britain's top sellers. She's also reportedly had breast implants, prompting many to joke the enchancement was Gerrard's greatest success. Furthermore, Curran's been noted for her brushes with the law. This includes an accusation of assault when she was involved in a fight in Liverpool where a teenage girl was jammed in the face with a glass bottle. Reports are that it wasn't Alex and charges were later dropped. She was also a victim of a high profile robbery in late 2007 that appeared to be part of a series of high profile footballer thefts.
---
27. Coleen Rooney (née McLoughlin)
Significant Other: married to Wayne Rooney (Manchester United)
In fairytale fashion, Coleen met Wayne when she was 12 and began a relationship at the age of 16. If you want to feel old, know that Rooney took Coleen to see Austin Powers 2 on their first date. Although she landed a small part in Hollyoaks (third Hollyoaks alum!), Colleen is a bit atypical for a WAG. She's not a model (although she did put out Coleen McLoughlin's Brand New Body Workout) and she writes for a living. She wrote a column in the celebrity magazine Closer until leaving to write for OK! magazine. I'm not saying the columns have much substance, but it is writing. Kinda like this website.
---
26. Radka Kocurova
Significant Other: dating Tomáš Rosický (Arsenal)
Giving new meaning to the phrase "Stand by Your Man," the former Miss Czech Republic apparently got past the fact Rosický was caught partying with six hookers. However that happened, I'd prefer not to know. What I do know it that the Czech model and TV personality has a very big following in her native land, so she's kind of a big deal. People know her.
---
25. Edita Hortová
Significant Other: ex-girlfriend of Milan Baroš (Galatasaray)
Baroš has seen his career go downhill for a while, but at least he had Hortová to keep him company for part of the freefall. Edita won Miss Europe in 2005, which I suppose led to her honor as 2005's Tourism Queen. If you happened to pass through Prague, maybe you saw her.
---
24. Francesca Chillemi
Significant Other: Assorted
Miss Italy 2003 is latest of many WAGs that got their start in the realm of competitive goodlookingness. Except she actually took home the crown, so that puts her a step up from many others. The model/actress/TV personality has been seen with Vincenza Marruocco and more recently A.S. Roma's Alberto Aquilani.
---
23. Amanda Harrington
Significant Other: ex-girlfriend of crazy Joey Barton
The former hot girlfriend of Newcastle United's Joey Barton, she captured the title of Miss Liverpool at the tender age of sixteen. According to her now deleted MySpace page (see link for cached version) she's 99 years old, so apparently she won the crown in 1925. The profile also says she's three feet tall, so time has not been kind. Barton has a detailed rap sheet, including break a pedestrian's leg when he ran over him with his car, so maybe it's better Harrington moved on when she did. At least she gave him something (not STDs), she found a friend in fellow WAG Alex Curran.
---
22. Elena Barolo
Significant Other: Assorted
Another Italian, she's the second WAG graduate of Striascia la Notzia (Strip the News) following Melissa Satta. A third, Giorgia Palmas, is yet to come, but know that Palmas and Barolo are quite friendly, including a few risqué photoshoots together. She's had the Filippo Inzaghi experience and more recently was seen on the arm of Torino striker Roberto Stellone. She seems to follow the typical Italian WAG progression which usually goes something like this: (1) thinly veiled television show to show off assets; (2) nudie calendar; (3) a few disreputable B-movies. If you want more Elena, check out her MySpace page.
---
21. Eva González
Significant Other: dating Iker Casillas (Real Madrid)
A former Miss España from 2003, González also represented her native land at the 2003 Miss Universe pageant (she finished 15th). After her reign, she predictably entered the world of modeling, walking the runway for Spain's high fashion designers and doing many photo shoots for magazines. She's also combined the two WAG staples of reality televsion and television personality into one by hosting Dímelo al Oído.
---
20. Martina Colombari
Significant Other: married to Alessandro Costacurta (former A.C. Milan star and current A.C. Mantova manager)
Color me shocked, but Colombari was crowned Miss Italy in 1991. I guess it was fate that she become a WAG, as she's now married to former footballer Alessandro Costacurta. And like any good Italian WAG she has shed her clothing for the cameras. Oh yes, she does topless shots. Lots and lots of topless shots. She's also starred in the show Carabinieri (Police Officers), just like fellow Miss Italy and WAG Francesca Chillemi. And for good measure, she dated Alberto Tomba just like Letizia Filippi. It's like the career path for these women are just laid out well in advance.
---
19. Sapphira O'Shannon
Significant Other: dating Paolo Vernazza (Woking)
Living proof that not all the WAGs go for the top shelf players in the premier leagues. O'Shannon is another model and TV presenter, who also likes to write her own poetry online. You can check out some on her work on her MySpace page.
---
18. Nicola Tappenden
Significant Other: engaged to Simon Walton (Blackpool on loan from Plymouth Argyle)
The English glamour model won the first ever Page 3 Idol competition, and has since been known by the moniker Nicola T. For about two years she dated Fulham striker Bobby Zamora, during which time Zamora applied a blown-up picture of Nicola's chest to the ceiling above his bed. She ditched Zamora due to alleged infidelity, although it's unknown whether he took the picture down. She can thank his relationship for an appearance on WAGs Boutique, a reality show where two teams of WAGs compete to run rival fashion boutiques over a three month period. American audiences might recognize her from her small role as Red Light District Girl in Deuce Bigalow: European Gigolo.
---
17. Danielle Lloyd
Significant Other: Assorted
Where to begin with Danielle Lloyd? This serial WAG first began dating Teddy Sheringham in 2006, but since the split, has been linked with Peter André, Marcus Bent, Armand Traoré, and most recently in an on and off relationship with Tottenham Hotspur Jermain Defoe. She's a former beauty queen, having been crowned Miss England in 2004 and Miss Great Britain in 2006. Of course, she was stripped of the latter title after posing for nude pictures in Playboy magazine combined with an alleged affair with one of the judges (which was Teddy Sheringham). She's also known for her racist comments to Indian beauty Shilpa Shetty (Shetty appeared in our Bollywood Sex Symbols article) on her ill-fated appearance on Big Brother. Although she may be the devil incarnate, Lloyd remains pretty good looking and you can find more pictures over here.
---
16. Rosaria Cannavò
Significant Other: dating Christian Panucci (A.S. Roma)
In addition to Panucci, this Italian bird was also on the arm of the short tempered and Wilt Chamberlain wanna-be Antonio Cassano. For those familiar with Cassano, it might make you question her judgment. And yet you still probably don't care given her looks. She's famous in Italy for her skills as a ballerina and her appearances on a number of their very strange television shows. On example is where Cannavò plays a game called "Surf" on Buona Domenica (Good Sunday). The goal of surf is to balance on a moving surfboard while wearing a very skimpy top and a very short skirt. Rosaria is very good at Surf. On an unrelated note, current boyfriend Christian Panucci has an intersting tale. Part of the 1996 Olympic squad, Panucci was forced to leave the games early due to injury. The flight Panucci was scheduled to leave on was TWA Flight 800, but a last-minute change forced him on to another flight. Good thing, because TWA Flight 800 made an unscheduled stop at the bottom of the Atlantic Ocean.
---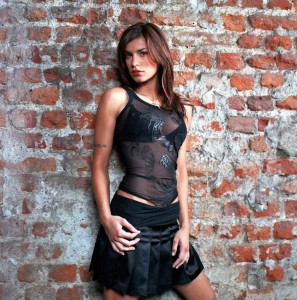 15. Elisabetta Canalis
Significant Other: Assorted
This Italian model and actress is just one of many women Christian Vieri's left in his wake. At least she looks no worse for the wear. She's also been linked to Didier Drogba and most recently Parma's Reginaldo. And guess what else? She was on Striscia la Notizia. No fooling. Make that four alumni on this ranking. Like all good Italian WAGs, she's a popular personality on whatever passes for Italian television and is no stranger to removing her clothing. And she can claim actress on her résumé too, as she had a minor role in the Deuce Bigalow: European Gigolo playing Lady in Castle. Maybe she can compare notes with Nicola Tappenden on Rob Schneider.
---
14. Giorgia Palmas
Significant Other: girlfriend of Davide Bombardini (Bologna)
I mentioned earlier how Palmas was good friends with Elena Barolo and appeared in Striscia la Notizia, and now we finally reach her in the rankins. She's been dating Bologna's Davide Bombardini for several years, so at least she hasn't crossed passes with Vieri or Inzaghi. But that might be all that seperates her from most Italian WAGs. Another beauty pageant queen, she narrowly lost Miss World 2000 to Priyanka Chopra. Chopra was also on our Bollywood Sex Symbols article, creating a second Bollywood-WAG crossover. Apparently Palmas has recovered from the loss, carving out a nice career as model.
---
13. Francesca Lodo
Significant Other: Assorted
This former Miss Italy (yes, another one) enjoys footballers and apparently constant nakedness. In the picture above, Lodo is wearing just about the most clothing she is in any photos of her. She's run through a number of footballers, including Cristiano Zanetti and Francesco Coco, although there is no current significant other that I know of. She's done the requisite Italian reality shows and nudie calendars, and as an added bonus, her cousin is Giorgia Palmas. Clearly, hotness runs through her veins.
---
12. Raica Oliveira
Significant Other: ex-girlfriend of Ronaldo
The Brazilian top model dated Ronaldo during his more ballooned out days, which either says alot about his game or a lot about Oliveira's gold digging. Not that she needs the money. In 1999, Raica won the Elite Model Look contest, besting 30,000 other girls. She was then sent to France for the international competition, placing second. Reports say she can now command up to $50,000 for a fashion show. Not bad. She's done plenty of modeling around the world, one example is her appearance in the 2007 Sports Illustrated Swimsuit Edition and Calendar. She's also good friends with Victoria's Secret supermodel Adriana Lima. That's a nice visual.
---
11. Noémie Lenoir
Significant Other: married to Claude Makélélé (Paris Saint-Germain)
Noémie Lenoir was briefly discussed on this site in our 2008 Victoria's Secret Fashion Show Models Power Ranking, but has otherwise escaped mention. We don't have much to add this time around either. She's hot, a model, somewhat down to earth, and an actress. Lenoir has appeared opposite Pierce Brosnan and Salma Hayek in the film After the Sunset, as well as in Rush Hour 3, for which she shaved her head.
---
10. Michelle Marsh
Significant Other: married to Will Haining (St. Mirren)
If you're breathing and have ever searched the Internet for women, odds are you've come across Mrs. Marsh. The Page Three girl had appeared in numerous men's magazines, ranging from Maxim to Zoo to Playboy. She's also formed a successful modeling partnership with fellow busty Brit Lucy Pinder. Their photoshoots often make it seem like they're more than just friends. In addition to being naked in front of a camera, Marsh has done the usual reality television, plus she released a single titled "I Don't Do". You can check out the video on YouTube, and can check out more pictures of Michelle over here.
---
9. Bianca Kajlich
Significant Other: married to Landon Donovan (Los Angeles Galaxy)
There have been a lot of WAGs on this list, but you might have noticed the dual absensce of American soccer players and American women. Here's an exception. Kajlich is an American actress with Italian and Slovak heritage. She can currently be seen on the CBS comedy Rules Of Engagement (assuming people actually watch that show), but has had plenty of supporting roles in movies and television. My personal favorite of the Kajlich oeuvre is the guilty pleasure Bring It On where she plays big bad Carver.
---
8. Lorena Bernal
Significant Other: dating Mikel Arteta (Everton)
Bernal was born in Argentina, but moved to Spain as a child. Argentina's loss is Spain's gain, as she was crowned Miss Spain in 1999. She mainly models, but also dabbles in television work. And that includes stuff you've actually heard of, like guest spots on Chuck and CSI: Miami.
---
7. Ilary Blasi
Significant Other: married to Francesco Totti (A.S. Roma)
The better half of Francesco Totti, she started her career at the age of three in a TV commercial. She followed that up with a number of television and movie appearances, before gradually moving over to modeling. Like any good Italian girl, she has showed no aversion to being photographed in the nearly-nude. Once the Miss changed to Mrs., however, she exited the modeling word for more honest work like hosting Italia 1's hit show Le Iene with Luca Bizzarri and Paolo Kessisoglu.
---
6. Alena Šeredová
Significant Other: married to Gianluigi Buffon (Juventus)
She may work in Italy, but this model is Czech-born. Hence the Miss Czech Republic title in 1998, which led to a fourth place finish at Miss World. She's done plenty of classy modeling work, you know for stuff like Penthouse Europe and Playboy Europe. I guess she is a good old fashioned Italian girl after all. This was reinforced when she married Italian goalkeeper Gianluigi Buffon. She even has a connection to Christian Vieri, she co-owns the Italian clothing-line Baci e Abbracci with him.
---
5. Gemma Atkinson
Significant Other: ex-fiancée of Marcus Brent (Birmingham City)
Atkinson always seems to be involved with one footballer or another. Just give it some time, and she's bound to be dating some athlete again. She's been linked in the past to the infamous Cristiano Ronaldo, Newcastle's Alan Smith, and was once engaged to Marcus Bent. As an English lady you might guess she got her start on the soap Hollyoaks, and you'd be right. Atkinson rose to fame playing Lisa Hunter on the Channel 4 teenage soap. She parlayed that into the usual reality show and glamour/lingerie model gigs, and even added in the voice work for Lt. Eva McKenna in EA's Command and Conquer:Red Alert 3 video game. You can find more Gemma over here.
---
4. Sylvie Françoise van der Vaart
Significant Other: wife of Rafael van der Vaart (Real Madrid)
Sylvie Meis had decided by her 18th birthday that she wanted to be a model. It was a smart move. In 2003, after being elected Holland's Sexiest Female, she started a relationship with then-Ajax soccer player Rafael van der Vaart. The rest as they say, is history. Now known as Mrs. van der Vaart, Sylvie has turned her attention to television hosting, including doing the honors at the 2008 FIFA World Player of the Year ceremony. Whatever she does, she looks great in. Even former Hamburg manager Huub Stevens would agree. In his autobiography he revealed that van der Vaart once deliberately got booked so he could go and party with his lovely lady. I can understand.
---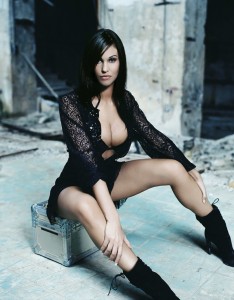 3. Federica Ridolfi
Significant Other: engaged to Giuliano Giannichedda (Livorno)
Ridolfi has a nasty habit of covering up her chest just as the photographer is getting the shot. But at least she can still claim the standard Italian WAG occupations of dancer, television hostess, showgirl, and model. Included in that body of work is the show Quelli che… il calcio, which is a live sport, comedy, and music TV show that announces goals in real time from Italian soccer. She also continues the WAG tradition of wearing exceptionally small clothing and posing in provocative ways.
---
2. Cheryl Cole (née Tweedy)
Significant Other: married to Ashley Cole (Chelsea)
The British pop singer can be seen in the all-girl band, Girls Aloud, and as a judge on the reality show, The X Factor. She is married to the Chelsea and England football player Ashley Cole, who seems to be a complete tool. In addition to earning the nickname Cashley, he's been caught cheating on Cheryl with various bar hags and earned himself a drunk and disorderly arrest. Not that Cheryl is a paragon of virtue. She was once found guilty of assault occasioning actual bodily harm against a nightclub toilet attendant, Sophie Amogbokpa. But at least she tries to do good. Like Melanie Slade, she climbed Mount Kilimanjaro for charity. You can find more Cheryl over here.
---
1. Abigail Clancy
Significant Other: girlfriend of Peter Crouch (Portsmouth)
Crouch is possibly the missing link between men and horses, but at least he's self-aware of it. When someone once asked him what he would be if he wasn't a footballer, Crouch replied, "A virgin!" Even with all his money, how he got Clancy I'll never know. I could look at her all day and never get bored. Yeah, she's high maintenance. And of course, she has a cocaine habit to fund. But the lingerie and catwalk model is simply stunning. You can find more Abbey over here.
---
Also we'd like to give Honorable Mention to the following women. There were simply too many to choose from: Adriana Maldini, Agathe de La Fontaine, Alessia Marcuzzi, Aline Domingos, Anastacia Kosenkova, Annemarie Warnkross, Cassie Sumner, Chanelle Hayes, Chantelle Houghton, Charlotte Mears, Chelsea White, Christina Cindrich, Clair Meek, Claire Merry, Claudia Albertario, Coralie Robinson, Coutney St. John, Daniela Cicarelli, Elle Isaac, Emma Rigby, Fernanda Lessa, Gina Pistol, Giulia Siegel, Gogo Mastrokosta, Hedvika Koller, Jo Guest, Julia Gödecke, Kartika Luyet, Keira Jones, Keyla Espinoza, Kira Eggers, Kristen Pazik, Laure Manaudou, Leah Newman, Leilani Dowding, Lisa Lazarus, Lisa Munday, Lisa Ryzih, Livia Lemos, Louis White, Louise Owen, Luciana Salazar, Magda Gomes, Manuela Harðardóttir, Maria Fowler, María José López, Maria Marinescu, Maria Mazza, Marta Cecchetto, Martina Cech, Merche Romero, Michaela Henderson Thynne, Monika Puchalski, Nadine Coyle, Natalia Fassi, Nicola Chapman, Olalla Dominguez, Pamela Diaz, Raluca Zenga, Renata Langmannova, Salome Onyewu, Samantha de Grenet, Sara Varone, Sarah Maxwell, Saskia Boxford, Sonia Amoruso, Sylwia Klose, Tamara De Rossi, Tatiana Golovin, Tereza Franková, Vanessa Perroncel, Verena Kerth, Vincenza Cacace, Wanda Nara, and Zaira Nara.
Yeah, that's a lot of names. Hopefully we can profile more in the future.