Top 12 #12's for 12/12/12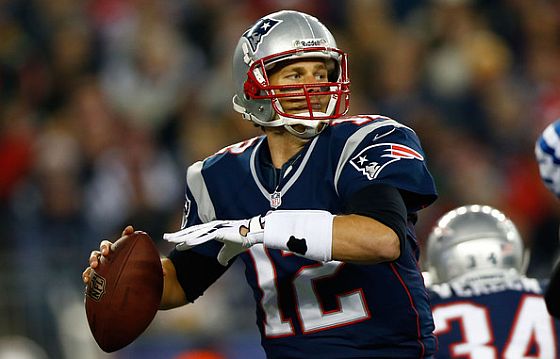 Today is 12/12/12, a numerical oddity that won't happen again for a century, and because of it people have gone nuts. Couples are getting married, people are spending fortunes on lotteries and women have actually scheduled births to coincide with the supposedly lucky date.
The number 12 has been pretty lucky in sports as well, as a number of players have gone on to Hall of Fame careers while sporting the number on their jerseys. We've selected the top 12 #12's, from soccer, baseball, basketball, football and hockey, and ranked them here.
Randall Cunningham: NFL

Cunningham wore #12 under center for 11 seasons in Philadelphia before switching to #7 later in his career. Cunningham made four Pro Bowls and was the 1992 Comeback Player of the Year. He retired after being sacked 12 times as Baltimore's QB in 2001.

Peter Bondra: NHL

In 14 seasons wearing #12 for the Washington Capitals recorded 472 goals and 825 points. He made five All Star games with the Capitals and retired in 2007 as the team's best player ever.

George Yardley: NBA

Yardley might not be well known outside of hardcore basketball fans, but he was one of the best players in the 1950's NBA. Wearing #12, Yardley made six All Star games and won the 1958 scoring title. During that season Yardley also averaged 12 rebounds+assist a game.

Wade Boggs: MLB

Boggs, who wore #26 with the Red Sox before switching to #12 with the Yankees and Rays, won five batting titles in his major league career. In 2005 he became the first #12 inducted into the Baseball Hall of Fame

Roger Staubach: College Football/NFL

Staubach might be best known for his time wearing #12 for the Dallas Cowboys, but it was his time at the Naval Academy, where he won the 1963 Heisman Trophy that left him as the greatest #12 in college football history.

Thierry Henry: Soccer

Henry, who wears #14 in club play, has sported #12 in international play for France. Henry has recorded 123 cap (appearances) for the French national team, scoring 51 goals.

Roberto Alomar: MLB

The Hall of Fame second baseman wore #12 for 2341 of his 2379 major league games. During his career Alomar won 10 Gold Gloves, made 12 All Star games and OPS'd .814.

Terry Bradshaw: NFL

Bradshaw sported the #12 for 14 seasons with the Pittsburgh Steelers (12 as the primary starter). As a QB, Bradshaw led the Steelers to four Super Bowl wins (which took 12 playoff wins), while making three Pro Bowls. Bradshaw was elected to the Hall of Fame in 1989.

Yvan Cournoyer: NHL

Cournoyer wore sweater #12 for 16 seasons with the Montreal Canadiens. The Right Winger made six All Star games, won the 1973 Conn Smythe Trophy and was elected to the Hockey Hall of Fame in 1982. He recorded 20 goals in a season 12 times.

Dickie Moore: NHL

For the 12 seasons before Cournoyer arrived in Montreal the #12 sweater was worn by Left Wing Dickie Moore. Moore won two Art Ross Trophies as the league's top point scorer, and made six All Star appearances himself in his Hall of Fame career.

John Stockton: NBA

The long time Utah Jazz star sported #12 for all 1504 games of his NBA career. Stockton made 10 All Star appearances and was elected to the Hall of Fame in 2009. From 1989-1996 Stockton averaged just over 12 assist per game.

Tom Brady: NFL

Brady has worn #12 during his 13 year career with the Patriots (12 as the starter). Seven Pro Bowls, two MVP awards and two Super Bowl MVP awards give Brady a solid case as one of the greatest QBs of all time, and leaves him at the top of our list for #12's.