Top 25 Celebrities Who Are Robbing the Cradle
There's something fascinating about a person who dates or marries someone who is young enough to be their child. You know, the gross type of fascinating. That's when we do the math and determine how old our future spouse would be, only to think… EWWW! Let's look at the current celebrity couples with the largest age differences.
1
Ginger Baker and Kudzai Machokoto
42 years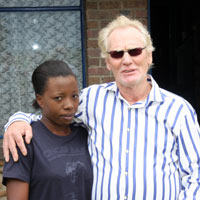 The legendary drummer tied the knot with a Zimbabwean nurse this year.
2
Robert Duvall and Luciana Pedraza
41 years
3
Clint Eastwood and Dina Ruiz
36 years
Dirty Harry wed a newscaster.
4
Woody Allen and Soon-Yi Previn
35 years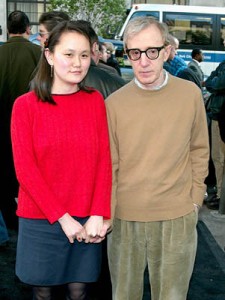 I might one day become famous for not having the restraint to keep from punching Woody Allen in the face because he's an annoying putz who married his (step)daughter.
5
Davy Jones and Jessica Pacheco
31 years
The Monkee married a Telumundo reporter after proposing outside a Krispy Kreme.
6
Eric Clapton and Melia McEnery
31 years
7
Edward James Olmos and Lymari Nadal
31 years
Detective Gaff from Blade Runner and Frank Lucas's wife in the movie American Gangster. That's who these two are.
8
Pete Townshend and Rachel Fuller
28 years
9
Kenny Rogers and Wanda Miller
28 years
10
Steve Martin and Anne Stringfield
26 years
Sorry, showing this photo was highly unnecessary.
11
Rush Limbaugh and Kathryn Rogers
26 years
Aren't you glad it isn't a photo of Rush at the beach?
12
Rod Stewart and Penny Lancaster
26 years
Maybe I should also do an article on biggest height difference.
13
Celine Dion and René Angélil
26 years
I've gotta hand it to Celine. She actually seemed to marry this guy for love.
14
Larry King and Shawn Southwick
26 years
These two almost fell off the 'current' list but they called off their divorce recently, and Southwick's suicide attempt failed.
15
Michael Douglas and Catherine Zeta-Jones
25 years
This is one I'm insanely jealous about.
16
Bruce Willis and Emma Heming
24 years
Ha, take that, Demi! Willis, Moore's ex, has a much bigger bigger age difference than she has with Ashton Kutcher (15 years).
17
Donald Trump and Melania Knauss
24 years
More reason to hate this guy.
18
Chuck Norris and Gena O'Kelley
24 years
19
Malcolm McDowell and Kelley Kuhr
24 years
He'll always be Alex DeLarge to me.
20
Sylvester Stallone and Jennifer Flavin
23 years
21
Frank Gifford and Kathie Lee Gifford
23 years
To think, he cheated on her.
22
Harrison Ford and Calista Flockhart
23 years
And when Star Wars came out, we thought the age difference between Han Solo and Princess Leia was too much.
23
Aaron Johnson and Sam Taylor Wood
23 years
To me, this one is the most disturbing because Johnson, who was in the film Kick-Ass, isn't even old enough to drink in the United States. Taylor-Wood is his director on Nowhere Boy, and recently gave birth to a daughter.
24
Wayne Newton and Kathleen McCrane
22 years
25
Kevin Costner and Christine Baumgartner
22 years
More notables…
Carol Burnett and Brian Miller, 23 years
Peter Gabriel and Meabh Flynn, 22 years
Warren Beatty and Annette Bening, 21 years
Nicolas Cage and Alice Kim, 20 years
Marilyn Manson and Evan Rachel Wood, 19 years
Howard Stern and Beth Ostrosky, 18 years
Tom Cruise and Katie Holmes, 17 years
Demi Moore and Ashton Kutcher, 15 years
Kevin Kline and Phoebe Cates, 15 years
Broken up…
Tony Curtis and Jill Vanden Berg, 45 years
James Woods and Ashley Madison, 39 years
Billy Joel and Katie Lee Joel, 32 years
Hugh Hefner was 61 years older than Crystal Harris, 54 years older than Holly Madison, 37 years older than Kimberley Conrad, etc., but we expect that from him.
And then there's this…
Anna Nicole Smith and J. Howard Marshall III, 63 years