Top 25 Fantasy Football Running Backs for 2017
The Fantasy Sports Trade Association, FSTA, released a report earlier this year solidifying something we all already know, that fantasy sports is a huge cultural phenomenon that has literally taken over in North America alone. The report listed that 59.3 million people played fantasy sports last year and about 40 million of them were playing fantasy football. That means that there are a lot of people preparing for their upcoming fantasy draft for the 2017 season right now and they are all hungry for projections and positional breakdowns, or anything else that they can use to help give them a chance at winning a league championship this year.
Of the 40 million fantasy football owners last season, how many of them won their league's championship because of Ezekiel Elliott? Last season, the Dallas Cowboys drafted Ezekiel Elliott with the 4th overall pick because they knew he was special. Most of the analysts compared him to Adrian Peterson and said that he just might be the best running back to come out of college and be ready from day one. Still, few expected him to lead the NFL in rushing yards with 1,631 and finish second overall with 15 touchdowns. It was the second greatest rookie season in NFL history (Eric Dickerson rushed for 1,808 yards and 18 touchdowns in his first year) and fantasy owners reaped the rewards.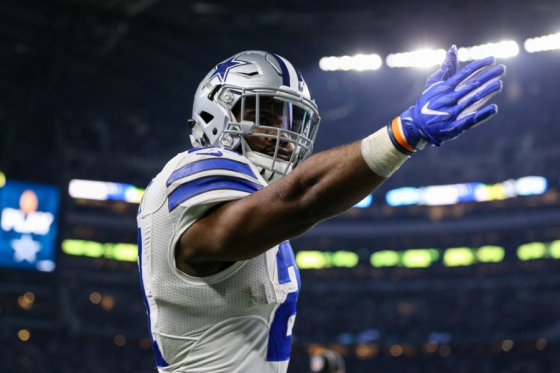 Will Zeke be able to produce at the same level in his second year this season? Or will he hit a sophomore year slump and turn in a lackluster season? If you look at what Eric Dickerson did during his second year, after breaking the rookie record in his first season in 1983, you would think that Zeke could possibly get better and go even higher this year. How much will his six game suspension effect his value?
Let's take a look at our projections for running backs in the upcoming 2017 season using standard PPR scoring. Most of our projections are going to be based on standard scoring for leagues with 8-12 owners because that is the average number of users in a fantasy football league these days. Here are our Top 25 fantasy RB for this season. Enjoy!
Note: Our rankings are based strictly on the Points-Per-Reception format which grants one point per reception. The PPR league type is vastly different than the standard formats so enjoy but keep that in mind.
25) Danny Woodhead, Baltimore Ravens
Average Draft Position (ADP): 104
Bye Week: 10
Projected Points: 163.7
Projections

Carries: 143
Rushing Yards: 600
Rushing TD: 2
Receptions: 53
Receiving Yards: 387
Total TD: 2
24) C.J. Anderson, Denver Broncos
Average Draft Position (ADP): 76
Bye Week: 5
Projected Points: 182.3
Projections

Carries: 226
Rushing Yards: 750
Rushing TD: 4
Fumbles Lost: 3
Receptions: 39
Receiving Yards: 323
Total TD: 7
23) Mike Gillislee, New England Patriots
Average Draft Position (ADP): 71
Bye Week: 9
Projected Points: 185.2
Projections

Carries: 193
Rushing Yards: 872
Rushing TD: 10
Fumbles Lost: 1
Receptions: 15
Receiving Yards: 130
Total TD: 12
22) Tevin Coleman, Atlanta Falcons
Average Draft Position (ADP): 72
Bye Week: 5
Projected Points: 187.5
Projections

Carries: 118
Rushing Yards: 725
Rushing TD: 6
Fumbles Lost: 1
Receptions: 30
Receiving Yards: 210
Total TD: 11
21) Dalvin Cook, Minnesota Vikings
Average Draft Position (ADP): 53
Bye Week: 9
Projected Points: 195
Projections

Carries: 140
Rushing Yards: 670
Rushing TD: 7
Fumbles Lost: 1
Receptions: 40
Receiving Yards: 300
Total TD: 10
20) Spencer Ware, Kansas City Chiefs
Average Draft Position (ADP): 78
Bye Week: 10
Projected Points: 196
Projections

Carries: 182
Rushing Yards: 900
Rushing TD: 6
Fumbles Lost: 1
Receptions: 35
Receiving Yards: 250
Total TD: 8
19) Mark Ingram, New Orleans Saints
Average Draft Position (ADP): 78
Bye Week: 5
Projected Points: 198.9
Projections

Carries: 186
Rushing Yards: 1,075
Rushing TD: 4
Fumbles Lost: 2
Receptions: 26
Receiving Yards: 274
Total TD: 7
18) Joe Mixon, Cincinnati Bengals
Average Draft Position (ADP): 37
Bye Week: 6
Projected Points: 207.5
Projections

Carries: 193
Rushing Yards: 700
Rushing TD: 10
Fumbles Lost: 3
Receptions: 40
Receiving Yards: 375
Total TD: 11
17) Carlos Hyde, San Francisco 49ers
Average Draft Position (ADP): 56
Bye Week: 11
Projected Points: 208.5
Projections

Carries: 230
Rushing Yards: 1,005
Rushing TD: 6
Fumbles Lost: 4
Receptions: 38
Receiving Yards: 300
Total TD: 8
16) Ty Montgomery, Green Bay Packers
Average Draft Position (ADP): 57
Bye Week: 8
Projected Points: 209.8
Projections

Carries: 181
Rushing Yards: 838
Rushing TD: 6
Fumbles Lost: 2
Receptions: 39
Receiving Yards: 310
Total TD: 10
15) Christian McCaffrey, Carolina Panthers
Average Draft Position (ADP): 44
Bye Week: 11
Projected Points: 211.8
Projections

Carries: 238
Rushing Yards: 953
Rushing TD: 9
Fumbles Lost: 1
Receptions: 30
Receiving Yards: 225
Total TD: 11
14) Marshawn Lynch, Oakland Raiders
Average Draft Position (ADP): 50
Bye Week: 10
Projected Points: 212.6
Projections

Carries: 193
Rushing Yards: 869
Rushing TD: 8
Fumbles Lost: 1
Receptions: 40
Receiving Yards: 337
Total TD: 9
13) Lamar Miller, Houston Texans
Average Draft Position (ADP): 38
Bye Week: 7
Projected Points: 213.8
Projections

Carries: 308
Rushing Yards: 1,150
Rushing TD: 6
Fumbles Lost: 2
Receptions: 38
Receiving Yards: 228
Total TD: 7
12) Leonard Fournette, Jacksonville Jags
Average Draft Position (ADP): 25
Bye Week: 8
Projected Points: 217.5
Projections

Carries: 190
Rushing Yards: 800
Rushing TD: 7
Fumbles Lost: 2
Receptions: 45
Receiving Yards: 425
Total TD: 9
11) Isaiah Crowell, Cleveland Browns
Average Draft Position (ADP): 41
Bye Week: 9
Projected Points: 230.5
Projections

Carries: 190
Rushing Yards: 1,005
Rushing TD: 8
Fumbles Lost: 2
Receptions: 45
Receiving Yards: 350
Total TD: 9
10) Todd Gurley, Los Angeles Rams
Average Draft Position (ADP): 22
Bye Week: 8
Projected Points: 232.8
Projections

Carries: 277
Rushing Yards: 1,200
Rushing TD: 8
Fumbles Lost: 1
Receptions: 37
Receiving Yards: 298
Total TD: 8
9) DeMarco Murray, Tennessee Titans
Average Draft Position (ADP): 27
Bye Week: 8
Projected Points: 238.5
Projections

Carries: 254
Rushing Yards: 1,050
Rushing TD: 8
Fumbles Lost: 2
Receptions: 45
Receiving Yards: 325
Total TD: 10
8) Ezekiel Elliott, Dallas Cowboys
Average Draft Position (ADP): 3
Bye Week: 6
Projected Points: 252.7
Projections

Carries: 250
Rushing Yards: 1,155
Rushing TD: 11
Fumbles Lost: 1
Receptions: 35
Receiving Yards: 322
Total TD: 12
7) Jay Ajayi, Miami Dolphins
Average Draft Position (ADP): 18
Bye Week: 11
Projected Points: 257.1
Projections

Carries: 260
Rushing Yards: 1,350
Rushing TD: 11
Fumbles Lost: 1
Receptions: 35
Receiving Yards: 231
Total TD: 11
6) Jordan Howard, Chicago Bears
Average Draft Position (ADP): 18
Bye Week: 9
Projected Points: 260.3
Projections

Carries: 272
Rushing Yards: 1,382
Rushing TD: 8
Fumbles Lost: 1
Receptions: 32
Receiving Yards: 321
Total TD: 10
5) Melvin Gordon, Los Angeles Chargers
Average Draft Position (ADP): 11
Bye Week: 9
Projected Points: 271
Projections

Carries: 281
Rushing Yards: 1,050
Rushing TD: 9
Fumbles Lost: 5
Receptions: 54
Receiving Yards: 500
Total TD: 12
4) Devonta Freeman, Atlanta Falcons
Average Draft Position (ADP): 14
Bye Week: 5
Projected Points: 273
Projections

Carries: 253
Rushing Yards: 1,115
Rushing TD: 9
Fumbles Lost: 2
Receptions: 53
Receiving Yards: 465
Total TD: 11
3) LeSean McCoy, Buffalo Bills
Average Draft Position (ADP): 15
Bye Week: 6
Projected Points: 281.2
Projections

Carries: 229
Rushing Yards: 1,275
Rushing TD: 10
Fumbles Lost: 1
Receptions: 47
Receiving Yards: 367
Total TD: 12
2) David Johnson, Arizona Cardinals
Average Draft Position (ADP): 2
Bye Week: 8
Projected Points: 346.8
Projections

Carries: 270
Rushing Yards: 1,113
Rushing TD: 13
Fumbles Lost: 4
Receptions: 70
Receiving Yards: 715
Total TD: 17
1) Le'Veon Bell, Pittsburgh Steelers
Average Draft Position (ADP): 3
Bye Week: 9
Projected Points: 357.5
Projections

Carries: 297
Rushing Yards: 1,420
Rushing TD: 12
Fumbles Lost: 2
Receptions: 65
Receiving Yards: 525
Total TD: 17