Top 25 Fantasy Football Tight Ends for 2017
Regardless of what anyone tells you, there is no such thing as a fantasy football expert. Sure, some writers and analysts tend to provide consistent projections each year but even the best of them still ends up striking out 30-40% of the time. Even the so-called experts will tell you themselves that they are not experts, rather they are better at preparing for fantasy football matchups than most others.
So even though you understand that you should take in all rankings and projections with a grain of salt, there are still some words of advice that can help you get an edge over the rest of your league this season. And it starts at the one position that gets overlooked and underutilized each year, the Tight End.
A Tight End in fantasy is hit or miss because there isn't enough offenses around the league that utilize TEs in their passing game as much as they use Wide Receivers. So the pool of useful Tight Ends ends up getting tougher and tougher each time one of the top ranked TEs come off the board. For example, once Rob Gronkowski, Travis Kelce, and Jordan Reed come off the board, what is left?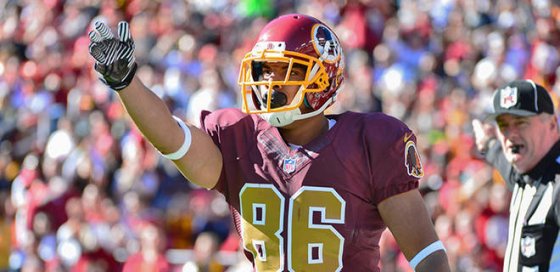 This is where the drafting of a fantasy football Tight End becomes even more important than anything else. Unless you are in a custom league that does not play Tight Ends, you are going to need one each weekend that will have to provide you some kind of production. So knowing the field, understanding the offenses, and looking at relationships between QBs and TEs becomes that much more important.
Don't let anyone tell you that the TE position is not important. It is the most important position in your lineup and will be all season long, because it will provide you an edge over your opponent on a weekly basis. Last season, Hunter Henry, Cameron Brate, Delanie Walker, and Jack Doyle came out of virtually nowhere to help many owners get into the playoffs in their leagues.
The value of a TE drafted in the later rounds that winds up giving your team 8-10 points per weekend is tremendously useful and should be considered a useful strategy when drafting Tight Ends this year.
We have built a list of 25 Tight Ends worth drafting this season that will help your fantasy team out, and possibly propel your team into the playoffs, or further. Enjoy.
25) Evan Engram, New York Giants
Average Draft Position (ADP): 134
Strength of Schedule (SOS): 21
Bye Week: 8
Projected Points: 121.5
Projections

Receptions: 50
Receiving Yards: 475
Receiving Touchdowns: 4
24) Zach Miller, Chicago Bears
Average Draft Position (ADP): 214
Strength of Schedule (SOS): 6
Bye Week: 9
Projected Points: 122
Projections

Receptions: 54
Receiving Yards: 500
Receiving Touchdowns: 3
23) David Njoku, Cleveland Browns
Average Draft Position (ADP): 119
Strength of Schedule (SOS): 12
Bye Week: 9
Projected Points: 124
Projections

Receptions: 48
Receiving Yards: 580
Receiving Touchdowns: 3
22) Charles Clay, Buffalo Bills
Average Draft Position (ADP): 180
Strength of Schedule (SOS): 3
Bye Week: 6
Projected Points: 126
Projections

Receptions: 43
Receiving Yards: 590
Receiving Touchdowns: 4
21) Antonio Gates, Los Angeles Chargers
Average Draft Position (ADP): 182
Strength of Schedule (SOS): 7
Bye Week: 9
Projected Points: 131.5
Projections

Receptions: 43
Receiving Yards: 525
Receiving Touchdowns: 6
20) Austin Hooper, Atlanta Falcons
Average Draft Position (ADP): 127
Strength of Schedule (SOS): 20
Bye Week: 5
Projected Points: 135.5
Projections

Receptions: 40
Receiving Yards: 475
Receiving Touchdowns: 8
19) Julius Thomas, Miami Dolphins
Average Draft Position (ADP): 144
Strength of Schedule (SOS): 31
Bye Week: 11
Projected Points: 139.5
Projections

Receptions: 50
Receiving Yards: 475
Receiving Touchdowns: 7
18) O.J. Howard, Tampa Bay Bucs
Average Draft Position (ADP): 104
Strength of Schedule (SOS): 14
Bye Week: 11
Projected Points: 141
Projections

Receptions: 52
Receiving Yards: 650
Receiving Touchdowns: 4
17) C.J. Fiedorowicz, Houston Texans
Average Draft Position (ADP): 153
Strength of Schedule (SOS): 24
Bye Week: 7
Projected Points: 142.5
Projections

Receptions: 55
Receiving Yards: 575
Receiving Touchdowns: 5
16) Cameron Brate, Tampa Bay Bucs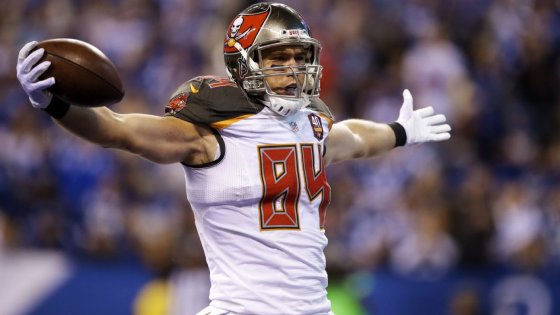 Average Draft Position (ADP): 158
Strength of Schedule (SOS): 14
Bye Week: 11
Projected Points: 145
Projections

Receptions: 56
Receiving Yards: 650
Receiving Touchdowns: 4
15) Jason Witten, Dallas Cowboys
Average Draft Position (ADP): 150
Strength of Schedule (SOS): 27
Bye Week: 6
Projected Points: 153
Projections

Receptions: 65
Receiving Yards: 700
Receiving Touchdowns: 3
14) Coby Fleener, New Orleans Saints
Average Draft Position (ADP): 134
Strength of Schedule (SOS): 11
Bye Week: 5
Projected Points:161
Projections

Receptions: 60
Receiving Yards: 650
Receiving Touchdowns: 6
13) Hunter Henry, Los Angeles Chargers
Average Draft Position (ADP): 78
Strength of Schedule (SOS): 7
Bye Week: 9
Projected Points: 161.5
Projections

Receptions: 52
Receiving Yards: 675
Receiving Touchdowns: 7
12) Jack Doyle, Indianapolis Colts
Average Draft Position (ADP): 108
Strength of Schedule (SOS): 30
Bye Week: 11
Projected Points: 167
Projections

Receptions: 60
Receiving Yards: 650
Receiving Touchdowns: 7
11) Martellus Bennett, Green Bay Packers
Average Draft Position (ADP): 91
Strength of Schedule (SOS): 4
Bye Week: 8
Projected Points: 167.5
Projections

Receptions: 58
Receiving Yards: 675
Receiving Touchdowns: 7
10) Eric Ebron, Detroit Lions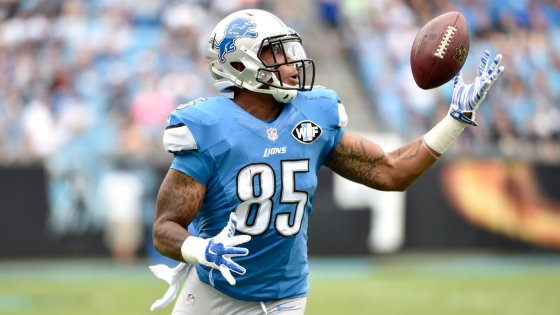 Average Draft Position (ADP): 95
Strength of Schedule (SOS): 19
Bye Week: 7
Projected Points: 169.5
Projections

Receptions: 67
Receiving Yards: 725
Receiving Touchdowns: 5
9) Tyler Eifert, Cincinnati Bengals
Average Draft Position (ADP): 65
Strength of Schedule (SOS): 16
Bye Week: 6
Projected Points: 174
Projections

Receptions: 60
Receiving Yards: 600
Receiving Touchdowns: 9
8) Zach Ertz, Philadelphia Eagles
Average Draft Position (ADP): 89
Strength of Schedule (SOS): 9
Bye Week: 10
Projected Points: 176
Projections

Receptions: 78
Receiving Yards: 800
Receiving Touchdowns: 3
7) Delanie Walker, Tennessee Titans
Average Draft Position (ADP): 91
Strength of Schedule (SOS): 23
Bye Week: 8
Projected Points: 180
Projections

Receptions: 64
Receiving Yards: 800
Receiving Touchdowns: 6
6) Jimmy Graham, Seattle Seahawks
Average Draft Position (ADP): 63
Strength of Schedule (SOS): 28
Bye Week: 6
Projected Points: 184
Projections

Receptions: 70
Receiving Yards: 900
Receiving Touchdowns: 4
5) Kyle Rudolph, Minnesota Vikings
Average Draft Position (ADP): 79
Strength of Schedule (SOS): 2
Bye Week: 9
Projected Points: 185
Projections

Receptions: 70
Receiving Yards: 850
Receiving Touchdowns: 5
4) Greg Olsen, Carolina Panthers
Average Draft Position (ADP): 50
Strength of Schedule (SOS): 22
Bye Week: 11
Projected Points: 206
Projections

Receptions: 75
Receiving Yards: 950
Receiving Touchdowns: 6
3) Travis Kelce, Kansas City Chiefs
Average Draft Position (ADP): 27
Strength of Schedule (SOS): 13
Bye Week: 10
Projected Points: 210
Projections

Receptions: 80
Receiving Yards: 1,000
Receiving Touchdowns: 5
2) Jordan Reed, Washington Redskins
Average Draft Position (ADP): 37
Strength of Schedule (SOS): 29
Bye Week: 5
Projected Points: 218
Projections

Receptions: 85
Receiving Yards: 850
Receiving Touchdowns: 8
1) Rob Gronkowski, New England Patriots
Average Draft Position (ADP): 20
Strength of Schedule (SOS): 17
Bye Week: 9
Projected Points: 220.5
Projections

Receptions: 70
Receiving Yards: 1,025
Receiving Touchdowns: 8