Five Athletes Who Have Failed as Actors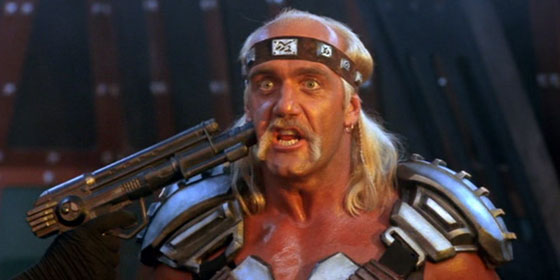 Successful athletes often times grow accustomed to the attention that fame brings them. The developed craving for more attention and fame has resulted in some serious swelling in the cranium of some big name athletes, which motivated them to try their hand at acting. But the 'Big Screen' don't lie, especially when it comes to revealing below average seventh grade drama class acting skills, which is a compliment to the these five athletes who have failed as actors.
5. Brian 'Boz' Bosworth

The Boz is a former professional football player for the NFL Seattle Seahawks, and he was a big name back in the 1980's. Back then, Boz had a bit more game on camera during interviews than he seemed to have on the field during regular season games. So, it didn't seem as a surprise to find the Boz signing up for a role in the movie Stone Cold. If you ever wondered what is colder than cold? It's Boz's Stone Cold Performance.

4. Hulk Hogan

As some would argue that Hulk Hogan is actually an athlete or not, we included him non-the-less. It can be debated that wrestling today is as much as a theatrical performance as any stage performance at a local bar. Which, one would expect the Hulkster to have a decent chance at making it into Hollywood movies? The Hulkster did pump out a few titles under his belt, Suburban Commando, Mr. Nanny, and Thunder in Paradise. Try as he did, the Hulk didn't have what it takes and had to tap out of the Hollywood ring.

3. Michael Jordan

What can we say about the greatest basketball player of all time? Well, he can't act. Let's not beat around the bush or basket on this one, Michael Jordan's performance off court in Space Jam the movie was nothing less than painful to watch. Nuff said, moving right along, nothing to see here folks.

2. Shaquille O'Neal

Shaq, another great basketball player took his talent off the court and ventured into the Hollywood arena, and there he got slammed! Not once, but twice. He 'appeared' in two notoriously awful movies that got worse by the minute. The movies Kazaam and Steel are now legendary known as VCR dust collectors.

1. Roosevelt Grier

Roosevelt 'Rosey' Grier was a successful professional football player who played for the NFL's Rams and Giants teams. He even went on to host a weekly talk show in LA. Surprisingly, he also went on to serve as a bodyguard for the late Bobby Kennedy. He managed a signing career and became a profitable author. One would think Grier would do well in the movies, but no one could have ever imagined the totally ridiculous role that he would play in the movie The Thing with Two Heads. In fact his performance in the movie was so bad that no joke could ever top it.