Top 50 NFL Prospects of the 2017 NCAA Season
Winning a Heisman Trophy is very prestigious. It is the highest honor any college football athlete can win because it honors his excellence in college football and labels him the greatest athlete in the country that season. He becomes a part of a very exclusive club of former college football athletes that is only 80 members (Archie Griffin won the award twice).
There are many other awards in college football too. Besides the Heisman Trophy, they also have the Maxwell Award, William V. Campbell Trophy, Eddie Robinson Coach of the Year Award, Broyles Award, and Walter Camp Award. On the offensive side of the ball, they have the Biletnikoff Award, John Mackey Award, Davey O'Brien Award, Outland Trophy, Dave Rimington Trophy, and Doak Walker Award. The National College Football Awards Association (NCFAA) has been around for 20 years and is responsible for protecting the integrity of these awards.
But even winning all of the trophies, and being named to all of the All-American teams, both conference and nationally, does not guarantee success in the NFL. Danny Wuerffel, Eric Crouch, Jason White, Matt Leinart, Ty Detmer, Ricky Williams, and Rashaan Salaam are just a few names from the past 30 years that come to mind. The difference between college football and the NFL is so tremendous that scouts look for talent, not stats. They look for the size and strengths of players rather than being awed by how many touchdowns they scored.
So with the season beginning, we wanted to take a look at the NCAA college football players who are going to be the biggest and the best NFL stars for the next several years instead of simply listing out a bunch of college football players that are going to dominate the 2017 season. Enjoy.
50) Davin Bellamy, OLB
Class: Senior
School: Georgia
Height: 6'5″
Weight: 240
Projected Round: 3rd-4th
49) Baker Mayfield, QB
Class: Senior
School: Oklahoma
Height: 6'1″
Weight: 218
Projected Round: 4th-5th
48) Quin Blanding, FS
Class: Senior
School: Virginia
Height: 6'2″
Weight: 215
Projected Round: 3rd-4th
47) Marquis Haynes, OLB
Class: Senior
School: Ole Miss
Height: 6'3″
Weight: 225
Projected Round: 3rd-4th
46) Equanimeous St. Brown, WR
Class: Junior
School: Notre Dame
Height: 6'5″
Weight: 204
Projected Round: 3rd
45) Bo Scarbrough, RB
Class: Junior
School: Alabama
Height: 6'2″
Weight: 232
Projected Round: 2nd-3rd
44) Trenton Thompson, DT
Class: Junior
School: Georgia
Height: 6'4″
Weight: 295
Projected Round: 2nd-3rd
43) Antonio Callaway, WR
Class: Junior
School: Florida
Height: 5'11"
Weight: 197
Projected Round: 2nd-3rd
42) Josh Sweat, DE
Class: Junior
School: Florida State
Height: 6'5″
Weight: 250
Projected Round: 2nd
41) Kendall Joseph, ILB
Class: Junior
School: Clemson
Height: 6'1″
Weight: 230
Projected Round: 3rd
40) Dre'Mont Jones, DT
Class: Sophomore
School: Ohio State
Height: 6'3″
Weight: 295
Projected Round: 2nd-3rd
39) Derrick Nnadi, DT
Class: Senior
School: Florida State
Height: 6'1″
Weight: 312
Projected Round: 1st-2nd
38) Orlando Brown, OT
Class: Junior
School: Oklahoma
Height: 6'8″
Weight: 360
Projected Round: 2nd-3rd
37) Jarrett Stidham, QB
Class: Sophomore
School: Auburn
Height: 6'2″
Weight: 214
Projected Round: 3rd-4th
36) Vita Vea, DT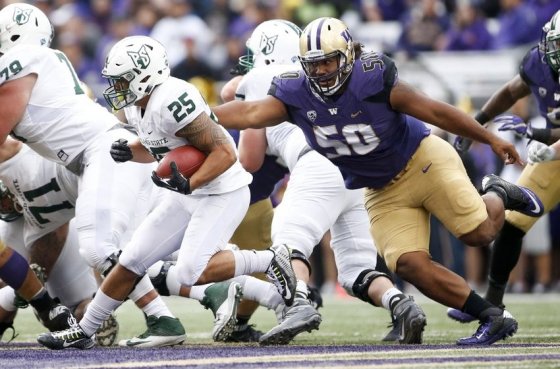 Class: Junior
School: Washington
Height: 6'5″
Weight: 344
Projected Round: 2nd-3rd
35) Deon Cain, WR
Class: Junior
School: Clemson
Height: 6'1″
Weight: 210
Projected Round: 3rd
34) Martinas Rankin, OT
Class: Senior
School: Mississippi State
Height: 6'5″
Weight: 305
Projected Round: 3rd
33) Maurice Hurst, DT
Class: Senior
School: Michigan
Height: 6'2″
Weight: 282
Projected Round: 2nd-3rd
32) Jaire Alexander, CB
Class: Junior
School: Louisville
Height: 5'11"
Weight: 192
Projected Round: 1st-2nd
31) Quenton Nelson, OG
Class: Senior
School: Notre Dame
Height: 6'5″
Weight: 329
Projected Round: 1st-2nd
30) Cameron Smith, ILB
Class: Junior
School: USC
Height: 6'2″
Weight: 245
Projected Round: 2nd
29) Jerome Baker, OLB
Class: Junior
School: Ohio State
Height: 6'1″
Weight: 225
Projected Round: 2nd-3rd
28) Bradley Chubb, DE
Class: Senior
School: NC State
Height: 6'4″
Weight: 275
Projected Round: 3rd
27) Marcus Allen, FS
Class: Senior
School: Penn State
Height: 6'2″
Weight: 202
Projected Round: 2nd
26) Da'Shawn Hand, DE
Class: Senior
School: Alabama
Height: 6'4″
Weight: 282
Projected Round: 1st-2nd
25) James Washington, WR
Class: Senior
School: Oklahoma State
Height: 6'1″
Weight: 205
Projected Round: 2nd
24) Lamar Jackson, QB
Class: Junior
School: Louisville
Height: 6'3″
Weight: 200
Projected Round: 2nd
23) Chukwuma Okorafor, OT
Class: Senior
School: Western Michigan
Height: 6'5″
Weight: 330
Projected Round: 3rd-4th
22) Courtland Sutton, WR
Class: Junior
School: SMU
Height: 6'4″
Weight: 218
Projected Round: 2nd
21) Micah Kiser, ILB
Class: Senior
School: Virginia
Height: 6'2″
Weight: 240
Projected Round: 1st
20) Sam Hubbard, DE
Class: Junior
School: Ohio State
Height: 6'5″
Weight: 265
Projected Round: 1st
19) Mason Rudolph, QB
Class: Senior
School: Oklahoma State
Height: 6'5″
Weight: 230
Projected Round: 2nd
18) Mitch Hyatt, OT
Class: Junior
School: Clemson
Height: 6'5″
Weight: 295
Projected Round: 1st-2nd
17) Calvin Ridley, WR
Class: Junior
School: Alabama
Height: 6'1″
Weight: 190
Projected Round: 1st
16) Christian Kirk, WR
Class: Junior
School: Texas A&M
Height: 5'11"
Weight: 200
Projected Round: 1st
15) Harold Landry, OLB
Class: Senior
School: Boston College
Height: 6'3″
Weight: 250
Projected Round: 1st
Best Fit NFL Team:
14) Malik Jefferson, OLB
Class: Junior
School: Texas
Height: 6'3″
Weight: 240
Projected Round: 1st
Best Fit NFL Team:
13) Tyquan Lewis, DE
Class: Senior
School: Ohio State
Height: 6'4″
Weight: 265
Projected Round: 1st
12) Derrius Guice, RB
Class: Junior
School: LSU
Height: 5'11"
Weight: 212
Projected Round: 1st
11) Connor Williams, OT
Class: Junior
School: Texas
Height: 6'6″
Weight: 320
Projected Round: 1st
10) Josh Allen, QB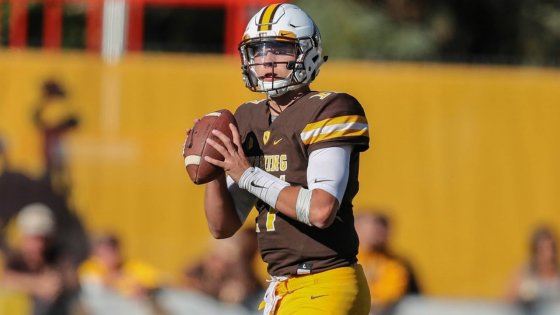 Class: Junior
School: Wyoming
Height: 6'5″
Weight: 233
Projected Round: 1st
Best Fit NFL Team: San Francisco 49ers
9) Tarvarus McFadden, CB
Class: Junior
School: Florida State
Height: 6'2″
Weight: 198
Projected Round: 1st
Best Fit NFL Team: Los Angeles Rams, Arizona Cardinals, Tampa Bay Bucs
8) Mike McGlinchey, OT
Class: Senior
School: Notre Dame
Height: 6'8″
Weight: 312
Projected Round: 1st
Best Fit NFL Team: Philadelphia Eagles, Denver Broncos
7) Saquon Barkley, RB
Class: Junior
School: Penn State
Height: 5'11"
Weight: 223
Projected Round: 1st
Best Fit NFL Team: Baltimore Ravens, Buffalo Bills
6) Minkah Fitzpatrick, FS
Class: Junior
School: Alabama
Height: 6'1″
Weight: 201
Projected Round: 1st
Best Fit NFL Team: Los Angeles Rams, Cleveland Browns
5) Josh Rosen, QB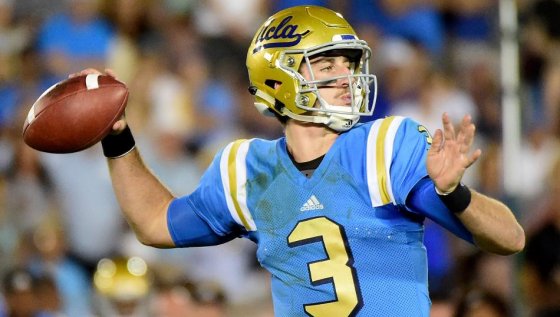 Class: Junior
School: UCLA
Height: 6'4″
Weight: 220
Projected Round: 1st-2nd
Best Fit NFL Team: Pittsburgh Steelers
4) Christian Wilkins, DT
Class: Junior
School: Clemson
Height: 6'4″
Weight: 310
Projected Round: 1st
Best Fit NFL Team: Washington Redskins, Buffalo Bills
3) Arden Key, DE
Class: Junior
School: LSU
Height: 6'6″
Weight: 238
Projected Round: 1st
Best Fit NFL Team: New Orleans Saints , Indianapolis Colts
2) Derwin James, SS
Class: Sophomore
School: Florida State
Height: 6'3″
Weight: 211
Projected Round: 1st
Best Fit NFL Team: Buffalo Bills, Chicago Bears, Indianapolis Colts
1) Sam Darnold, QB
Class: Sophomore
School: USC
Height: 6'4″
Weight: 225
Projected Round: 1st
Best Fit NFL Team: New York Jets, San Francisco 49ers