Top 8 1/2 Reasons Why We Suck – Masters of None

We suck and we know it.  It's been too long between seasons, but we're back, ready to rock on Season 5.  Hopefully there's still a few of you left who care.  Don't forget you can join us at the NYC meet-up at Comic Con October 9th and we'll be at Booth 522 all weekend.  Thanks also to our Comic Con sponsors for all the great prizes they hooked us up with and that you can win  at the NYC Comic Con OR online listening & watching us as we stream live (hopefully) that weekend. Check out their websites Lumisource,  Stylin Online/a>, DK Publishing, Coloud,  Think Geek, Top Cow Productions, and Workman Publishing.  Last but not least, a big thanks to Graham who will be doing custom album art for each show for us all season long.
Download show HERE
[podcast]http://www.podtrac.com/pts/redirect.mp3/traffic.libsyn.com/mastersofnone/MON_5_1.mp3[/podcast]
Masters of None – 5.1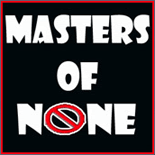 Gunaxin is proud to be partnering with Masters of None, and featuring their content here on our site. Masters of None are former radio guys Mike, Art & Jay, who debate and answer mankind's most important questions each week. Along the way you'll encounter unsustainable amounts of movie quotes, horribly tasteless jokes, TV references, offensive comments, old radio bits, biting insults, tall tales, unsportsmanlike conduct, raping and pillaging of all things pop culture. It's a comedy podcast that doesn't suck.
---