Top 8 1/2 Song Parts of All Time – Masters of None

Admit it. There have been many occasions where you have turned to someone while a song is playing and gone, "I love this part."
We've all done it. There's a million different parts to songs that get the hairs on the neck standing at attention. In this week's episode we talk about some of the best.
Whether it's a killer intro, a nasty bridge, or the funkiest damn backbeat ever we attempt to cover it in all it's air guitar/drum brilliancy.
[podcast]http://www.podtrac.com/pts/redirect.mp3/traffic.libsyn.com/mastersofnone/MON_5_10.mp3[/podcast]
Masters of None – 5.10 – Top 8 1/2 Song Parts of All Time
Download Show HERE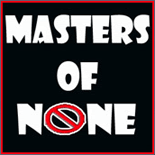 Gunaxin is proud to be partnering with Masters of None, and featuring their content here on our site. Masters of None are former radio guys Mike, Art & Jay, who debate and answer mankind's most important questions each week. Along the way you'll encounter unsustainable amounts of movie quotes, horribly tasteless jokes, TV references, offensive comments, old radio bits, biting insults, tall tales, unsportsmanlike conduct, raping and pillaging of all things pop culture. It's a comedy podcast that doesn't suck.
---