Top Five Canadian Hockey Goals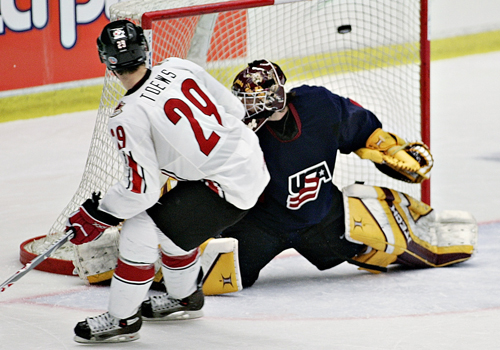 Sidney Crosby's overtime winner to claim Olympic gold for Canada over the United States in 2010 was a huge moment for Canadian Hockey. The country whose spirit rises and falls on the fate of its National Sport was hosting the tournament and its biggest star scored the game winner in the biggest event against their biggest rival.
In honor of Canada Day, we've taken a look at where that important goal fits into Canadian hockey history. Here is our take on the Top Five Canadian Hockey Goals of All-Time.
5) 2003 World Championship
Anson Carter's Controversial Clincher
Anson Carter scored one of the most controversial goals in the history of International hockey when he tucked this puck past the goalie in overtime. Despite some dimwit titling this clip "Anson Carter's No Goal", you can clearly see it was in fact a goal. Before the NHL unofficially opened its doors to players from all over the world it was largely a North American's game, a white North American's game to be more specific. Carter's goal expanded hockey fans' collective minds as to what a hero could look like.
4) 2007 World Junior Championship
Jonathan Toews Owns America In Shootout
Jonathan Toews may have been Canada's best player during the Vancouver 2010 Olympics, but he was a stud on the International stage before. Toews and his Canadian junior teammates were locked in dramatic shootout with the U.S. in the semi-final of the 2007 World Junior Championship, Toews beat the Americans three times to secure a birth in the final.
Canada defeated Russia 4-2 to win the tournament. Toews may have been a little bit excited when he let this one slip:
3) 1987 Canada Cup
Gretzky and Lemieux Combine To Finish Russia
Many refer to the 1987 Canada Cup as the greatest tournament ever played. Canada would win the now defunct Canada Cup with a victory over Russia when Wayne Gretzky fed Mario Lemieux for his now legendary snipe. Watch for the missed call on Dale Hawerchuk.
2) Vancouver 2010 Olympics
Crosby Wins It For Canada
Sidney Crosby certainly isn't making things simple for his detractors. Although he went scoreless in the tournament's previous three games, he saved his best for last by sneaking a quick snap by Ryan Miller in overtime. "The Kid" added "National Hero" to his resume, even with the IOC's valiant effort to prevent us from showing you this goal.
1) 1972 Summit Series
Paul Henderson Sinks Soviets
Despite beating the living shit out of the Russians physically, Canada was still in tough during the '72 Summit Series. With pride and a fear of communism on the line, Paul Henderson floated one by the Russian goaltender to score the biggest goal in Canadian hockey history.
Honorable Mentions
Not enough images of Canadian's in all their victorious glory? Here's a clip compiling ten of Canada's biggest goals, including some beauties by Steve Larmer, Mike Bossy, Bobby Orr, and Brian Propp: