Five Super Expensive Supercars
Speed, power, performance, and excitement. What has all of these traits? If you guessed supercars, you're right. Supercars are modern marvels of engineering. When carbon, aluminum, and pure unadulterated power collide, a supercar is born. Whether it's a Bugatti Veyron or a Pagani Zonda, every man has a dream-car. What is your dream-car? Is it a creature of pure performance, or is it a fusion of luxury and performance? Every supercar is unique. Each have their own styles, horsepower, top-speed, and engineering techniques, but there is one thing that all supercars have in common. They are all VERY expensive. Even the cheapest supercars can be well over $100,000 USD. For most people, supercars are out of reach because of the price, but that is what one must pay for the bleeding edge of power and performance. Today we will look at five of the most expensive supercars, and why they cost what they do.
5) Pagani Huayra BC – $2,500,000
The Huayra BC is Pagani's latest creation, and once again, it tops everything before it. The BC in its name refers to Benny Caiola, a great friend to Horacio Pagani. Benny was Pagani's first customer and continued to be an inspiration for Horacio throughout the years. The Huayra BC sports a cool 750-hp twin-turbo Mercedes-AMG 6.0-liter V-12. This is the same engine as the previous Huayra, but Pagani boasts a superior output. It is said to push out 750 brake horsepower at 6200 RPM. In addition, it features carbon-fiber synchros, a revised clutch-control program, and an electrohydraulic actuation system. The gearbox and active differential are 40% lighter than the old Huayra. The new suspension continues this light-weight trend. With its new additions, it is approximately 25% lighter. Everything about the BC has been engineered to save weight and maximize down-force.
4) Aston Martin Valkyrie – $3,000,000
Aston Martin and Red Bull collaborated to create this extraordinary piece of technology. The Valkyride (formerly AM-RB 001) plans to be the fastest street-legal car in the world. Not much is currently known about this car, as it is to be released in 2018, but what we do know is staggering. The engine is, of course, a rear-mounted 6.5L Cosworth V12 with a possible Formula 1-style hybrid setup. Power will be sent to the rear wheels with a seven-speed, paddle-shift transmission. This monster will hit 200 mph in 10 seconds and top out at 250 mph. 4,000 pounds of downforce (without a rear wing!) will allow the Aston Martin to grip tight in the corners. In addition, the Valkyrie is said to have 1000 hp and weigh only 2,200 pounds.
3) Ferrari LaFerrari Aperta – $3,400,000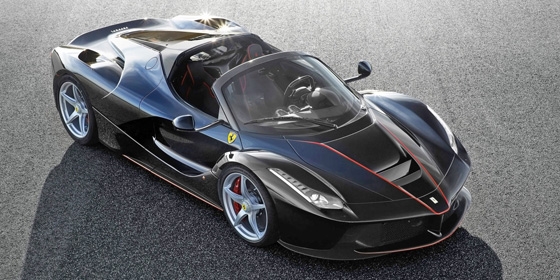 In 2013, Ferrari released the LaFerrari, which was a fantastic work of art. Now, in 2017, they decided to rip the top off it and call it the LaFerrari Aperta. Despite the slight weight gain, the Aperta still holds its 950 horsepower and its 6.3L V12 engine. It can do 0 to 60 mph under 3 seconds and 0 to 124 mph in just 7.1 seconds. The top speed is said to be over 217 mph, which is the same as the coupe. To make up for the added convertible style, the Aperta has made aerodynamic changes to the body to ensure that the drag is unaffected compared to the coupe. There is also a lowered under-body and a longer front dam to increase downforce.
2) Lamborghini Veneno – $4,500,000
How did Lamborghini decide to celebrate its 50th birthday? By making an insane supercar of course! The Lamborghini Veneo is based on the ever-popular Aventador. The Veneno, produces 740 horsepower from its remarkable L539 6.5-liter V-12 engine. Power is channeled to all four wheels with its seven-speed, single clutch transmission. Its top speed is an impressive 221 mph. It weighs just 3,278 pounds which gives it a power-to-weight ratio of 4.38 pounds/hp which allows it to have its impressive acceleration and top-speed. Unfortunately, there is one issue with this car. You'll probably never have one. No, not because you can't afford it, but because only 3 will be made. One for each colour of the Italian flag. This guarantees exclusivity, and, of course, raises the price significantly.
1) Koenigsegg CCXR Trevita – $4,800,000
Ah Sweden, the land of reasonably priced everyday cars, cheap furniture, delicious meatballs, and ridiculously expensive supercars. The CCXR Trevita costs $4.8 Million dollars. It is the most expensive supercar to date. Is it actually worth it? That's for you to judge. Initially, the Trevita was intended to be limited to 3, but due to the white carbon fiber that's used, only 2 were made. The engine is a 4.8L V8 and outputs 1018 Bhp at 7000 rpm. It does 0 to 60 in less than 3 seconds and has a top speed of over 254 mph. At around 155 mph, the CCXR Trevita produces just under 780 pounds of downforce on its own, and only weighs about 2,800 pounds. This allows the Koenigsegg to have its truly impressive power-to-weight ratio of 1.26kg/hp. The CCXR Trevita is a masterpiece of Swedish engineering, and, because of its power and exclusivity, will probably remain to be one of the most expensive supercars ever.