Top Five Longest Running Animated Series on Television

The Simpsons began their 33rd season on television with their season premiere last evening. In order to celebrate, we're taking a look at the longest running animated series. Television usually consists of scripts and sets, with actors pulling off heartbreaking drama, lovey dovey romance or goofy comedy. How about the other guys? The animated series. With talented voice actors and the powers to do anything via animation, these shows can go plenty of places regular television simply can't. The humor can also end up more raunchy due to not actually showing anything deemed bad by television censors happening but rather showing an animated version of it. Excluding programming directed at children (such as PBS' Arthur or Nickelodeon's SpongeBob SquarePants and The Fairly Oddparents), here are the top five longest running animated series in the United States.
5) Futurama
FOX : March 28, 1999 to August 10, 2003
Comedy Central : March 23, 2008 to September 4, 2013
Created by the man behind The Simpsons, Matt Groening, Futurama lasted for fourteen years and 140 episodes. The show stars Billy West as Phillip J. Fry, a slacker who accidentally winds up in the 31st century. West also voices Professor Farnsworth, an older man who builds seemingly useless devices, and Doctor Zoidberg, an alien who claims to have a wide range of knowledge, but usually gets things woefully wrong. Along with him in the all-star cast are Katey Segal, John DiMaggio and Maurice LaMarche. The show's zany humor and Simpsons-like animation made it a critical hit from the start. The show has a number of similarities with The Simpsons outside of the animation including a similar (but raunchier) style of humor, a wide range of characters and people, and a number of famous guest stars including Al Gore and George Takei. The show was carried by FOX for four years until disputes between the producers and FOX network executives forced its cancellation. Fan reaction was strong when it was picked up by Comedy Central and it remained strong in the ratings until it ended again. Futurama won six Emmy Awards out of its twelve nominations.
4) Aqua Teen Hunger Force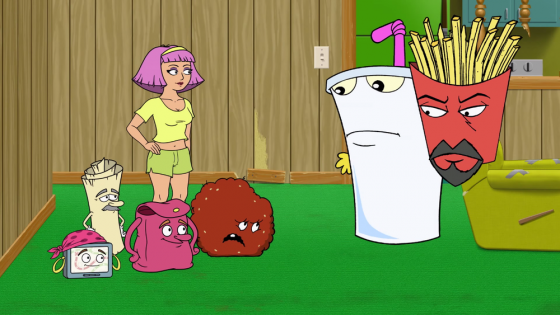 Adult Swim : December 30, 2000 to August 30, 2015
This spin-off of Adult Swim's Space Ghost: Coast To Coast lasted for fifteen years and 139 episodes. Mixing slapstick and physical humor with a unique animation style, Aqua Teen Hunger Force was an immediate hit for the Adult Swim network and became one of the flagship series airing on it. Creator Dave Willis joins voice actors Dana Synder and Carey Means in starring as talking food products (a milkshake, a ball of meat and a box of fast food french fries) that get themselves into over the top situations and hysterical physical gags, aided by their human neighbor on many occasions. The show didn't win any Emmy Awards and was not nominated for any.
3) Family Guy
FOX : 1/31/99 to 11/9/03 and 5/1/05 to present
Despite the brief period where FOX cancelled it due to low ratings, Family Guy has come out as a strong ratings grabber and critical hit. In addition to its spot in the top five animated series, Family Guy is also one of the longest-running television shows ever. The all-star cast includes series creator Seth MacFarlane, Mila Kunis, Seth Green and Alex Borstein as members of the Griffin Family, a Rhode Island family that parodies the heart of American consumer culture. In their town of Quahog, anything can happen, including alien abduction, chicken fights, and time travel. Family Guy's parody of typical America, raunchy humor and outlandish situations made it a fan favorite. Out of twenty four Emmy nominations, Family Guy has won seven.
2) South Park
Comedy Central : August 13, 1997 to present
Known as the most TV-MA show on television, South Park has been on for over 20 seasons, making one of the most longest lasting shows on television in addition to being in the top five animated series. The show stars creators Trey Parker and Matt Stone as Kenny, Cartman, Stan and Kyle, four pre-teen boys and follows their bizarre adventures in the eponymous town. Like The Simpsons the show has a large number of diverse characters, most of whom have become legends of television history already. The show's dark humor and profanity made it instantly infamous but also led to some of the highest ratings ever seen on Comedy Central. Each episode is made three to five days before its airing, making it the only primetime show on television to always be immediate when discussing current events.
1) The Simpsons
FOX : December 17, 1989 to present
The Simpsons is the longest-running sitcom of all time, and it was a continuation of Matt Groening's The Simpsons shorts on FOX's The Tracey Ullman Show. The show lampooned American culture at its heart while remaining decent, making it a smash hit among viewers. An all-star cast including Dan Castellaneta, Nancy Cartwright, Hank Azaria and Harry Shearer is backed up by one of the most diverse supporting casts of characters on television and hundreds of celebrity guest stars. To put it quite simply: Without The Simpsons, none of the other shows on this list would exist. To have that big of an impact is quite a feat, and makes it a well-deserved number one.