Top Gun: Maverick – Review
For the last 36 years, rumors and speculation have abounded concerning the future of the 1986 smash hit Top Gun and its lead character, Pete "Maverick" Mitchell, played timelessly by Tom Cruise. Would the world of the United States Navy Fighter Weapons School ever be revisited? Could the moviegoing public once again ride in a cockpit with Maverick as his stunting and flyboy piloting flipped them and made them hold on for dear life?
Top Gun was the king of the box office in 1986. You know what they say: "You come at the king, you'd best not miss." And Top Gun: Maverick doesn't miss. Not for a second. Director Joseph Kosinski takes the reins from the late Tony Scott (to whom this film is dedicated) and to Kosinski's credit, he doesn't try to match Scott's stride; instead, he makes this legend his own. This different animal of a film blows past the original entirely owing to impressive visuals, a screenplay that keeps our attention rapt, and a cast game enough to take part in some thrilling aerial work.
The script by Ehren Kruger, Eric Warren Singer, and Christopher McQuarrie (who's written several Cruise-starring films since 2008) bests the original by Jim Cash and Jack Epps Jr. by being less of a dick-measuring contest – 'cause face it, that's exactly what the first movie was – and featuring an actual story and plot. Not meaning to insult the original, but it was a product of its time. A hot-dogging, skirt-chasing, testosterone-fueled product of its time. As cinematic tastes have changed, so has the approach to the Maverick character and Top Gun itself.
Here, we see the emotional toll the last 36 years have taken on Maverick, now flying experimental aircraft for the United States military. Some might say it's Tom Cruise being Tom Cruise, but as soon as the camera captures him during the opening credits, we recognize the self-possessed stance, the wiseguy grin, and the devil-may-care bravado through Cruise's weathered visage. He steps into Maverick's shoes like he never took them off in the first place, bearing the swagger and impetuousness for which he'd been busted and "put in hack twice."
Although the years have tempered him, he still pushes the limits just to show he's still got it. Yet he still holds the loss of his best friend Nick "Goose" Bradshaw (Anthony Edwards, appearing in archival footage and still photographs) in mind, which comes full circle when he's demoted back to being a Top Gun instructor and has to come face-to-face with Goose's son, Bradley "Rooster" (Miles Teller). Maverick and Rooster are given the lion's share of the emotional connections, both with the audience and each other – something that evaded the first film almost entirely.
We're not talking about emotion-filled moments, like the romance between Maverick and his instructor Charlie Blackwood (Kelly McGillis, not appearing in this film). Nor are we talking about the brotherhood Maverick shared with Goose and earned with Tom "Iceman" Kazansky (Val Kilmer). What's at stake here is Maverick having to be an authority figure toward a class of former Top Gun pilots that includes Rooster, whose resentment of Maverick comes into play almost as soon as Rooster makes his first appearance at the neighborhood watering hole.
The new pilots aren't there to compete or get their name on a plaque (remember: the plaque for the alternates is in the ladies' room – and thankfully, this film eschews the misogyny of the first film). No, these Top Gun graduates have been assembled to fly into dangerous foreign territory to take out a facility processing enriched uranium. We're given the story's two-pronged attack angles right up front, and the film thus extends its hand to the audience, straps them into the RIO/GIB seat, and pushes the throttle up as high as it can go.
There's no monkeyfarting with immaturity or trying to show who the best of the best is here; the time for boyish antics has passed, and both Tom Cruise and Maverick shepherd this new generation into the canon and legacy built the 1986 original. It's not done by forcing the new hotness on us; it's done with a crowd-pleasing layering of action, emotion, and the humor that comes along with a natural competitiveness among those with shared experiences. (Speaking of which… of COURSE, the requisite equivalent of the "Playing With The Boys" volleyball scene from the first has to be included, but there's more of a point to it rather than showing glistening muscle-bound hunks do their thing.)
Here, the class has to learn several things in a short period of time – the importance of the mission, the layout of the flight path, the dauntingly skillful aviating they must master to achieve their goal, the dangers posed by enemy aircraft and weaponry, and the right way to do all of it. Most importantly, they have to learn to act as a team, not just standoffish glory-hunters like Jake "Hangman" Seresin (Glen Powell), a pilot whose only concern is assuming the role of team leader. It's the same thing Maverick had to learn all those years ago, although Hangman's self-serving aims seem meant more for comic relief than being an actual plot point.
Top Gun: Maverick builds in many homages to its predecessor, even going so far as to make manifest a character only mentioned by name in that film's opening minutes. Yessir, the Penny Benjamin (Jennifer Connelly) shows up, she of high-speed pass fame, another connection to Maverick's past symbolizing the growth and maturity Maverick has earned in the intervening years between these films. While appearing as his love interest, there's something more she represents: the grounding Maverick has avoided, as he's opted to remain a Captain after defying promotion after promotion. For a man of few constants, Penny's reappearance plays a large role in Maverick's life, despite her limited screen time.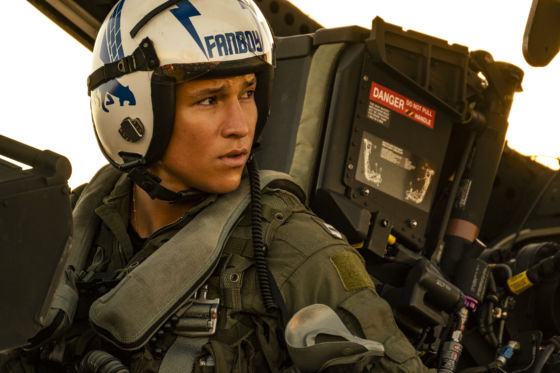 But the film's true emotional core belongs solely to Maverick and Rooster. Maverick still holds Goose as his center, repeating "Talk to me, Goose" as his mantra when facing adversity; he also holds the guilt of his actions done on Rooster's behalf, for which Rooster holds a massive grudge. As Rooster, Miles Teller forges a character caught between his father's legacy and his own future; he's a talented pilot, but he's still trepidatious about pushing forward and becoming who he's meant to be. Even though Maverick has tried to step in to guide him (and apparently has done so throughout Rooster's upbringing), he wants none of it, even though he's his superior officer and instructor.
These plotlines are wisely balanced out by the internal camaraderie of the other pilots and navigators, along with some seriously awe-inducing aerial photography that features the actors visibly flying in fighter jets. As yet another reason this film supersedes the original, great care is taken to show the work put into making Top Gun: Maverick as believable as possible. No longer are the actors on a set in a cockpit mockup; they're shown flying with landscapes all around and in full view, with nary a sign of CGI trickery to be found (except for the obviously dangerous missile and gun battles). This aspect alone makes this movie a must on the big screen, as Claudio Miranda's photography (aided by the actors themselves while in the planes) provides us spatial and geographic awareness to amaze you, saying without a word, "Look – we actually did this."
And it works like gangbusters. Top Gun: Maverick is superb, spectacular entertainment of the highest order. Not only does it fulfill the action junkie side of our psyches, it also appeals to our own human nature and want for emotional closure and reconciliation. By providing a multi-generational, emotional link to the characters and the mission, this film succeeds on a level that the original could never have. With ample amounts of humanity and realism, it turns down the rock n' roll vibe and pushes the audience and character connection to the maximum. You'll wish your theater seat had the same safety belts as the onscreen pilots when the lights go down and Top Gun: Maverick takes off at full speed.
MPA Rating: PG-13 for sequences of intense action and some strong language.
Running time: 131 minutes.
Released by Paramount Pictures.
Top Gun: Maverick
You'll wish your theater seat had the same safety belts as the onscreen pilots when the lights go down and Top Gun: Maverick takes off at full speed.