Top 30 NHL Playoff Performances Since 1998
Is this the year that the Washington Capitals are finally going to win it all? If you are a hockey fan than we do not need to explain to you just how important it is for the Capitals to win the Stanley Cup this year. You have watched, year after year, as they have built a rock-star lineup only to fall short of the Stanley Cup Finals, or even the 3rd round.
For casual NHL fans who are just starting to get into hockey, the Washington Capitals are similar to the Los Angeles Chargers (That sounds so disgusting that we hate saying it, sorry LA.) of the NFL or the Orlando Magic of the NBA. They have put together some really great teams but have never won a championship. The three teams are a combined 0-4 in the big game with the Capitals last appearing in the championship game back in 1998.
They have had the best record in the NHL over the past two seasons, and it has not even been close, leading the entire league by 5.5 games in 2016 and 4.5 games this past season. But they went cold against the Pittsburgh Penguins last year and ended up losing in the second round. The early exit was a bit of a shock to Caps fans and hopefully they do not repeat that same disappointment this year. They struggled through the first few games but ended up coming through and getting past the Toronto Maple Leafs during the first round of the playoffs this past weekend.
T.J. Oshie and Alex Ovechkin, two of the Capitals best players, are having themselves quite the postseason this year. They are among a long list of former, and current, NHL superstars who seem to bring a little something special when it comes to the postseason. It is almost as if these special performers are playing an entirely different game.
Whether it was scoring more goals, assisting teammates in scoring more goals, or just leaving everything they had out on the ice, these men deserve every bit of recognition and respect for the performances they put together those seasons, with many of the players walking away with a Stanley Cup.
Here are the 30 Greatest NHL Postseason Performers since 1998, the last time the Washington Capitals were in the Stanley Cup Finals.
30. Olaf Kolzig, G, WSH
Season: 1997-98
Games: 21
Wins: 12
Results: Lost in Stanley Cup Finals
Shutouts: 4
Goals Against Avg: 1.95
Shots Against: 740
Saves: 696
Save %: 94.1%
29. Johan Franzen, C, DET
Season: 2007-08
Games: 16
Results: Stanley Cup Champions
Goals: 13
Game-Winning Goals: 5
Assists: 5
Points: 18
Plus/Minus: +13
Per Game Averages:

Goals – 0.81
Assists – 0.31
Points – 1.13
28. Miikka Kiprusoff, G, CGY
Season: 2003-04
Games: 26
Wins: 15
Results: Lost in Stanley Cup Finals
Shutouts: 5
Goals Against Avg: 1.85
Shots Against: 710
Saves: 659
Save %: 92.8%
27. Fernando Pisani, C, EDM
Season: 2005-06
Games: 24
Results: Lost in Stanley Cup Finals
Goals: 14
Game-Winning Goals: 5
Assists: 4
Points: 18
Plus/Minus: +4
Per Game Averages:

Goals – 0.58
Assists – 0.17
Points – 0.75
26. Tuukka Rask, G, BOS
Season: 2012-13
Games: 22
Wins: 14
Results: Lost in Stanley Cup Finals
Shutouts: 3
Goals Against Avg: 1.88
Shots Against: 761
Saves: 715
Save %: 94%
25. Jeff Carter, C, LAK
Season: 2013-14
Games: 26
Results: Stanley Cup Champions
Goals: 10
Game-Winning Goals: 1
Assists: 15
Points: 25
Plus/Minus: +5
Per Game Averages:

Goals – 0.38
Assists – 0.58
Points – 0.96
24. Ed Belfour, G, DAL
Season: 1998-99
Games: 23
Wins: 16
Results: Stanley Cup Champions
Shutouts: 3
Goals Against Avg: 1.67
Shots Against: 617
Saves: 574
Save %: 93%
23. Nikita Kucherov, RW, TBL
Season: 2015-16
Games: 17
Results: Lost in Conference Finals
Goals: 11
Assists: 8
Points: 19
Plus/Minus: +13
Per Game Averages:

Goals – 0.65
Assists – 0.47
Points – 1.12
22. Tyler Johnson, C, TBL
Season: 2014-15
Games: 26
Results: Lost in Stanley Cup Finals
Goals: 13
Game-Winning Goals: 4
Assists: 10
Points: 23
Plus/Minus: +7
Per Game Averages:

Goals – 0.50
Assists –  0.38
Points –  0.88
21. Nikolai Khabibulin, G, TBL
Season: 2003-04
Games: 23
Wins: 16
Results: Stanley Cup Champions
Shutouts: 5
Goals Against Avg: 1.71
Shots Against: 598
Saves: 558
Save %: 93.3%
20. Marian Gaborik, RW, LAK
Season: 2013-14
Games: 26
Results: Stanley Cup Champions
Goals: 14
Game-Winning Goals: 1
Assists: 8
Points: 22
Plus/Minus: +6
Per Game Averages:

Goals – 0.54
Assists – 0.31
Points –  0.85
19. Joe Pavelski, C, SJS
Season: 2015-16
Games: 24
Results: Lost in Stanley Cup Finals
Goals: 14
Game-Winning Goals: 4
Assists: 9
Points: 23
Plus/Minus: +1
Per Game Averages:

Goals – 0.58
Assists – 0.38
Points – 0.96
18. Patrick Roy, G, COL
Season: 2000-01
Games: 23
Wins: 16
Results: Stanley Cup Champions
Shutouts: 4
Goals Against Avg: 1.7
Shots Against: 622
Saves: 581
Save %: 93.4%
17. Joe Sakic, C, COL
Season: 2000-01
Games: 21
Results: Stanley Cup Champions
Goals: 13
Game-Winning Goals: 3
Assists: 13
Points: 26
Plus/Minus: +6
Per Game Averages:

Goals – 0.62
Assists – 0.62
Points – 1.24
16. Henrik Lundqvist, G, NYR
Season: 2011-12
Games: 20
Wins: 10
Results: Lost in Conference Finals
Shutouts: 3
Goals Against Avg: 1.82
Shots Against: 554
Saves: 516
Save %: 93.1%
15. Dominik Hasek, G, BUF
Season: 1998-99
Games: 19
Wins: 13
Results: Lost in Stanley Cup Finals
Shutouts: 2
Goals Against Avg: 1.77
Shots Against: 587
Saves: 551
Save %: 93.9%
14. Daniel Alfredsson, RW, OTT
Season: 2006-07
Games: 20
Results: Lost in Stanley Cup Finals
Goals: 14
Game-Winning Goals: 4
Assists: 8
Points: 22
Plus/Minus: +4
Per Game Averages:

Goals – 0.70
Assists – 0.40
Points – 1.10
13. Joe Nieuwendyk, C, DAL
Season: 1998-99
Games: 23
Results: Stanley Cup Champions
Goals: 11
Game-Winning Goals: 6
Assists: 10
Points: 21
Plus/Minus: +7
Per Game Averages:

Goals – 0.48
Assists – 0.43
Points –  0.91
12. Alex Ovechkin, LW, WSH
Season: 2008-09
Games: 14
Results: Lost in Conference Semi-Finals
Goals: 11
Game-Winning Goals: 1
Assists: 10
Points: 21
Plus/Minus: +10
Per Game Averages:

Goals – 0.79
Assists – 0.71
Points – 1.50
11. Marian Hossa, RW, PIT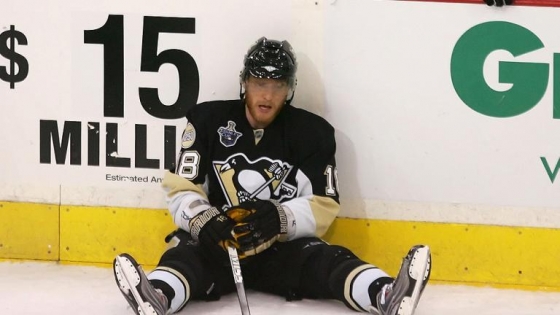 Season: 2007-08
Games: 20
Results: Lost in Stanley Cup Finals
Goals: 12
Game-Winning Goals: 2
Assists: 14
Points: 26
Plus/Minus: +8
Per Game Averages:

Goals – 0.60
Assists – 0.70
Points – 1.30
10. Henrik Zetterberg, LW, DET
Season: 2007-08
Games: 22
Results: Stanley Cup Champions
Goals: 13
Game-Winning Goals: 4
Assists: 14
Points: 27
Plus/Minus: +16
Per Game Averages:

Goals – 0.59
Assists – 0.64
Points – 1.23
9. Tim Thomas, G, BOS
Season: 2010-11
Games: 25
Wins: 16
Results: Stanley Cup Champions
Shutouts: 4
Goals Against Avg: 1.98
Shots Against: 849
Saves: 798
Save %: 94%
8. Brad Richards, C, TBL
Season: 2003-04
Games: 23
Results: Stanley Cup Champions
Goals: 12
Game-Winning Goals: 7
Assists: 14
Points: 26
Plus/Minus: +5
Per Game Averages:

Goals – 0.52
Assists – 0.61
Points – 1.13
7. Daniel Briere, C, PHI
Season: 2009-10
Games: 23
Results: Lost in Stanley Cup Finals
Goals: 12
Game-Winning Goals: 4
Assists: 18
Points: 30
Plus/Minus: +5
Per Game Averages:

Goals – 0.52
Assists – 0.78
Points – 1.30
6. Logan Couture, C, SJS
Season: 2015-16
Games: 24
Results: Lost in Stanley Cup Finals
Goals: 10
Game-Winning Goals: 2
Assists: 20
Points: 30
Plus/Minus: +5
Per Game Averages:

Goals – 0.42
Assists – 0.83
Points – 1.25
5. J.S. Giguere, G, ANA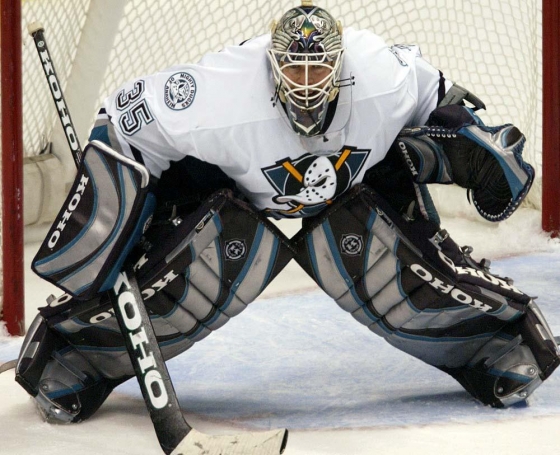 Season: 2002-03
Games: 21
Wins: 15
Results: Lost in Stanley Cup Finals
Shutouts: 5
Goals Against Avg: 1.62
Shots Against: 697
Saves: 659
Save %: 94.5%
4. Dominik Hasek, G, DET
Season: 2001-02
Games: 23
Wins: 16
Results: Stanley Cup Champions
Shutouts: 6
Goals Against Avg: 1.86
Shots Against: 562
Saves: 517
Save %: 92%
3. Evgeni Malkin, C, PIT
Season: 2008-09
Games: 24
Results: Stanley Cup Champions
Goals: 14
Game-Winning Goals: 3
Assists: 22
Points: 36
Plus/Minus: +3
Per Game Averages:

Goals – 0.58
Assists – 0.92
Points – 1.50
2. Martin Brodeur, G, NJD
Season: 2002-03
Games: 24
Wins: 16
Results: Stanley Cup Champions
Shutouts: 7
Goals Against Avg: 1.65
Shots Against: 622
Saves: 581
Save %: 93.4%
1. Sidney Crosby, C, PIT
Season: 2008-09
Games: 24
Results: Stanley Cup Champions
Goals: 15
Game-Winning Goals: 2
Assists: 16
Points: 31
Plus/Minus: +9
Per Game Averages:

Goals – 0.63
Assists – 0.67
Points – 1.29