Top Six Fried Chicken Fast Food Joints
Who doesn't love a good fried chicken meal? It's mouthwatering, satisfying, quick and easy. Today is National Friend Chicken Day, so you might wonder where to get the best friend chicken. Lets face it: even though this is an easy, inexpensive meal that anyone can have at anytime, you don't want to waste a fried chicken opportunity eating anything less than the best.
We all know the truth whether we like to admit it or not. Chicken is NOT "just chicken". The seasoning needs to be perfect, it needs to be juicy and fried to a golden brown perfection, and it needs to be so good that you are always looking forward to having it again. In order to do this, you need to know the best places to get such wonderful chicken perfection. Here in Maryland, we're partial to Roy Rogers, but their reach is fairly limited with only 51 restaurants. Here are our Top Six National Fried Chicken Restaurant Chains…
6) Church's Chicken
Church's is our sixth ranked fast-food fried chicken joint. Founded in 1952 across from the Alamo in San Antonio, Church's is now based in Georgia and has over 1700 restaurants in 25 countries. Church's hand-batters every piece of chicken, and beyond their Original Chicken, they also offer spicy, boneless wings, tender strips, and chicken sandwiches. When you visit Church's, you'll also want to try their fried okra, cole slaw, and honey butter biscuits.
5) Zaxby's
Zaxby's, number five on our list of fast food chicken restaurants, is a name that most southern chicken lovers will recognize. Founded in 1990 and based in Georgia, Zaxby's now operates in 18 states. Chicken aficionados will appreciate the prepared to order food, such as chicken fingers, chicken salad and sandwiches. The restaurant offers the convenience of online ordering. Zaxby's offers everything from salads to wings to desserts so there is something for everyone. The food is reasonably priced and some locations offer delivery as well. This aspect allows Zaxby's to stand apart from the crowd.
4) Kentucky Fried Chicken (KFC)
The fast food chicken restaurant that is rated number four on our list is one that just about everyone has heard of, Kentucky Fried Chicken. Founded in 1930 and based in Kentucky, KFC now has nearly 20,000 restaurants around the world. It trails only McDonald's as the second largest restaurant chain in the world. Serving buckets of fried chicken, sandwiches, tenders, individual meals and more, this is a favorite among people all over the country. The chicken is seasoned with a mix of 11 herbs and spices which make it perfectly flavored. Known for its slogan "Finger Lickin' Good", Kentucky Fried Chicken will not disappoint any chicken lover, as the food is always cooked to perfection.
3) Bojangles' Famous Chicken 'n' Biscuits
This fast food chicken joint is rated number three among fast food chicken restaurants. Founded in 1977 and headquartered in North Carolina, Bojangles is primarily found in the south but has over 600 locations. The breading on the chicken is always fresh and crunchy, and the spicy variety is just enough so that is not overwhelming. The menu is very straight forward with chicken, biscuits and sides, and has not changed much so customers always know what they are going to find. They offer breakfast, lunch and dinner. The biscuits and hash browns are mouth watering and warm, and leave customers coming back for more. Breakfast eaters will fall in love with the egg and cheese biscuit. It's always served warm and enticing.
2) Popeyes Louisiana Kitchen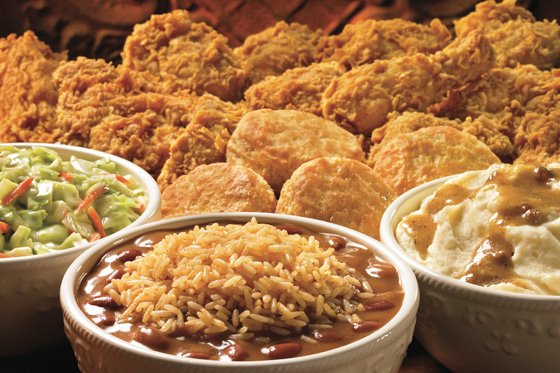 Popeyes Louisiana Kitchen is our second rated Fried Chicken Fast Food Restaurant. Founded in Lousiana back in 1972 but now also based in Georgia, Popeyes has over 2,600 locations around the world. They serve chicken and side dishes in mild and spicy flavors, and their food is always served hot and fresh. As the company's official history states, they sold "traditional mild fried chicken [but] business was slow, and the chicken team realized they'd have to sell a spicier alternative to their standard chicken recipe if they wanted to impress flavor-seeking New Orleanians. Side dishes such as cajun french fries and dipping sauces such as blackened ranch and Mardi gras mustard are unique and distinctive. The jambalaya is a dish that you won't find at any other fast food joint, so it makes it that much more appealing to visit Popeyes.
1) Chick-fil-A
Our top rated fast food chicken joint is a bit off-the-board; Chick-fil-A. Founded in 1946 and based in Georgia, Chick-fil-A was once limited to shopping malls but now has over 2000 locations cross the United States and Canada. Known for its superior service, this restaurant offers the convenience of a breakfast as well as a lunch/dinner menu. Chick-fil-A is unique on this list, as they do not offer any bone-in chicken. What they do sell is tasty chicken tenders, nuggets, and sandwiches. In fact, they claim to have invented the Chicken Sandwich. Their waffle fries are also a hit among customers. Their chicken is available in a spicy flavor as well to appeal to those with a "southern cajun" preference. The restaurant is always clean, has an ample amount of seating, service is always fast, and many locations offer a large, fun play area to make it enticing for children. One of the unique aspects of this restaurant is that they are closed on Sundays, for the benefit of giving their employees a day to have rest and worship, should they choose to.