Top Storylines for the Australian Open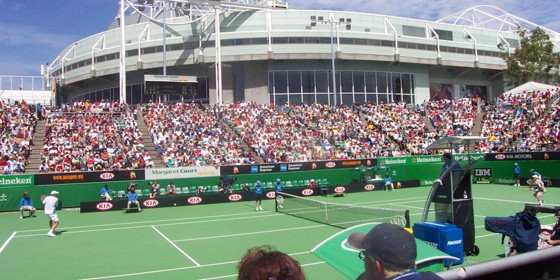 Professional tennis has already resumed this month following the brief winter off-season. But for a lot of fans around the world, the season doesn't really kick off until the Australian Open, which will begin on January 18 in Melbourne. The first of the four Grand Slam events, it's always a nice time to see some early work from the top players on both the men's and women's side as they head into the year-long season ahead. The main draws for the tournament won't be released until Friday, but in the meantime these are some of the major storylines for this year's Aussie Open.
Lleyton Hewitt's Finale
Typically in tennis the biggest storyline concerns a popular favorite on the men's or women's side. But there are unique circumstances at this year's Aussie. Specifically, ABC reports that Lleyton Hewitt is making the event his grand finale after 20 years on the pro circuit, ready to bring his career to a close in his home country. A two-time Grand Slam winner and former world number-one, Hewitt is one of the greatest Australian tennis players in history. He's always been known for his energy and fighting spirit that fans can't help but root for. Still competitive at age 34, Hewitt will surely be looking to make a respectable run in the tournament, but he'll command the spotlight as long as he's involved.
The Dominant #1s
As stated, the official draw hasn't yet come out for the Australian Open. But we know that unless one has to unexpectedly withdraw between now and the 18th, Novak Djokovic and Serena Williams will be the top seeds in their respective fields. Both are defending champions and strong favorites to win again, according to odds listed at Gambling.com. Also, both are coming off historically sensational seasons in 2015. To an extent, this takes some drama out of the tournament. On the other hand, fans will be curious to see if both Djokovic and Williams can start 2016 in the same dominant fashion that carried them through last year.
Andy Murray's Momentum
Andy Murray has a big year coming up, as noted by BBC. He has the typical pro tennis calendar, the Olympics, and a child on the way, but he's also coming off one of the biggest achievements of his career. As a result, he could be primed for more success in 2016. Always proud to carry the hopes of the UK as by far the country's most significant tennis pro, Murray propelled the British team to a Davis Cup title late in 2015. Now he'll look to build on that triumph and do what he's been looked toward to do for a few years now: seize the role of second best in the world and compete with Djokovic from event to event.
The Search for a #2 Woman
Serena Williams has had such a dominant hold on the women's game for so long now that we've gotten used to a revolving door at #2. Maria Sharapova is the most recognizable name vying for the position; Simona Halep finished 2015 as a fairly convincing second-best to Williams; and at various times in the past few years Petra Kvitova, Agnieszka Radwanska, and others have looked the part. With Williams expected to lead the way once more, a lot of the attention on the women's side will be devoted to seeing if anyone rises up to compete with her regularly.
Federer's Quest for 18
As noted by ESPN, Roger Federer is cutting back on his schedule in 2016. It's being done seemingly with an eye toward eliminating his worst surface (clay) to focus on the Olympics, where he's actually never won a gold medal in singles. In doing so, he'll forfeit some points toward his ranking and likely cease to compete for the official title of #2 in the world. But few would dispute that in 2015 he remained second best to Djokovic among active players, and for that reason he's still very much in the conversation to win one more Grand Slam and bring his record title to 18.
The Next Generation
One of these years Roger Federer will finally succumb to age, and as sensational as they both remain, Djokovic and Williams simply can't keep winning at their current rate for very long. Beyond these three figures there's something of a void on both sides, with the likes of Murray, Sharapova, and others so far failing to establish themselves as regular champions at the biggest events. For this reason, much has been made of the "next generation" in both men's and women's tennis. On the men's side, the names to watch are Nick Kyrgios (a native Australian), Grigor Dimitrov, and true youngsters like Borna Coric and, if they compete, Americans Francis Tiafoe and Noah Rubin. On the women's side, Garbine Muguruza (already #3 in the world), Belinda Bencic, and American Madison Keys will all be looking for breakthroughs.
All of this and more should make for a compelling Australian Open, and a fascinating 2016 in tennis.