Top Ten Better Titles for "Spartacus: Blood and Sand"
In honor of the fantastic Spartacus: Blood & Sand being released on DVD and Blu-ray two days ago, we thought we'd offer up the Top Ten Better Titles we call the show around the ol' Gunaxin headquarters.  If you've been sleeping on this one, now is a great time to check it out, especially on Blu-ray.  Like Gladiator meets Caligula, it has all your bases covered.  There's so much sex and violence it makes HBO's Rome look like C-SPAN.
Instead of us getting into a full-on review here, check out Dan's article "Spartacus: Blood and Sand" is R-rated 80s Awesomeness, from earlier this year when it debuted on Starz.  He nailed it, so to speak.  Look out for the prequel mini-series Spartacus: Gods of the Arena coming in January of 2011, followed by a full second season in the fall, which will unfortunately not star Andy Whitfield, as he is battling cancer.  Yes, Spartacus got cancer.  Where's the justice? I guess Starz has angered the gods.
10
Spartacus: Abs and Boobs
Sometimes the abs are on the boobs.
"You're into chicks, right?"
I also usually bathe with two slave women.
Pic from Egotastic.
She appreciates it.
6
Spartacus: The Best Thing Starz Has Ever Done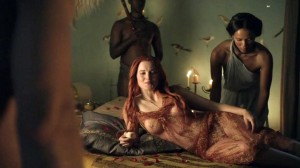 For Realz.
5
Nuditicus: Swords and Skin
This is sword through skin.
4
Spartacus: Ta-Tas and Togas
Stupid logo.
Yup, same guy.
2
Spartacus: Finally, Xena Topless
The moment fangirls around the world have been waiting for.
This dude is one content creep.