Top Ten Mascots
As may or may not be aware, there is this movie coming out called Midgets vs. Mascots, which looks to be pretty interesting. Personally, I have always been a fan of mascot humor, so I hope the final cut is entertaining. It definitely has a good premise to work with. We at Gunaxin have been lucky enough to host a pre-party for the movie before a screening at the Tribeca Film Festival next week. So in anticipation of that event, we came up with a Top Ten Midgets Little People ranking earlier this week. Those who cracked the top list include noted thespians Warwick Davis and Peter Dinklage. So, it was only natural to generate a reciprocal listing of the top ten mascots. Who could crack that list?
I must tell you that selecting only ten mascots is pretty difficult. You start with sports, which is what most people think of when they hear the word mascot. Baseball alone has given us such greats like the Phillie Phanatic and Youppi! (who since migrated over to hockey). Basketball, Football, and even Hockey have followed suit, meaning there are over a hundred to choose from just from the professional ranks of the major sports. Next, you toss in colleges. There are hundreds of those around, even if half of them use the nickname Wildcats or Tigers. The UC Santa Cruz Banana Slugs are particularly unique. How do I choose from so many? I haven't even touched on the Olympics and its mascots yet. Since sports fans are often quite passionate about their own teams, I'm guessing when I narrow it down to only ten, many people will be upset that their favorite team or college wasn't chosen. It's bound to happen.
But yet, there are plenty of mascots beyond the realm of sports. Advertisers have used mascots for an assortment of goods, ranging from things like the Big Boy to Mrs. Butterworth to the Marlboro Man. And then there's the random odd mascot, like Mr. Testicles, whose work is to raise awareness about male cancer. And let me tell you, there's really is nothing like a shorn scrotum…it's breathtaking.
So I've taken it all into account and determined this is our Top Ten:
10. The Noid
Less a corporate mascot and more of a spokesvillain, the Noid was an evil red-suited character with rabbit ears created by Domino's. His raison d'être appeared to be to attempt to ruin your pizza (he didn't seem too successful). Although to be fair, I'm not sure Domino's needs any help with that thanks to employees like Kristy Lynn Hammonds  and Michael Anthony Setzer. Created in 1986, the Noid enticed you to buy Domino's since they were the the only ones who could  "Avoid the Noid" and get a tasty pizza pie to your house.
Of course, the motives behind the Noid were mysterious. Usually you can understand why a character does something. Hell, there's an entire segment of cereal marketing based around characters trying to steal the product because they want to eat it (Trix, Cookie Crisp, Fruity Pebbles, etc…). Contrast that to the Noid, who had no clear influence. I mean what kind of soulless bastard would ruin a good pizza? No one could deconstruct or analyze the Noid's motivations. He was little more than an inane relentless destructive force who lived to ruin pizzas in any way possible. Sadly, the Noid was put out to pasture in 1992, and Domino's would move on to other mascots, such as the crust mutant Andy ("Good Andy. Bad Pizza.")
The Noid was so wildly popular that he inspired two video games. In 1989, "Avoid the Noid" was used to cross-promote the pizza chain, and in 1990 Capcom released "Yo! Noid" for the Nintendo. Though it can be said that not everyone enjoyed the Noid. In 1989, Kenneth Noid walked into a Domino's outside of Atlanta, Georgia, and held two employees hostage for over five hours because he thought the Noid ads were a personal attack on him. Quahog Mayor Adam West was no fan either, as he killed the Noid.
If you're still thirsting for more Noid knowledge, check out the Unofficial Noid Homepage. And check out this ad to see the Noid in action:
9. McGruff the Crime Dog
McGruff is an anthropomorphic bloodhound created by the Ad Council in order to build awareness of crime among children. Created by John Young for the National Crime Prevention Council, the name McGruff was chosen over such other candidates like "Sherlock Bones." You decide if they made the right call. Although the name McGruff lent itself perfectly for the creation of his nephew, "Scruff McGruff".
McGruff's patented slogan is, "Take a bite out of crime!" But I find a delicious amount of irony in the character. McGruff's a dog, but he wears a trench coat. I know he's supposed to be a detective, but dog's already have coats. What's more is that he's often seen hanging around playgrounds with small children. To me that doesn't say police, that says flasher. And I wouldn't think you'd want your anti-crime mascot being a damn pervert. "Hey kids, who wants to see my penal code?"
Here's an old school McGruff Public Service Announcement with a hilarious ginormous phone:
8. Snuggle Bear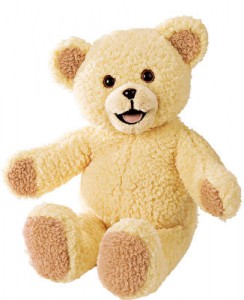 I know what you're thinking. You're wondering why I'm including that cute and cuddly teddy bear for Snuggle Fabric Softener? The same bear that's been pedaling dryer add-ons since 1983. Yes, I'm really doing it, but with good reason. For one, he's pretty well known. But that's only the start. And yes, I find amusement in the fact numerous Snuggle Bears have been recalled due to being "choking hazards." It just seems so odd to think of Snuggle as a dangerous toy. But the real reason the bear is on this list is thanks to appearances via parody in two BattleTanx commercials for the Nintendo 64. If you don't remember seeing them, they're worth checking out. Who doesn't want to see a flaming Teddy Bear coughing up stuffing or being re-built six million dollar man style? It basically takes an established well known mascot, and takes it to a whole nother echelon. Watch the little bear get pwned:
7. Stanford Tree
This belongs into the "it's so bad it's good" category. For reference, Stanford University's nickname is "The Cardinal". Not the bird, the color cardinal red. However, the school has yet to adequately convey the fierceness and sporting prowess it had hoped to symbolize with that particular shade of sanguine. Enter the Stanford Band, which put together the infamous tree. Sure you might think an excellent institution such as Stanford would be able to come up with something better than this. But there's some logic to the choice, as a tree appears on the official seal of the University plus on the municipal seal of Palo Alto, Stanford's host city.
Yeah, the tree looks like it was put together by third graders from the discarded parts of twenty other mascots, but it works. He dances, he drinks (it was caught drinking from a flask at a game and banned from performing due to failing a breathalyzer test), and he has funky red lips and giant eyes. He also has been known to get involved with some other debauchery. One thing is for sure, you'll remember this ridiculous-looking monstrosity.
Here's Sports Center's John Anderson and the Stanford Tree in an awkward moment:
6. Duffman
The enthusiastic mascot and spokesman who is basically a guy in a costume that creates awareness of Duff in the Simpsonsverse. As an employee of the fictional Duff Beer company, he's an often underutilized resident of Springfield. The smooth-talking mascot can usually be seen donning blue and red tights, a red cape, and white gloves with the Duff logo emblazoned across his chest. He also sports a red hat, dark sunglasses, and a "utility belt" of eight beer cans around his waist. In addition to his snazzy outfit,  he's the proud creator of such quips as:
"This brown spot needs a little H2-oh, yeah!"
"Duff Man… says a lot of things! Oh, yeah!"
"Are you ready to get DUFFED?"
Here's Duffman's song, "Oh Yeah" by Yellow:
5. The Suns Gorilla
Our first professional sports mascot on our ranking, he is the official mascot of the Phoenix Suns and is sometimes referred to as "Go" . Like any good mascot, he has his typical antics, but he's known most for his entertaining dunks. He's also appeared as a secret character in the video game NBA Jam and its copycat arcade style hoops games. A charter member of the Mascot Hall of Fame, the Suns Gorilla is basically the most well known of the NBA mascots. Sorry to Benny the Bull, Hugo The Hornet, and the Toronto Raptor for not picking you, but I had to take someone.
Here's one of his dunks from All-Star Weekend:
4. Racing Sausages
We can thank the Milwaukee Brewers for this great cultural phenomena and spawning a legion of similar "races" throughout stadiums. Although Bernie Brewer might be the team's official mascot, these sausages help represent the club in addition to their official sponsorship of Klement's Sausage Company.
The Sausage Race itself started as a virtual race on the team's Jumbotron, with the first real sausages introduced as a lark to appease kids. The earliest record of a live sausage race was on Sunday, May 29, 1994, although it did not become a full time attraction until 2000. In the beginning, there were only three sausages: the Bratwurst, the Polish, and the Italian. The Hot Dog was introduced in the mid-1990s and the Chorizo got its start in 2006.
The most famous sausage race took place on July 9, 2003, when Pittsburgh Pirates first baseman Randall Simon hit the head of the Italian Sausage with a baseball bat, knocking it over and taking the Hot Dog down with it. Simon was arrested, paid a fine, and was subsequently suspended by Major League Baseball for three games. Since that incident, T-shirts and other memorabilia popped up with the now infamous words, "Don't whack our wiener!" Here's the video of Sausage-gate:
3. Poppin' Fresh, the Pillsbury Doughboy
As his name suggest, the Pillsbury Doughboy is a small anthropoid character made out of dough. And he hawks all sorts of refrigerated Pillsbury dough products, with most of the commercials ending with a human finger emerging and poking the Doughboy's stomach. I'm not sure why he puts up with such assault and battery, but the Doughboy responds by rubbing his stomach and giggling.
I feel the whole thing has a weird creepy vibe to it. How did the doughboy appear in someone's house? He seems to emerge and suddenly begins to praise the wonderful flavor and texture. But is he a cannibal? Why does he seem to take pleasure in baking his cousins (he's made of dough after all)? And why is he so happy all the time? Comedian Kyle Cease attempts to answer these questions:

and here's what happens when the Doughboy finally breaks down and goes nuts:
2. Kool-Aid Man
The official mascot for Kool-Aid drinks (although pre-1975 he was known simply as "Pitcher Man"), he's basically an enormous pitcher of Kool-Aid. Begs the question what happens to him if he actually breaks (no idea, actually). The fun-loving and jolly character would appear to children everywhere sharing his Kool-Aid beverage by crashing though walls and screaming out, "Oh yeah!". He wasn't just a wall-crasher however, as he'd also do activities like play baseball, drive go-karts, and break-dance. Despite his rotund shape, he's actually quite nimble. And he did it all in the name of his dehydrated sugar-laden fruit drink packets. Like the Noid, Kool-Aid Man was the subject of two video games (one for the Atari 2600 and one for the Intellivision).
Even though people tend to hate Dane Cook these days, he does have a nice bit on him:

And of course we can't forget this classic Family Guy clip of the Kool-Aid Man busting into court and slowly backing away (remix version):
1. San Diego Chicken
The San Diego Chicken (also known as the The Famous Chicken, the KGB Chicken or just The Chicken), is simply too famous not to be number one. He's the most popular mascot these days and and probably will always be. And he wasn't even intended to be a sports mascot. He was originally an advertising mascot from an animated television commercial for KGB-FM Radio in San Diego. His popularity quickly grew, to the point he was a regular at San Diego Padres games among other bookings. His shtick is to be wildly animated, and he loves slapstick, satire, and often makes fun of the players, managers, coaches, referees, and umpires. You can also credit him for the widespread appearance of mascots throughout professional sports, particularly Major League Baseball.
Here's a montage of some of his highlights:
Interested in some more mascot goodness? Well check out these NSFW clips from the new film, Midgets vs. Mascots:
Gator Talks about Gator:

Spartan Man kicks Taco's Ass:

Bunny Mauled:

Looks like a good time eh? If you would like to join us on April 26th in New York for the movie and free booze, read on:
Midgets vs. Mascots – Gunaxin Day:

Sunday, April 26 – 2 PM
AMC Village VII 66 Third Ave
New York, NY 10003
Gunaxin Pre-Party Details:
Sunday, April 26 – 12:30 – 1:30 PM
Village Pourhouse
64 Third Ave
New York, NY 10003
Free entry with screening ticket
Free beer and tequila shots
The screenings at the festival are sold out, so the only way you can be amongst the first to see this movie, and join us for the pre-party is to win tickets here. In order to be eligible for the tickets, you must complete just two easy steps. We will then select the winners at random from the group of eligible entrants on Monday April 20th:
It's that easy! We'd love to see you there!