Top Ten Little People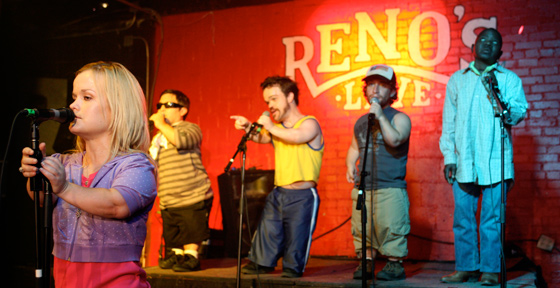 (Editor's Note : This article has been modified to diminish the use of the word midget, out of respect for the complaints made to us by #6 on our list, Danny Woodburn)
The criteria for this list was fairly simple, to be listed you just needed to be currently living, and have an adult height of less than 4'10" (the accepted criteria for Dwarfism). Much of the text in this article is thanks to Wikipedia. We don't exactly have the resources to scout little people, so we had to rely on other sources for the details.
10. Bridget "The Midget" Powers
Bridget Powers is the pseudonym of an American erotic film actress with dwarfism. She is often credited as "Bridget the Midget" or with the alternate spelling "Bridget Powerz". Her real name is Cheryl Marie Murphy and she is 3′ 9″. By her own count, she appeared in 65 to 70 original adult films, with compilations bringing that up to over 110. In addition to her erotic film roles, she has appeared in mainstream films such as 8mm, S.W.A.T., Confessions of a Dangerous Mind, and independent films such as "Almost Amateur", Tiptoes, and "Lynsey does Jody 2 – Extreme Edition". In 2006, she appeared on an episode of VH1's celebrity reality show, The Surreal Life.
Its All About Bridget "the Midget" – TV Pilot Teaser:

9. Jason "Wee-Man" Acuña
Jason Bryant Acuña, better known as "Wee-Man", is an American TV host and actor. He is one of the stars of Jackass on MTV and the host of NESN's skateboarding show 54321. Acuña has achondroplasia, a form of dwarfism and is 4 ft 0.5 in tall. He is also a professional skateboarder. In 2007, Acuña starred in the reality TV series Armed and Famous and in July 2007, Acuña appeared on TV as a host of MTV's Scarred Live. Acuña appeared on the first season of NBC's Celebrity Circus.
Jackass – Wee Man skating as an Oompa Loompa:

8. Deep Roy
Gurdeep Roy sometimes credited as Roy Deep, Gordeep Roy, or just Deep Roy, is an actor, stuntman and puppeteer. Roy is a 4 ft 4 in tall dwarf. He has played apes in two movies: Greystoke – The Legend of Tarzan, Lord of the Apes and again in the 2001 remake of Planet of the Apes. His most notable role is playing the Oompa-Loompas in Tim Burton's 2005 adaptation of Charlie and the Chocolate Factory. Deep had extensive training for the role in dance, yoga, and even some minor instrument playing. He is noted for his frequent collaborations with Tim Burton, appearing in Planet of the Apes, Big Fish, Charlie and the Chocolate Factory and Corpse Bride.He is also in The Chornicals of Narnia, The Lion, the Witch and the Wardrobe'.
August Gloop Oompa Loompa Song:

7. Matt Roloff
Matthew "Matt" Roloff is a 47-year-old husband, father, and star of Little People, Big World. Little People, Big World is a reality television series produced in the United States that airs on TLC. The series follows the six-member Roloff family living near Portland, Oregon. Many of the show episodes focus on the parents, Matt and Amy, and one of their sons, Zach, who all have dwarfism. Matt's type of dwarfism, diastrophic dysplasia, resulted in numerous childhood surgeries. He walks with the aid of crutches and uses a motorized cart when needed.
Visit the Roloff Farm:

6. Danny Woodburn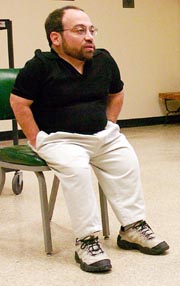 Danny Woodburn is an American film, television and stage actor best known for having played Mickey Abbott on the hit sitcom Seinfeld. Born in Philadelphia, with more than 100 TV appearances, Danny has had recurring roles on shows such as Tracey Takes On, Conan the Adventurer, on which he played the role of Otli, a sidekick of Conan's, as they fight the evil Hissah Zul, Baywatch, Special Unit 2, Charmed, Bones, and the hit DirecTV soap opera Passions. He has also appeared in the films Jingle All the Way, Things You Can Tell Just by Looking at Her, The Flintstones in Viva Rock Vegas and Death to Smoochy.
The Seinfeld folks are fairly protective of video on Youtube, but this will do:

5. Kenny Baker
Kenneth "Kenny" Baker is a British dwarf actor and occasional musician, known as the man inside R2-D2 in the popular Star Wars film series. Baker, who stands 3 ft 8 in tall, was a circus and cabaret performer with entertainer Jack Purvis when George Lucas hired him to be the man inside R2-D2 in Star Wars in 1977. Baker appears in all six of the episodic theatrical Star Wars films. Baker's other films include The Elephant Man, Time Bandits (also with Purvis), Amadeus and Jim Henson's Labyrinth.
Toad interviews Kenny Baker:

4. Peter Dinklage
Peter Dinklage is A 4'5″ American actor, born with achondroplasia, causing dwarfism. His breakout role is generally deemed to be the 2003 film The Station Agent. Although it was a small independent film, it was widely praised by critics and Dinklage's performance gained some note.  In Elf, Dinklage played a pretentious children's author who beats up Will Ferrell's character after he is unintentionally insulted. He has made television appearances on Threshold, The Baxter, Find Me Guilty, Nip/Tuck, Entourage,  and 30 Rock. Dinklage was chosen by director Andrew Adamson for the role of Trumpkin in the 2008 film The Chronicles of Narnia: Prince Caspian, and he is considered the perfect choice to play the evil Dr. Psycho in a possible Wonder Woman film.
Elf the Movie: The Angry Elf:

3. Tony Cox
Joseph Anthony "Tony" Cox is an American dwarf actor known for his comedic performances in Bad Santa, Me, Myself and Irene, Date Movie and Disaster Movie. He is also known for his work in George Lucas's "Willow" and as an Ewok in Star Wars Episode VI: Return of the Jedi. He is perhaps, best known for his roles in Date Movie where he played "Dr. Hitch" and in Bad Santa where he played Marcus, the brains of a safe cracking team.
Bad Santa – Drunk at work (NSFW):

2. Verne Troyer
Verne J. Troyer is an American actor and stunt performer. Verne is notable for his height of 2 ft 8 in, the result of dwarfism making him one of the shortest men in the world. Troyer is best known for his role as "Mini-Me" in the hit comedy Austin Powers: The Spy Who Shagged Me (1999) and Austin Powers in Goldmember (2002). He has also had roles in Harry Potter and the Philosopher's Stone, Fear and Loathing in Las Vegas, The Imaginarium of Doctor Parnassus, and "The Love Guru". In 2005, Troyer appeared in the fourth season of The Surreal Life. Memorable moments included Troyer getting drunk on the first day of the show, riding his mobility scooter in the nude and urinating on the floor in the corner of the room.
Dr. Evil and Mini Me – Just the two of us:

Dr. Evil and Mini Me – Hard Knock Life:

1. Warwick Davis
Warwick Ashley Davis is a British actor. He is noted for his dwarfism, standing at 3 ft 6 in tall. Davis is probably best known as the title characters in Willow and the Leprechaun series of films; other prominent roles include Wicket W. Warrick in Star Wars Episode VI: Return of the Jedi, Professor Filius Flitwick in the Harry Potter movies, Marvin the Paranoid Android in The Hitchhiker's Guide to the Galaxy, and Reepicheep in the BBC television versions of Prince Caspian, Voyage of the Dawn Treader and as Mr Glimfeather the owl in The Silver Chair. He is also featured in another Narnia-related film production: the 2008 film adaptation of The Chronicles of Narnia: Prince Caspian, as the dwarf Nikabrik and Oberon in the biopic Ray.
Willow Trailer: