Top Ten NASCAR Drivers of All-Time
February is the shortest month of the year but it is the most exciting for racing fans because of the greatest race of the year, the Daytona 500. Each year since 1982, the Daytona 500 has been the first race of the Sprint Cup Series. The race began in 1959 but was usually the second or third most years until it found a home in the lead-off spot. Unfortunately, the sport has continued to decline in popularity over the years because the men in charge spend more time trying to make the sport popular instead of working hard to improve the sport for the main reason people enjoy watching it, the drivers.
Every year, the NMPA (National Motorsports Press Association) gives the award for Most Popular NASCAR driver and has done this since the first year of the Sprint Cup Series back in 1949. That award is almost as predictable as guessing the outcome of a Denver Broncos vs. a Pee Wee football team. For example, Dale Earnhardt Jr. has won every single year from 2003 until he retired in 2017. But his father, who is the most popular driver of all-time, only won the award after his death.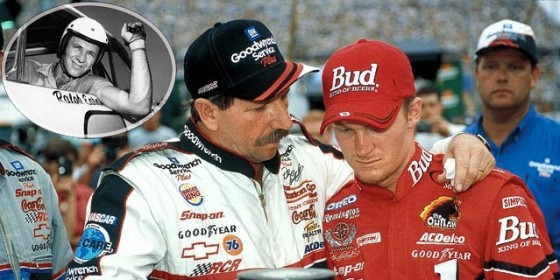 So how can we figure out who are the undisputed best NASCAR drivers ever? By using the internet, that's how. We scoured the entire web to find just about every legitimate best driver list we could find and built a database of rankings for all drivers, ever. Here are the consensus results of nearly twenty separate lists, including our own, that we could find. Gentlemen, start your engines…
10) Junior Johnson
Years: 14
Races: 313
Poles: 46
Top 5 Finishes: 121
Top 10 Finishes: 148
Wins: 50
Earnings: $301,866
Championships: 0
Not every legend has a NASCAR title under their belt. Junior Johnson is an example of being great without the coveted championship. He only raced nine full seasons of the 14 years he competed and his 50 wins over 313 races were good for one win every 6.3 races. One of the best numbers you will ever see.
9) Tony Stewart
Years: 18
Races: 618
Poles: 15
Top 5 Finishes: 187
Top 10 Finishes: 308
Wins: 49
Earnings: $122,231,607
Championships: 3
From go-karts to stock cars, there isn't a vehicle with wheels that Tony Stewart won't race. In fact, there might not be another person in the world that could measure up next to him in almost any of the motor car races. He brought a new attitude to the sport and gave all the average guys in America a chance to believe they could be a race car driver too.
8) Darrell Waltrip
Years: 29
Races: 809
Poles: 59
Top 5 Finishes: 276
Top 10 Finishes: 390
Wins: 84
Earnings: $19,886,666
Championships: 3
"Boogity, boogity, boogity, let's go racing, boys!" – Darrell Waltrip
If you are new to NASCAR and you just turned on the TV to watch a race, you might be asking yourself, "who is DW?" Well, DW is the former 3-time NASCAR champion that worked with Junior Johnson throughout the 80's.
7) Bobby Allison
Years: 25
Races: 718
Poles: 59
Top 5 Finishes: 336
Top 10 Finishes: 446
Wins: 85
Earnings: $7,673,803
Championships: 1
NASCAR has an unofficial Grand Slam which is the four biggest races of the year. (Daytona 500, Coca-Cola 600 at Charlotte, Geico 500 at Talladega, Southern 500 at Darlington) Although it isn't official, winning all four of these is considered an amazing feat as only a few other drivers have done this in their career and you just might be looking at 95% of the men that accomplished that feat because they are on this list. (Richard Petty, Darrell Waltrip, David Pearson, Jimmie Johnson, Jeff Gordon, Dale Earnhardt) One of the few records not owned by Richard Petty is consecutive poles won. No sir, that is owned by Bobby Allison who landed a record five in a row back in 1972 and another driver by the name of…
6) Cale Yarborough
Years: 31
Races: 560
Poles: 69
Top 5 Finishes: 255
Top 10 Finishes: 319
Wins: 83
Earnings: $5,646,479
Championships: 3
That's right, Cale Yarborough is tied for most consecutive poles with five in a row when he did it in 1980. One of NASCAR's most exciting drivers to watch was Cale as he owned several tracks, season after season, including Daytona where he has a record 13 poles during his career. (And 4 wins)
5) Jimmie Johnson
Years: 17
Races: 579
Poles: 35
Top 5 Finishes: 222
Top 10 Finishes: 341
Wins: 83
Earnings: $150,926,713
Championships: 6
Based on the amount of rankings we found, Jimmie Johnson landed in the 5th spot on average. But if you were to calculate the number of championships by the number of seasons, he is by far the highest with an average of one Sprint Cup title every 2.5 seasons. (Richard Petty is one title every 5 seasons)
4) David Pearson
Years: 28
Races: 574
Poles: 113
Top 5 Finishes: 301
Top 10 Finishes: 366
Wins: 105
Earnings: $2,836,220
Championships: 3
Richard Petty couldn't dominate the sport without having David Pearson pushing him all the time. In fact, when Petty or Pearson finished 1-2, it was David Pearson that edged him out, winning the most heads up finishes between the two. (63 total heads-up)
3) Jeff Gordon
Years: 25
Races: 805
Poles: 81
Top 5 Finishes: 325
Top 10 Finishes: 477
Wins: 93
Earnings: $153,703,667
Championships: 4
When Jeff Gordon entered the sport, he came in like a rocket. It only took him four seasons before he began dominating starting with the 1995 Sprint Cup title. He then finished 2nd in 1996 before winning back-to-back titles in 1997 and 1998. He wasn't your typical NASCAR driver. This young kid looked like he should be modeling, not racing. He brought the sport to an entire new audience.
2) Dale Earnhardt
Years: 27
Races: 676
Poles: 22
Top 5 Finishes: 281
Top 10 Finishes: 428
Wins: 76
Earnings: $42,001,697
Championships: 7 (NASCAR Record)
With 7 NASCAR championships under his belt, Dale Earnhardt Sr. was well on his way to becoming the single greatest driver in the sports history. However, the legend passed away during the 2001 Daytona 500 after crashing into the wall on the final lap. It was one of the saddest moments in NASCAR history. He was only 49.
1) Richard Petty
Years: 35
Races: 1,184 (NASCAR Record)
Poles: 123 (NASCAR Record)
Top 5 Finishes: 555 (NASCAR Record)
Top 10 Finishes: 712 (NASCAR Record)
Wins: 200 (NASCAR Record)
Earnings: $8,541,210
Championships: 7 (NASCAR Record)
As much as we love Dale Earnhardt Sr., there has never been another NASCAR driver that has dominated like Richard Petty. The man is the King of stock car racing for a reason, he was the best driver almost every single time he entered a race. He owns just about every record a driver can earn and it isn't even close. He has 237 more Top-10 finishes than Jeff Gordon, who is in 2nd place, and he is 219 Top-5 finishes ahead of Bobby Allison, who is holding down 2nd place on that list. But the most impressive statistic is the wins. He has 95 more than anyone else, ever. If you were looking for the Michael Jordan of NASCAR, Richard Petty would be his equivalent, only better.