Top Ten Songs About Prostitutes
Have you ever stopped to think about how many songs pay tribute to the working girl? From Cole Porter's, "Love for Sale" to Sting's "Roxanne," the art of turning tricks has long been immortalized in verse. Whether they reference the selling, the sex, or the horn tooting, the following make our top ten list of songs about the world's oldest profession.
10) Lady Marmalade – Patti Labelle
Thanks to Patti Labelle, everyone knows at least one French phrase.
Sample Lyrics
Voulez vous coucher avec moi ce soir (ce soir)
Voulez vous coucher avec moi
A huge hit for Labelle back in 1974, the '90s remake is most memorable for a music video featuring Christina Aguilera inexplicably made up like Twisted Sister's Dee Snider.
9) Bad Girls – Donna Summer
Donna Summer's "Bad Girls" was number one on the charts for five straight weeks over the summer of '79 and helped solidify her title as the Queen of Disco. She purportedly wrote the song after hearing that her personal assistant had been propositioned while running errands.
Sample Lyrics
See them out on the street at night, walkin'
picking up on all kinds of strangers
if the price is right you can score
if you're pocket's nice
but you want a good time
you ask yourself, who they are?
like everybody else, they come from near and far
8) Sweet Georgia Brown – Brother Bones
Wait, what? The Harlem Globetrotters theme song? How can the whistling and bones of the beloved pranksters of the hardwood be about a prostitute? There aren't even any words! Well actually, "Sweet Georgia Brown," written in 1925 by Ben Bernie and Ken Casey does have lyrics, and those lyrics tell the salacious tale of a prostitute named Georgia Brown.
Sample Lyrics
All Those Gifts Those Courters Give,
To Sweet Georgia Brown,
They Buy Clothes At Fashion Shows,
With One Dollar Down,
Oh, Boy! Tip Your Hat!
Oh, Joy! She's The Cat!
Who's That, Mister? 'Tain't A Sister!
Sweet Georgia Brown!
Many famous people have covered "Sweet Georgia Brown" (the lyrical hooker version) including Bing Crosby, Louis Armstrong, Ella Fitzgerald, The Beatles, and The Grateful Dead, but the Brother Bones instrumental used by the Globetrotters since 1952 to accompany their "Magic Circle" high jinx, is by far the best known.
7) Killer Queen – Queen
Considered Queen's breakthrough hit, "Killer Queen" was written by lead singer Freddie Mercury and featured on their 1974 album Sheer Heart Attack.
There's been lots of speculation about the meaning of this song – Is it an attack on the Queen of England? A cautionary tale of heroin addiction? The title and the fact that it was written by Freddie Mercury had many assuming it was about a homicidal Nancy Boy – and if you thought any of these, you'd be wrong.
Freddie Mercury set everyone straight when he let on exactly who he was calling the Killer Queen."It's about a high-class call girl."
Sample Lyrics
She's a Killer Queen
Gunpowder, Gelatine
Dynamite with a laser beam
Guaranteed to blow your mind
Anytime
Recommended at the price
Insatiable an appetite
Wanna try?
6) Island Girl – Elton John
At first, this peppy Elton John/ Bernie Taupin collaboration seems like the perfect upbeat tune to kick back with and enjoy a pina colada or perhaps sell some suntan lotion. However, listen closely to the lyrics and you'll hear the sordid story of a Jamaican prostitute working the streets of midtown Manhattan and the guy that's desperately trying to get her away from that life.
Sample Lyrics
I see your teeth flash, Jamaican honey so sweet
Down where Lexington cross 47th Street
She's a big girl, she's standing six foot three
Turning tricks for the dudes in the big city
Island girl
What you wanting with the white man's world
Island girl
Black boy want you in his island world
He want to take you from the racket boss
He want to save you but the cause is lost

5) Hot Child in the City – Nick Gilder
Even though the first few lines may sound like an ode to feral children, according to one hit wonder Nick Gilder, this song was written about prostitutes he saw on the streets of Los Angeles.
Sample Lyrics
Danger, in the shape of somethin' wild
Stranger, dressed in black, she's a hungry child
No one knows who she is or what her name is
I don't know where she came from or what her game is

"'Hot Child in the City' could well have been entitled 'Don't Bite the Apple'," Gilder said in Rolling Stone. "I've seen a lot of young girls, 15 and 16, walking down Hollywood Boulevard with their pimps. Their home environment drove them to distraction so they ran away, only to be trapped by something even worse. It hurts to see that so I tried writing from the perspective of a lecher — in the guise of an innocent pop song."
4) Charlotte the Harlot – Iron Maiden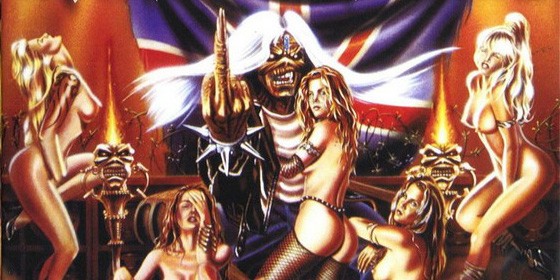 Actually part of a "mini-series" of songs by Iron Maiden about the life and times of a prostitute, Charlotte's story is referenced in four tracks. After "Charlotte the Harlot," her misadventures are serialized in the following songs: "22 Acacia Avenue," "Hooks in You" and "From Here to Eternity."
Sample Lyrics
If you're feeling down depressed and lonely
I know a place where we can go
22 Acacia Avenue meet a lady that I know
So if you're looking for a good time
And you're prepared to pay the price
Fifteen quid is all she asks for
Everybody's got their vice
3) Call Me – Blondie
European Disco producer Giorgio Moroder wrote "Call Me" with Blondie lead singer Debbie Harry. The song, about a high-class prostitute, was featured in the film American Gigolo.
Sample Lyrics
Call me (call me) on the line
Call me, call me any, anytime
Call me (call me) oh love
When you're ready we can share the wine
Call me
2) On Broadway – George Benson
The old high school pep band standard is actually not about actors performing on the Broadway stage, as much as it is about, well, performing acts on Broadway.
Sample Lyrics
They Say The Neon Lights Are Bright On Broadway
They Say There's Always Magic In The Air
But When You're Walkin' Down The Street
And You Ain't Had Enough To Eat
The Glitter Rubs Right Off And You're Nowhere
They Say The Women Treat You Fine On Broadway
But Lookin' At Them Just Gives Me The Blues
'Cause How Ya Gonna Make Some Time
When All You Got Is One Thin Dime
And One Thin Dime Won't Even Shine Your Shoes
1) All the Young Girls Love Alice – Elton
Another Taupin/John hit, "All The Young Girls Love Alice" has a sweet sounding title. However, it is actually the tragic story of a young lesbian prostitute who died in London's Soho district.
Sample Lyrics
All the young girls love Alice
Tender young Alice they say
Come over and see me
Come over and please me
Alice it's my turn today