Top Ten Star Trek Red Shirts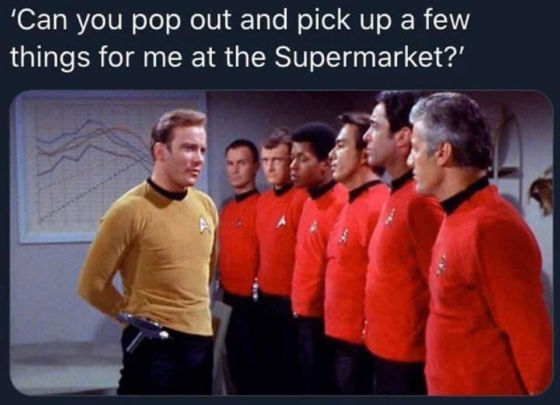 Allow us to explain why this COVID-19 meme is funny…
In horror movies, there are a few rules. For instance, do not take the semi-private car to have really non-private sex in front of a mad man. You never say, "I'll be right back." Unless you have a Great Dane who communes with a hippie in your party, it's not the best idea to split up the party.
If you are a security officer for the United Federation of Planets, you change your shirt before you go traipsing on an unknown planet. What is worse? A uniform violation or spending the next few minutes of your soon to be deader than crap meat life regretting not looking like one of those pasty wussies from the medical corps? The decision is up to you. Because a Red Shirt in the Star Trek universe means you're as good as dead :
A "redshirt" is a stock character in fiction who dies soon after being introduced. The term originates with fans of Star Trek television series (1966–1969), from the red shirts worn by Starfleet security officers who frequently die during episodes. Redshirt deaths are often used to dramatize the potential peril that the main characters face.
The following people practically chose to be a Red Shirt statistic…
10. Ensign Ricky

9. Lieutenant Stadi

8. Chief Engineer Olson

7. Admiral Mark Jameson

6. Ensign Rizzo

5. Lieutenant Carlisle

4. Kaplan, Marple, Hendroff and Mallory

3. Captain Clark Terrell

2. Spock

1. Captain James T. Kirk