Top Twenty Two Favorite Nude Scenes in Mainstream Cinema
Why Twenty-Two? Because we said so.
It seems like every year the movies trend more and more to the PG-13 level. Even established R-Rated franchises like Die Hard and Terminator have come up with PG-13 rate fare in recent years. And while violence is becoming more acceptable in PG-13 movies, nudity still remains a hard-R. As such, it becomes something of a forbidden fruit. Yeah, it's certainly not hard to find nudity in some form, be it Playboy or some dark corner of the Internet. But finding the intersection of nudity and mainstream cinema, that's something worth noting. Below are twenty-two of our favorite such scenes.
Granted, this is far from an exhaustive list. I'm sure many of your favorite were not included. It's simply too hard, pun intended, to narrow this down to twenty-two without omitting some good ones. C'est la vie. Below are what were have considered our favorites, with some photos and video. While we applaud the nudity in these films, we unfortunately aren't able to post it on this site, thus making this exercise of a bit of a tease, a fabulous tease though. Most of them include scenes that titillate more than elicit another type of reaction, but we included a few odds and ends. And for our purposes, nude can include simply topless. So on to the rankings:
Who: Keeley Hazell
What: Supermarket Sequence
Based on a short film, Cashback is a surprisingly strong romantic comedy, with one nice twist. It features a main character who fights insomnia and lets his artistic imagination runs wild by stopping time. The results of this "gift" can be a bit of eye candy, for both the character and the viewer. Like when he decides to see women naked in a supermarket. It's not just Keeley Hazell you can see, but she's definitely the biggest name involved.
Who: Emmanuelle Béart
What: Modeling
Our definition of mainstream includes major foreign films, hence this French work. It also gives us an excuse to show French woman Béart, who has always looked great, even if American audiences don't know much about her outside of Mission Impossible. In this movie, Béart plays the beautiful girlfriend who becomes the new nude model for "La Belle Noiseuse."
Who: Naomi Watts/Laura Harring
What: Lesbian Sex Scene
Who wouldn't jump at a chance to see Naomi Watts nude? In David Lynch's Mulholland Drive, Watts has a few graphic scenes, one notably with co-star Laura Harring. Mild controversy arose when Lynch blurred out Harring's lower region during the nude scene on the DVD release, a disappointment to Harring fans as its the only film in which she has appeared in her birthday suit. However, the scene is so dark, you probably didn't notice unless the brightness on your set was messed up.
Who: Nicole Kidman
What: Opening credits/getting dressed
Eyes Wide Shut elicited a variety of opinions from audiences and critics alike, but one thing is for certain. Stanley Kubrick got Nicole Kidmanto undress. Whatever you think of the film, it does have very memorable moments, including the fact you'll probably associate it (and Kidman) with Chris Isaak's "Baby Did A Bad Bad Thing."
Who: Monica Bellucci
What: Sex Scene
We know Monica Bellucci is beautiful. After all, she topped our Forty Hottest Actresses over Forty post a while back. We simply cannot have one of these posts and not include her. And she's Italian, so you know she's willing to get naked. All Italians are. I once read a three word review of Malèna: Monica. Bellucci. Naked. Though Americans should note that the European home video release has more nude Monica that the Region 1 DVD.
Who: Halle Berry
What: First sex scene
The movie confronts difficult issues of racial prejudice in the south, but some may remember it for Berry's nude scenes. Hot off her gratuitous Swordfish flash, she decided to bare all for a pivotal moment in a serious film that won her an Oscar. Yeah, Academy Awards and slap-up sex scenes don't always go hand in hand, but this time it worked. Extended Monster's Ball nude scenes are available overseas and on the Blu-Ray version.
Who: Barbara Crampton
What: Her and the severed head
The scream-queen Crampton got her start and made her way working in daytime soaps, but she also popped up in a few low-budget flicks. One such example was 1985's cult classic Re-Animator, where she was cast as Megan Halsey. The twisted and fun flick was memorable enough to warrant a mention in Best Picture winner American Beauty, and a place in the hearts of anyone who has ever seen the film. From the things you can't unsee category involves Crampton and one severed head.
Who: Jennifer Connelly
What: In front of the mirror
The movie is insane, crazy, painful and f-ed up, but absolutely brilliant and heartbreaking. And if you're going to watch it, at least you get to see Jennifer Connelly nude. Plus, she's gives a pretty great performance. Come for the nudity, stick around for the storytelling!
Who: Natasha Henstridge
What: Hottub Scene
The achingly gorgeous Natasha Henstridge stars as an alien determined to reproduce and start the colonization. You can imagine how that can led to some truly infamous sex scenes, as she ferociously seduces men and kills them after the "seed" is planted. There are several sex scenes, but it's the hot tub scene that burned itself into the psyche of a generation of teenage boys.
Who: Katie Holmes
What: Car Flash
In her pre-Tom Cruise days, Holmes starred in the aptly named The Gift by Sam Raimi, which has an unexpected and most pleasant surprise for viewers. It also led to this exchange from Harold and Kumar go to White Castle:
Goldstein: Sorry, kids. We ain't goin' nowhere. We're watching 'The Gift'. Supposedly Katie Holmes shows her titties in this movie.
Harold: Is that all you Jews ever think about? Tits?
Rosenberg: Katie Holmes is a nice, respectable, wholesome girl… and I'm gonna see her boobs.
Goldstein: The things I would eat out of her ass! You have no idea!
Rosenberg: Ugh! That is a completely vulgar statement.
Goldstein: So is, "I wanna bang Britney Spears on the bathroom floor," but it's true.
Rosenberg: Touché.
Who: Jason Segel
What: Naked Break-up
Yeah, we crossed you up a bit here with some male nudity. Not the most common in mainstream cinema. Don't worry, we're not going to do it again. We certainly aren't going to post screenshots of Eastern Promies. Just had to make sure you were paying attention. As for the scene above, Judd Apatow wasn't kidding on his promise to "shake Americans from their squeamishness about male anatomy in movies." And the scene is pretty humorous with the nudity definitely accentuating the awkwardness. For better or worse, it is quite memorable.
Who: Joyce Heyser
What: Tuxedo flash
We all know that one movie that comes on cable and manages to put a stranglehold on your ability to turn the channel. Just One Of The Guys is such a tale of seduction. Joyce Heyser plays Terri, a young lass that decides to change her gender in order to be recognized as a writer. She believes that males are taken more seriously. The downfall of such plans is that you have to reveal your true identity at some point.
Who: Linnea Quigley
What: Graveyard Dance
Horror movies seem to be good at producing nude scenes, and said scenes often end up as the best part of the movie. In The Return of the Living Dead, scream queen Linnea Quigley does a sexy striptease dance at a graveyard, ending up fully nude and showing off her great body as a group of people watch and cheer. Sounds about right for a zombie flick.
Who: Eva Green
What: Striptease (well, really the whole movie)
Casino Royale star Eva Green got naked (a lot) during her role in Dreamers before her stardom as a James Bond babe. There's nothing wrong with all nude, just tastefully done. Just ask Kevin Garnett and Stephon Marbury:
Who: Anne Hathaway
What: Make-out scene
You probably don't remember Havoc. The film was noted during production for having then-Disney princess (of the Princess Diaries fame) Anne Hathaway go topless, but despite that hype was basically dumped direct to video. Probably because it was criticized for feeling like a movie written by a sixteen year old girl who never actually went to East Los Angeles, but heard about it and maybe watched something on the news. Still, it managed to spawn a sequel of sorts, Havoc 2: Normal Adolescent Behavior (which had no real relation to the original).
Who: Kelly Preston
What: Bedroom Bush
A 1980s classic, Preston disrobes in a beautiful (and funny) nude scene which will make you reach for the remote. Kelly Preston, Yum! And on a related note, Preston still looked pretty great (and topless) in Jerry Maguire 10 years later.
Who: Marisa Tomei
What: Opening Bedroom
Tomei looked great in 2008's The Wrestler, but arguably looked better in Sidney Lumet's Before the Devil Knows You're Dead a year earlier. The movie starts with a great sex scene and her great looks and assets continue throughout.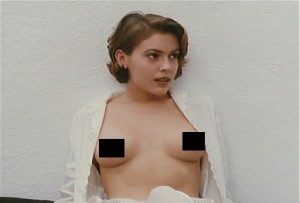 Who: Alyssa Milano
What: Lesbian seduction
The move is strictly B-level at best, but Milano hopped from child actor on Who's The Boss to full-blown woman in 1995's Embrace Of The Vampire. Showing of her assets in the low-budget horror flick, Milano plays virginal teen Charlotte Wells whose main goal is to fight off the advances of a vampire. Tony Danza would not approve.
Who: Jennifer Connelly/Debra Cole
What: Sitting on beach
She's young, she's outside, she's soaking wet, and it's long. Easy call. Jennifer Connelly reappears on this list in her very first nude scene, where she can be seen laying down in the sand along a lake. Debra Cole has decided to join her, and both are sans tops.
Who: Denise Richards/Neve Campbell
What: Pool Scene
The three way between Richards, Campbell, and Matt Dillon is one hot scene, but if I'm choosing just one scene from this movie (and we're trying to limit this to one scene per movie), it's the unrated pool scene. It goes from cat fight to lesbian make-out in the blink of an eye. That's women at their best!
Who: Shannon Elizabeth
What: Bedroom scene, Nadia and the magazine
Who wouldn't want to find a naked Shannon Elizabeth in their bedroom?
Who: Phoebe Cates
What: pool scene
Doesn't anyone f-ing knock anymore? This scene has forever changed the Car's song Moving in Stereo…in a good way. Not that it is the only one from this film. Like Wild Things, you also have Jennifer Jason Leigh in the poolhouse. But this is the one scene you'll remember as it's just one of those great scenes in cinematic history.