Touring Toyota's Texas Truck Plant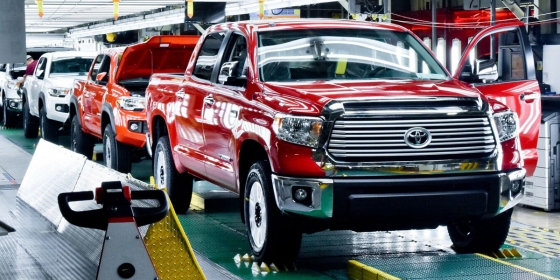 Toyota's two trucks, the Tacoma and Tundra, are by far our favorite vehicles in the manufacturer's extensive lineup. So imagine our excitement at receiving an invitation to tour the plant where they're built. We didn't need to jump aboard a trans-pacific flight to Japan either, they're made right here in the United States. Toyota Motor Manufacturing Texas (TMMTX) in San Antonio has been producing Toyota Tundra since 2006, and Toyota Tacoma since 2010. It's one of six major assembly plants in the United States (Alabama, Indiana, Kentucky, Mississippi, Texas, West Virginia).
While we received the VIP treatment, visitors to the plant can hop on the tram and take their own tour for free. It's a very informative and impressive experience, and we highly recommend it. Photographs are prohibited however, so the images in this article have been provided by Toyota PR.
TMMTX is a fairly large facility, with a 2.2 million square foot main plant housing stamping, welding, paint, plastics, and assembly lines. There are also another 2.1 million square feet on site housing 23 partner companies, that are charged with providing "just-in-time" supply and sub-assembly of critical components.
There are over 7,200 personnel working at the plant, which includes about 3,200 Toyota workers, and another 4,000 from on-site suppliers. Currently they are working two shifts with an Alternate Work Schedule (AWS), which allows them to keep the plant running 6 days a week (while individual employees only work 5). The plant was built to produce about 200,000 trucks per year, but with AWS in place to meet current heavy truck demand, Toyota expects to produce 260,000 trucks at TMMTX in 2016.
It takes about 23 hours for the plant to convert rolled steel and parts into a completed Toyota truck, and a beautiful new truck rolls off the line with a honk every 60 seconds. Check out this (slightly outdated) behind-the-scenes video which shows the entire process of a Toyota truck coming to life in just five minutes.
Isn't it amazing to see a modern plant in operation building a vehicle? Now you know how your Toyota truck is made. As you can see, despite some automation, there are still plenty of Texas team members needed to assemble the vehicles. Toyota did note that they have a shortage of skilled workers needed to keep the plant operational, a challenge that is currently facing the entire manufacturing industry in the United States. You can see additional still photos from our plant tour in the gallery below.